A hallway tends to be the first thing that guests see. Therefore, it's important to have an inviting space and to keep your hallway nice and tidy to give your guests a positive first impression. Read on for practical storage ideas for your hallway as well as styling tips and inspiration.
Utilise wall space with hooks
When it comes to smart and practical hallway storage, coat racks are a must. Different shapes and designs of your hooks are both decorative and practical. For an original look, consider hanging hooks at various heights to give your hallway a more dynamic look.
Smart hallway storage with practical furniture
Another obvious smart storage solution is to use multi-functional furniture. Storage benches and hat shelves are classic, popular solutions for the majority of people. You could also try placing a functional stool in your hallway. This would provide a practical storage solution, a seat to put your shoes on or a small table for decoration. Some more inspiration for designing your hallway.

Think outside the box
When it comes to practical and smart hallway storage, you need to be think out of the box by putting pieces of furniture to a new and creative use. For example, a shoe cabinet, which takes up very little space, can easily serve purposes other than just storing shoes. Woolly hats, gloves and scarves can easily be tucked away in a shoe cabinet, which allows you to avoid unwanted clutter in your hallway.
Create your own shelving system
Another idea could be to hang several shelves on top of one another. This would provide you with a personalised shelving system with room for decorative items or small storage baskets. Shelves can be decorative in themselves, thereby helping you create a more unique design, but by also making your hallway storage more practical and smarter.

Use a knife magnet as a key-holder
A third smart storage idea is to use a knife magnet to hang your keys on. We have all experienced not being able to find our keys, therefore make life a bit easier by hanging your keys on a knife magnet in your hallway. Put the magnet near to your door and you will never misplace your keys again.
Utilise the height of your hallway
Practical hallway storage is all about making the very best use of your space. If you have a hallway with a high ceiling, then maybe high shelves are more suitable for you. Take advantage of coat hooks, hat stands and high shelves with storage baskets, to really make use of the space.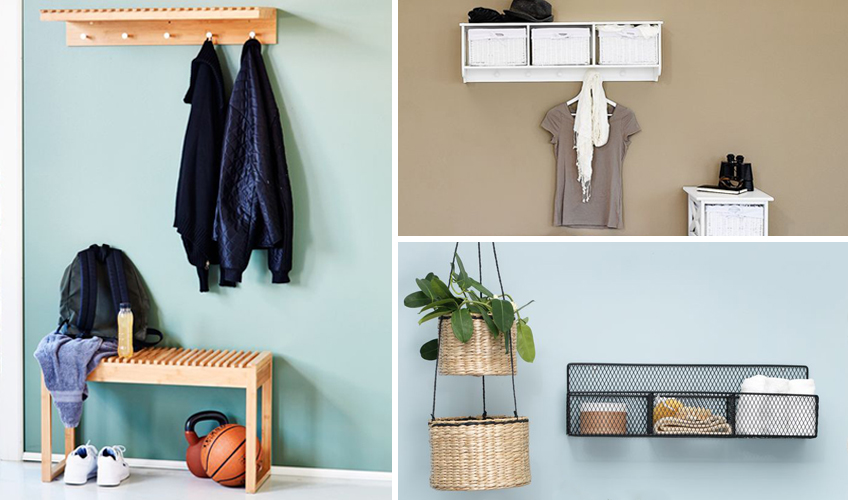 Avoid clutter on the floor
Another advantage of storing things at a height is that you have plenty of free floor space. Shoes and bags on the floor can soon get messy, therefore, by removing such items will quickly inject a breath of fresh air into your hallway, while creating a sense of greater space.
Tip: In a small hallway with a number of doors, it is a good idea to hang shelves above the doors in order to make the very best use of the space. Also, consider using mirrors to create the illusion of extra space and light.