After a chilly winter, many of us feel like revitalising by letting light and fresh air into our homes. We need a change of scene afterall and want to refresh our space in time for spring and the sunny months ahead. We are introducing the recurring collection Nordic Mood. With the new Nordic Mood collection, you can easily add a simple, elegant, and Scandinavian style to your interior decorating, all at an affordable price.
 
Combination of materials, shapes and textures
This year's first collection is characterised by a downplayed bohemian style with a clear Scandinavian expression. The classy products combine different materials, shapes and textures. In the new collection you will find a light, simple-patterned blanket with fringes, a pillow with a structured surface, a soft lambskin rug that creates warmth in the home – and many more amazing items that are going to add a beautiful new touch to your home.
 

Match the simple, bright textiles with a dark, braided basket to create a cosy atmosphere. Create a luxurious look with a classic candlestick in metal or a fine glass vase with gold details.

The simple colours give the collection a timeless expression. There are toned down shades of grey, combined with the natural colours of light wood and single splashes of contrasting colours and gloss. It's the fine details in the fringes, a matte finish, and a simple pattern that gives the collection a clean, feminine look. Put an early spring flower in a vase, bring a cup of coffee and a magazine and enjoy the simple, elegant atmosphere around you.
Visualise the items in your own home
The items in the new Nordic Mood collection are going to be displayed in a special area in your JYSK store so that you can see how well they will fit into your own home. All items are also available online for you to enjoy from the comfort of your own home.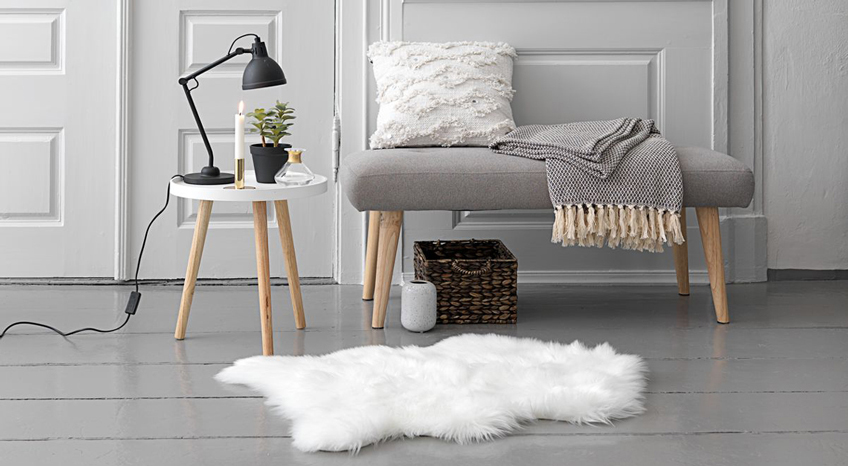 Limited edition
The Nordic mood collection is only available for a limited time. The Nordic Mood collection saw the day of light for the first time in 2015 and has been a great success ever since. It is renewed every three months with handpicked products that look fantastic both together and separately.