Do you need interior inspiration on how to decorate a rectangular living room? A rectangular living room can usually mean a long and narrow space, which can be difficult to furnish and design. Read on for advice and design ideas to utilise the space of a long and narrow living room.
Create seperate small zones
Not all furniture is suitable for a narrow, rectangular living room, therefore it may be a good idea to establish several small groups in your living room and spreading the furniture out to prevent your room from looking cluttered. An example of one of these groups could be a sofa corner, a play corner, a reading corner or a TV corner. Each of the small groups then has its function in the room, catering for your family's different needs.
Space saving dining room tips
A classic mistake that people often make when designing narrow or rectangular living rooms is to position the furniture along the walls in an attempt to create more floor space. Many people believe that using narrow rugs and tables helps, but it can actually do the opposite. Instead, try placing your sofa in the room diagonally or transversely to create air around the furniture - this will then make the whole living room feel airier.

Another tip for the interior of a rectangular living room is to use round furniture: for example, a round coffee table. When space is tight, finding your way around circular furniture is often easier.


Make the best possible use of space in the corners
Another way of making the very best use of space in your living space is to utilise the corners of the living room and to choose a corner shelf unit. It's a great match for the shape of the room and also provides excellent storage. If you need wish to make your room look a little less cluttered then it may be an idea to use baskets or boxes on the shelf unit to keep items 'hidden away'. 
A small corner table is also an excellent item of furniture for a narrow, rectangular living room. It is a great way of making use of the space in the corner, where it may be difficult to place other furniture. Another obvious option is also to place a single armchair next to the coffee table. This makes for a cosy little reading corner in your living room.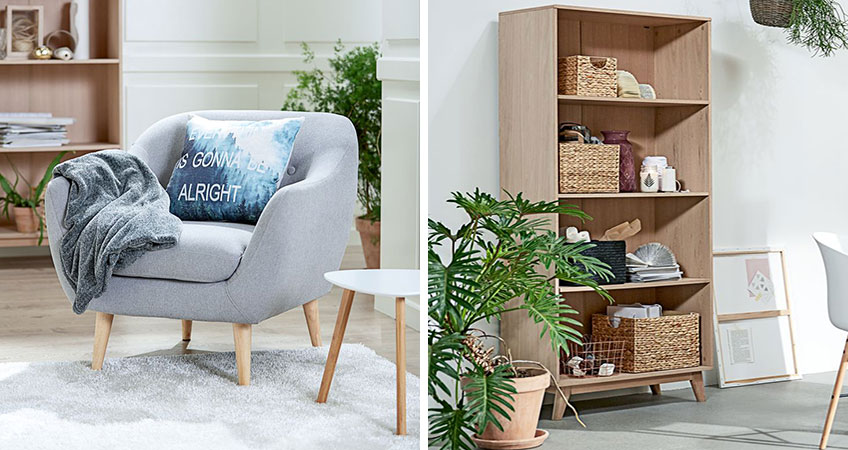 Choose bright colours and make room for natural light
Narrow and rectangular rooms can seem small, so a good trick is to use bright furniture and bright accessories in your design. It is also useful to let the natural inflow of light make its impact, as this can make a room seem bigger and more inviting.
To add a touch of colour, why not use a lovely, big, brightly coloured rug. Laying a rug under your sofa and your coffee table can also help as this can 'define' the area, and at the same time divide up your room into smaller zones. This is ideal when it comes to preventing the room from appearing longer than it actually is.