Your home should also be a haven - a place where you feel relaxed and secure. But do you manage to create the foundation for a relaxing atmosphere in our home? In this blog post, we will show how interior decoration can be a source of tranquillity and stress relief. Hopefully, this will support a peaceful mindset in your everyday life.
Focus on what relaxes you
For you to create a small oasis in your home you need to think about what allows you to recharge.
We find it to be a good idea to keep the overall colours in the home neutral. Keep the walls and furniture in white, grey, brown, and earthy tones.

Then combine it with textiles with a splash of colour or a wicker basket with some colourful details like the DAHL basket.
Read more about how rugs, throws and cushions add hygge to your home

The wall cabinet MALLING is a perfect example of a neutral piece of furniture where you can add all your favourite items. Place the items that help you relax and recharge on display.

By having it at eyesight, you will be more inclined to use it. It can be whatever reminds you to take a break: your journal, images that inspire you, knitting, scented candles or books. 
Decorate with warm and cosy living room décor
The living room is the heart of the home, a place to relax and be social with your nearest. It should be a space where it is easy to be together, so make sure there is room for everyone by having a large spacious sofa or several seating areas.
But remember to create small quiet oases where you can enjoy a moment alone. An obvious choice is to add an armchair, but a small stool or pouffe is also great as extra seating.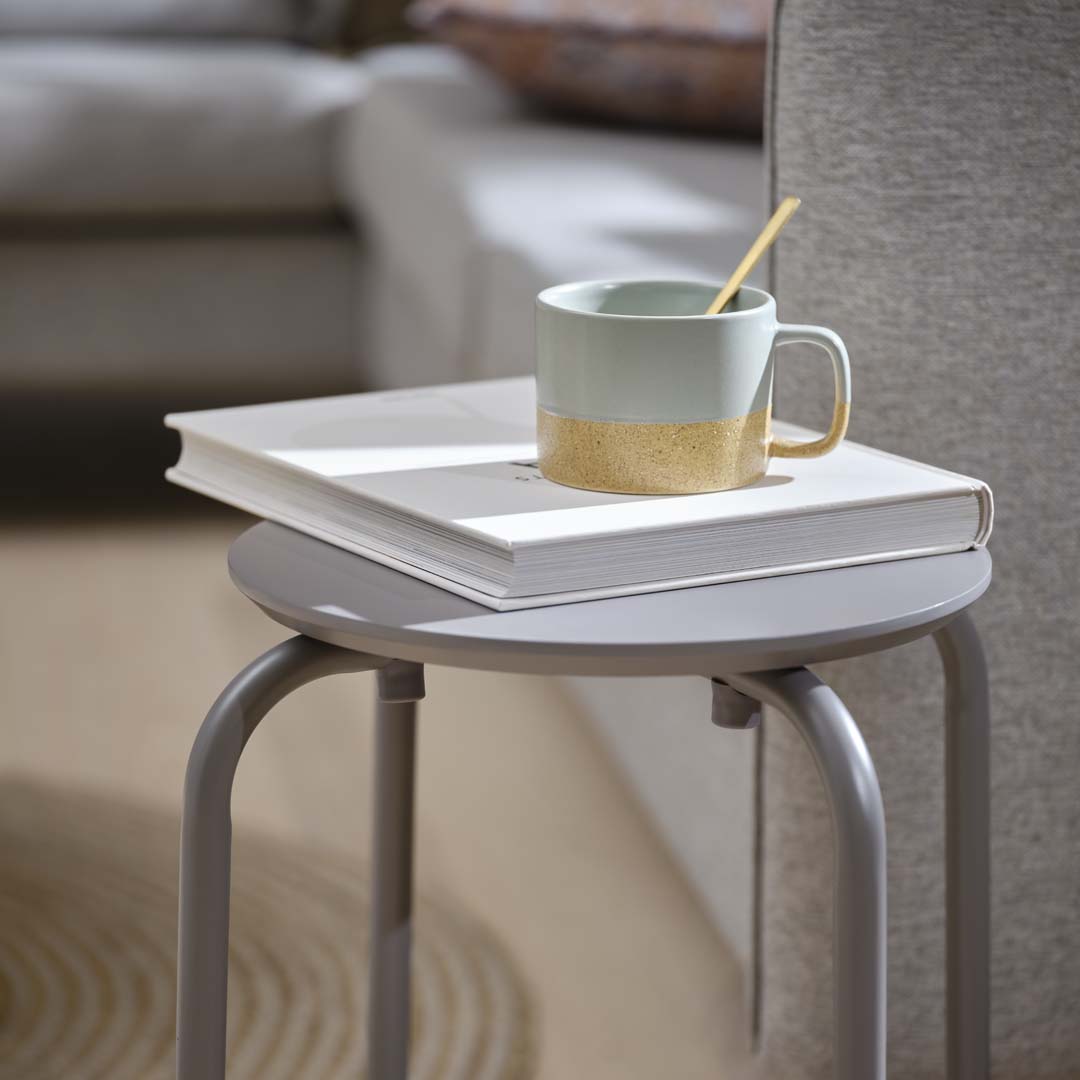 Small details can be enough to transform your home from dull to joyful and cosy. It's the little details that are vital.

Fill your living room with soft textiles like the VALMUE quilted blanket and make the sofa, even more, inviting with a lot of colourful cushions.

Discover your very own personal style in this guide
Take a break for self-care
Everyone deserves a break from the hustle and bustle of everyday life. For some a self-care break is best done alone, for others, it means being with friends and family.

Create a cosy setting with a hot cup of tea or coffee and some of your favourite snacks. Serve it in the cute GAUTE teapot and enjoy it from the HALFDAN mugs. Use the decorative GERNER tray and fill the SIMON bowls with delicious treats. 

Snuggle up on the sofa under a throw and enjoy a good book, podcast, TV series or a nice calming nap.

When on an airplane you are instructed to first put on your own mask, before helping others. This can be used as a metaphor for all aspects of your life. You need to take care of yourself before you can take care of anyone else. Therefore, create a home that helps you recharge – and make time for yourself. It's important.