Your hallway is the first thing you see when you arrive home. It's also the first thing that greets your guests. They should feel welcome from the moment they walk through the door. Decorating your hallway can help create a wonderful first impression. So it is really worthwhile doing something special with your hallway design, making it charming and calm, and investing it with a pleasant atmosphere.
A common thread from your hallway to the rest of your home
When you decorate your hallway, you should consider a style of design that corresponds to the interior design in the rest of your home. Think about choosing furniture and design items in shades which match the rest of your home. If you follow this strategy, you will be well on the way to welcoming your guests in style, whilst providing a practical and functional use to your hallway.
Take advantage of the space with practical hallway furniture
Hallway furniture should help make a hallway practical and functional. Coat hooks, shoe racks and storage benches are just some of the practical furniture that can help with the lack of space in a hallway.
One interior design hit in many hallways is the classic hat shelf. A hat shelf is a practical multi-purpose furniture item with coat hooks and shelves all in one. Choosing items of furniture with several elements integrated into one piece means less mess and more wall space.


Hallway furniture with storage space
Another popular, multi-functional piece of hallway furniture is a storage bench. There's plenty of space down in the bench for storing shoes and outdoor clothes. The bench is also great for storing items on top of it, such as letters or keys for easy access. A storage bench is also a perfect piece of furniture for a small hallway, because it saves space. Furniture for storing shoes is also very practical in a hallway: for example, a simple shoe rack or a practical shoe cabinet.
Narrow and small hallway ideas
If your hallway is narrow there are some design issues you need to focus on in order to make the best use of the space. In a small or narrow hallway, think about hiding outdoor clothes and shoes in the likes of a cupboard, instead of hanging them in the space which takes up room.
Good storage solutions for a narrow or small hallway include bright-coloured cupboards with a relatively shallow depth to save floor space. Or choose a thin shelf to store important items such as keys, but decorative items as well.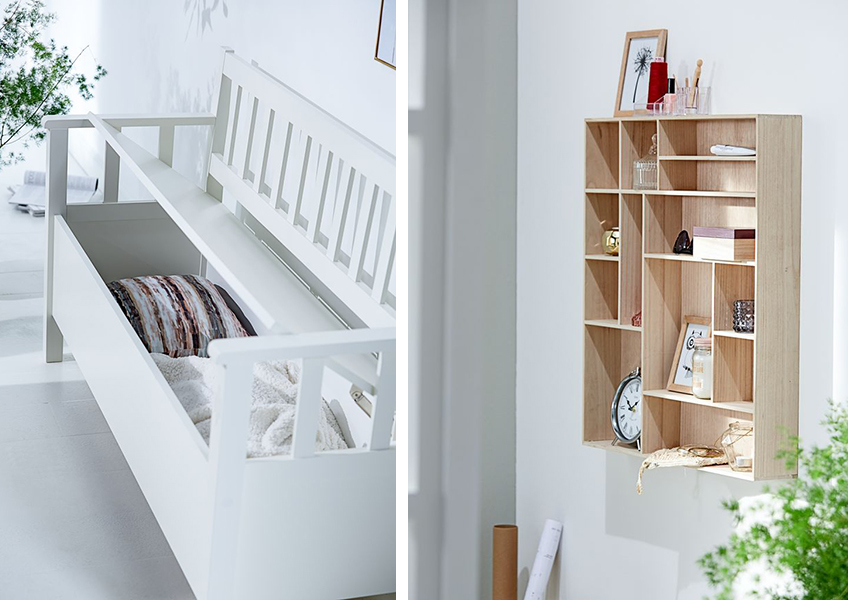 A mirror can make your hallway seem larger
Large mirrors are excellent for making small hallways seem larger. A mirror reflects the existing light and gives the illusion that the hallway is larger than it actually is. A mirror is also very practical to have in a hallway as you can give yourself a final look in the mirror before going out of the door.
Choose the right lighting for your hallway
Light in a hallway should be warm, welcoming and pleasant. Use lamps or lanterns to provide light and decoration. If you're lucky enough to have a natural inflow of light in your home, you should do your best to incorporate it into your interior design. Good natural light automatically lends a pleasant atmosphere to a hallway and can make the room seem more inviting.
Decorating ideas for hallways
Furthermore, add a touch of the outdoors in your hallway with a few plants or flowers to make the space feel more fresh. If you have any good design tip for decorating little, narrow, wide or square hallways, please share your ideas in the comment field below.