When you and your family go on a camping trip, preparation is vital to ensure you have the best time. But, what items should you take? Read on for tips and advice on what you need on your camping trip.
It starts with a tent
A good tent is essential and the most vital item that should be at the top of your camping checklist. It is the tent that sets the standard for the holiday, as this is your home whilst you're away.
When choosing which tent best suits your family, it's important to look at what role the tent will perform. If you just intend to use the tent for sleeping, then a smaller tent may be ideal. But, if you want a space in your tent for dining, storing your items, and a place to play games in, then a larger tent with different rooms is most likely to be best suited. 



Keep warm at bedtime
No one likes being cold when trying to sleep, therefore it is key to have a great sleeping environment on your campsite. A sleeping bag is key but it is important to consider the different levels of thickness and what climate the sleeping bag has been designed for.

For an ever cosier sleep, purchase a camping/roll mat to avoid any stones in the ground, or even better, invest in a blow up bed/air mattress so that you feel as if you're sleeping at home.
Dinnertime on the camping trip
After a day of outside activities, the family will be starving! Not only are meals themselves important, you also need to ensure everyone is comfortable.
Furniture is paramount. Fortunately, you can get good camping furniture that folds down or packs up so it doesn't take up too much space. If you would like to create a little extra atmosphere at the dinner table, you can bring a nice tablecloth and perhaps some fine disposable tableware with floral prints. That way you can keep a homely atmosphere without having to wash a lot of dishes.
Outdoor relaxation
Camping is a return to the simple life - back to nature, with endless summer days. Turn up the cosiness in the evening with cosy throws, which can also double up as an extra layer at night if it gets a bit chilly. Something else you'll need to put on the camping checklist is light. Solar lamps are great for camping, as they charge in the sunlight and they're safe for when you have small children around.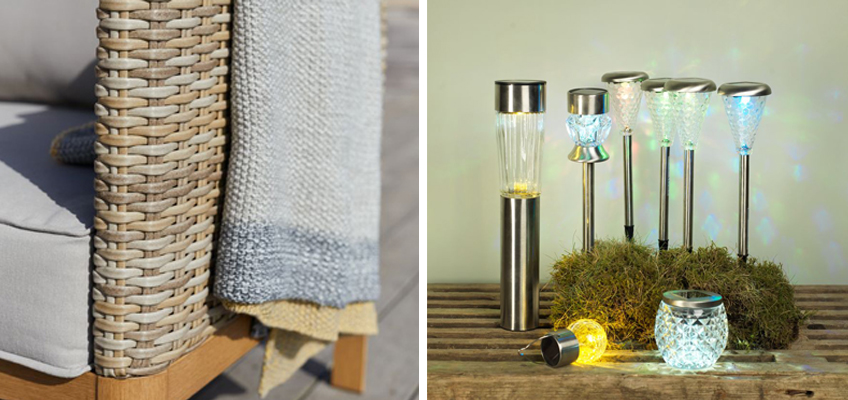 Fun and games in the open
No camping checklist should forget the fun and games! When the family is camping, you must remember to take a range of outdoor toys and games. Adapt the activities to the children's ages, and remember that children and adults of all ages can take pleasure in a good water fight or a game of rounders.
If you're camping close to the beach, remember to pack a beach tennis set and inflatable beach toys. They take up very little room in the car, and can provide many hours of fun for the entire family.