Have you ever experienced waking up with neck or back pain? Read on and find out which sleep position is the best for you, and which sleep position you should try to avoid.
THE BEST SLEEPING POSITION
THE HEALTHIEST SLEEPING POSITION FOR YOUR NECK AND BACK IS ON YOUR BACK


By laying on your back, your head, neck and spine are allowed to remain in a neutral position. This is the best sleep position if you want to avoid pain in your neck, back and head, and also if you suffer from acid reflux or heartburn. Choose a pillow which raises your head slightly above the mattress. This will prevent stomach acid from coming up through the esophagus. Sleeping on your back also helps prevent wrinkles, because your face gets air and you avoid pressure against your face.
However, the disadvantage of sleeping on your back is that people who have a tendency to snore frequently, snore more in this sleep position. Avoid sleeping on your back, if you have a cold as this can cause the mucus to accumulate in the sinuses, therefore making breathing more difficult.
The ideal pillow for anyone wishing to sleep on their back is a pillow with down or feathers. The pillow is comfortable and the filling can move around, which lets you lie as comfortably as possible. If by any chance you are allergic to down, you could choose an anatomic pillow with fibre filling.
THE SECOND BEST SLEEPING POSITION
IF YOU CANNOT SLEEP ON YOUR BACK, THE NEXT BEST SLEEPING POSITION IS LYING ON YOUR SIDE


This sleeping position also helps protect your back and your neck, because your spine remains naturally stretched while you sleep. If you suffer from snoring, then sleeping on your side may be more suitable. Sleeping on your side is also the next best position if you wish to avoid heartburn and acid reflux. But this sleep position is bad for anyone wishing to avoid wrinkles, because it presses your face against the pillow.
If you are pregnant, this is the healthiest sleep position. Pregnant women should sleep on their left side, because it increases blood circulation in the body and reduces the pressure to which the lower back is vulnerable. If you have a cold, this sleeping position is preferable. Place an extra pillow under your head as this helps to prevent mucus from blocking your sinuses.
The ideal pillow for anyone wishing to sleep on his/her side is a natural latex pillow. This is a soft pillow, that does not allow your head to sink too deeply. You can also choose memory foam pillows, because the foam shapes itself according to the shape of head. 
THE NOT SO GOOD SLEEPING POSITION
SOME PEOPLE CHOOSE TO SLEEP IN THE FOETAL POSITION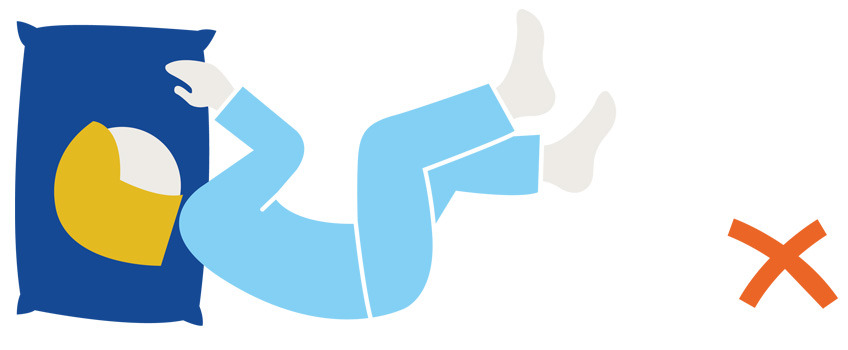 Sleeping in the foetal position is not the most healthiest for your body. The body is folded up, which means your spine is unnaturally bent. When you sleep in the foetal position, your folded body can also effect your breathing. The position is not good if you are keen on preventing wrinkles. But the foetal position does help prevent snoring and, for some pregnant women, it is the most comfortable position.
THE WORST SLEEPING POSITION
THE ABSOLUTE WORST POSITION TO SLEEP IN IS ON THE STOMACH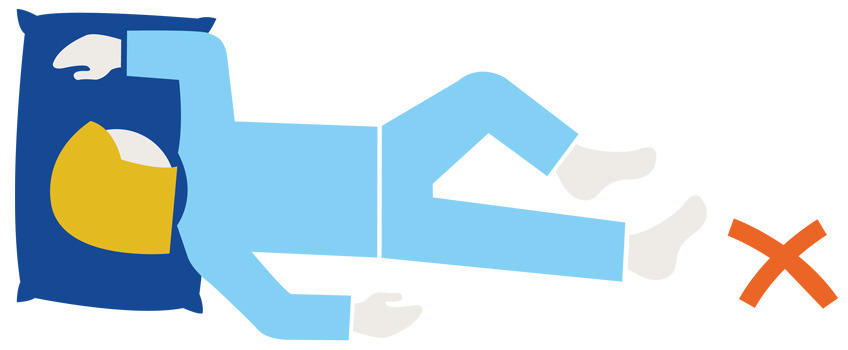 When you sleep on your stomach, both your neck and your head are locked for many hours at a time. This can cause problems for your neck and can eventually lead to tension and headaches. In addition, your spine is forced into an unnatural position which can cause back pain. This sleep position is hard on joints and muscles as they are placed under pressure.

However, there is one advantage to sleeping on your stomach as it is the most effective position if you wish to prevent snoring. We suggest choosing a pillow which is as low as possible. Even better, you should consider not using a pillow at all. This will avoid forcing your head and neck into an unnatural position. If you prefer to lie on a pillow, you should choose a pillow with a down and feather filling as this will allow the filling to move, so that your head is not too high when you are lying down.