Get inspiration and styling tips on how best to furnish and decorate a studio apartment. From clever furniture ideas to interior styling. Read on for advice.
Focus on the key items of furniture
Small items of furniture and knick-knacks may be both charming and pretty. However, in small studio flats ornamental items can sometimes create a lot of clutter. Therefore, when you are decorating your apartment, it's a good idea to start with your core items of furniture such as your bed, sofa, dining table, and then work your home accessories around them.
Consider using multi-functional furniture
In some cases, a single item of furniture can serve as a multi-functional piece that accommodates several requirements. This way, you can eliminate clutter and make use for more practical space.

For example, a desk placed by your bedside could serve as a bedside table, a dining bench could also be perfect for storage. And a sofabed is perfect for day use and for when you have overnight guests coming to stay. 
Divide the room into zones
When you are decorating your studio flat, it's a good idea to divide the space into little zones. You can use rugs and room dividers to create the illusion of several rooms-within-a-room. For example, put a rug under your sofa. This will emphasise the division between a living room and bedroom in your falt.

You could also hang a long, thin curtain to create a private zone for the bed. By choosing a thin curtain, you can screen off the sleeping zone visually without shutting out the light. Get more inspiration for dividing rooms, when you are decorating your studio apartment.
Choose 'lightweight' furniture
It's a good idea to go for 'lightweight' furniture without an overwhelming visual impact in your flat. This helps make the room feel airy and spacious. A sofa in particular can have quite an oppressive impact on a room. Therefore, you should avoid large sofa groups with rectangular sofas, and instead incorporate a smaller sofa with legs into your design. The legs lift up the sofa off the floor, resulting in a lighter look.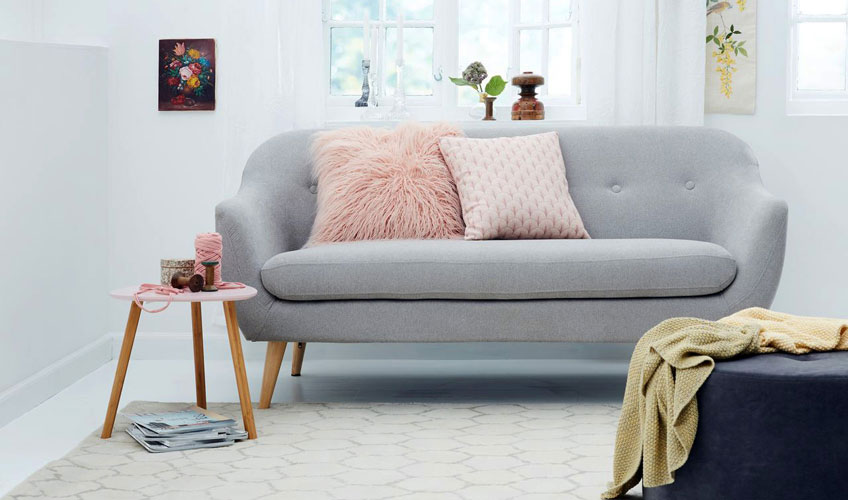 Make use of the walls and the height of the room
Even though space is tight, you still need plenty of storage space. Hence, why it's important to exploit every storage option. Make use of your wall space to hang shelves or hooks. Shelves create space for both storage and ornaments, while you can use the hooks to hang the likes of clothes.

If you have a high ceiling, you can hang your shelves and hooks up high. Emphasising the room's ceiling height will provide a more spacious look, at the same time creating room for furniture under the shelves and hooks.

Utilise the space under your bed
Whether you have a double bed or a single bed, a bed takes up a lot of floor space, therefore make the most of any storage under your bed. Invest in storage boxes with or without wheels, which can fit under your bed. This enables you to keep things organised under your bed, while also protects your belongings from dirt and dust.