TRAPPEDAL is one of the most popular furniture collections at JYSK. If you are a fan of a no nonsense type of décor, with straight lines and the beautiful contrast between culture and nature created by metal in combination with wooden tones this is for you. It is beautifully light, elegant and simple. And on top of that our customers love it.*  
At the moment the TRAPPEDAL collection consists of a desk and two shelving units with 5 or 7 shelves. And with a little patience, you can get even more items in the collection. Read more in the bottom of this post.
TRAPPEDAL shelving unit with 5 shelves 

Only 109 cm tall, the TRAPPEDAL shelving unit with 5 shelves in deco veneer and black powder-coated metal is ideal for a room where you want to keep it light and elegant. It is 70 cm wide and perfect for your display of knick-knack as well as storage.  Our customers give it an average rating of 4,5 stars on JYSK.xx and on JYSK.fi one of them writes:
"DANISH DESIGN AT ITS BEST - ALMOST BAUHAUS" (along with a 5 star rating).
TRAPPEDAL shelving unit 7 shelves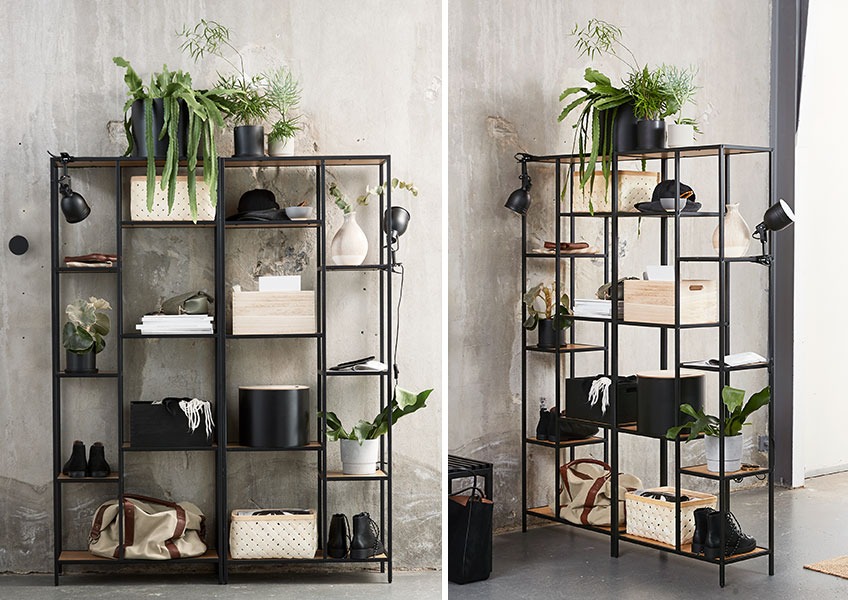 This shelving unit is quite tall with its 178 cm. it is more of a traditional bookcase, perfect for storage or for your books but with room for a lamp, a vase, and other decorative items. This shelving unit has an average of 4,7 stars on JYSK.xx. On JYSK.bg, one customer noted:
"Beautiful, modern, easy to assemble" - and leaves a 5 star rating.
TRAPPEDAL desk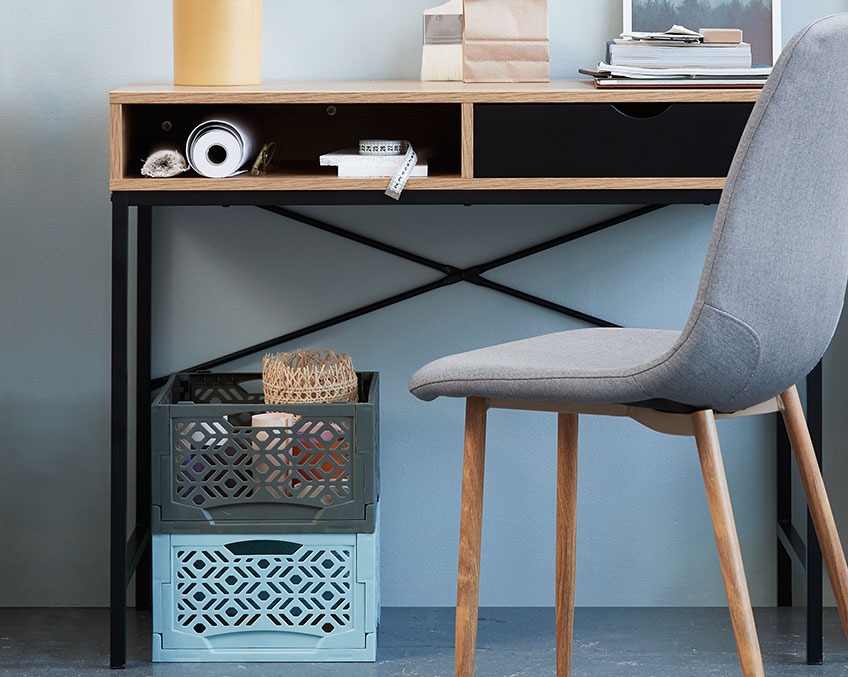 The TRAPPEDAL desk is quite small and fits in where other desks don't. It has room for your desktop, a table lamp, and a small paperweight or other pieces of décor – and what else do you need? You can place the drawer in both the left and the right compartment, however, it suits you. On JYSK.nl one of our customers leaves it a 5 star rating and these words:  
"It is a super nice desk for my laptop and looks great in my living room…"
More TRAPPEDAL items on the way

From the end of July 2020, our TRAPPEDAL collection becomes more than home office furniture. We are proud to introduce a sideboard, TV bench, bookcase, coffee table, beside table and two chests of drawers with 4/6 drawers so you can furnish every room in the house with the collection. The new items have of course not been rated by our customers but we feel confident that they will meet the previous products and live up to our expectations.
Do you own one or more of the products in the TRAPPEDAL collection? Let us know what you think in the comments.
Also check out our furniture collections DOKKEDAL with the industrial vibe, VIRUM in black metal, VANDSTED in bamboo, and the elegant white NORDBY.
*The reviews stem from the following countries where JYSK is represented: Denmark, Sweden, Norway, Finland, Poland, the Czech Republic, Hungary, Slovakia, the Netherlands, Slovenia, the United Kingdom, Croatia, Bosnia and Hercegovina, Serbia, Ukraine, Romania, Bulgaria, Greece, Belgium and Ireland.