From September 2021, new rules apply for energy labeling of light sources. The purpose of the new energy labelling is to make it easier and more transparent for customers to choose energy-efficient products.
During the transition period to the new label you may encounter both new and old labels in our stores. It is important to know that the old and new labels cannot be directly compared.
You can get a brief introduction to the new energy label below.
The new label scale
The new energy label for light sources uses an updated scale ranging from A to G. This scale is used for all new energy labeled products. Please note that the old classes A++ and A+ are not used in the new scale.
For light sources the individual energy efficiency class is determined by the lights source's efficacy (Lumen/Watt).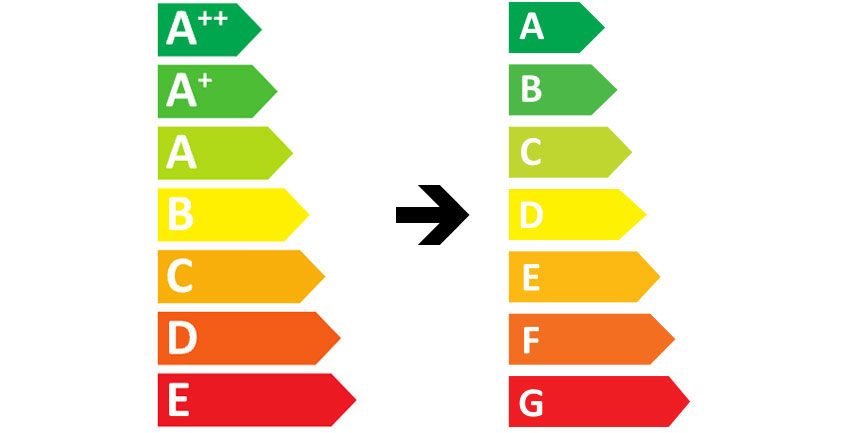 Old A++/A+ does not equal A
Old and new energy labels are not directly comparable. This is because the new scale, in addition to changing classes, has been rescaled to new stricter requirements.
On the old scale, nearly all LED light sources ranged in the highest classes. This will no longer be the case with products labelled according to the new scale. On the new scale most products will, at least initially, be rated significantly lower.
In fact it has been decided to set the new requirements for the highest class higher than what can be achieved using the currently available technology.
Ratings aside, current products are not less energy efficient - the scale has just been changed to be ready for driving the innovation of better and even more energy efficient products.
The design of the new labels for light sources
The new energy label has got a new design. The different elements on the new label are explained below: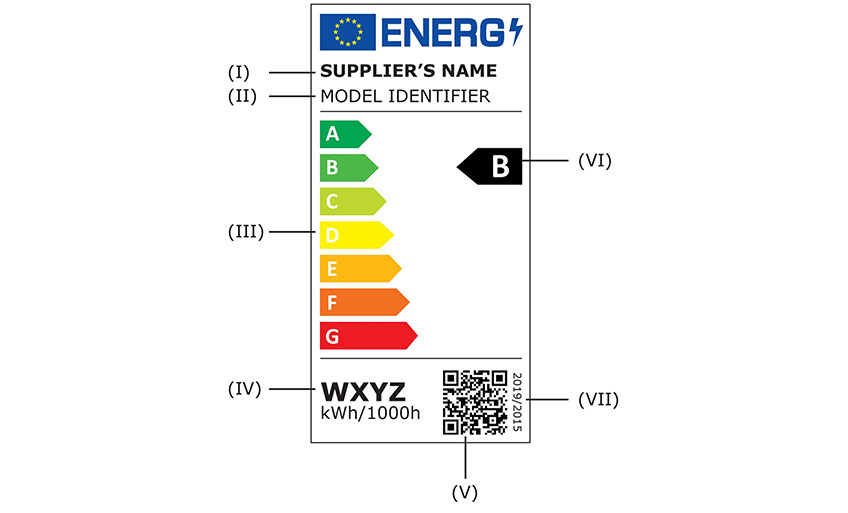 I. Supplier name or trademark
II. Model identifier
III. Scale of energy efficiency classes ranging from A to G
IV. The energy consumption, expressed in kWh of electricity consumption per 1000 hours, for the light source when it is turned on
V. QR-code
VI. The product's energy efficiency classification
VII. The number of the new energy labelling regulation.
Get more information with the new QR code
With the introduction of a QR code on the label, you can quickly access additional information about the light source on your smartphone. The QR code links directly to the EU EPREL database, where you can see technical specifications about the product.
If you wish to learn even more about the new energy label, you can read more here: https://thecai.ie/new-generation-eu-energy-labels