Let yourself go offline with the HUMAN NATURE trend from JYSK. With this new trend, we retreat from the busy world into calm nature. Our focus is on wellbeing and getting in touch with the outdoors. The trend celebrates both the beauty and strangeness of nature.

Make room for plants and an organic atmosphere by using your vertical space. Hang the VIRUM console table from the ceiling and let your plant pots sway underneath it – almost creating a wall between two rooms.

The colour mix in the HUMAN NATURE trend is arranged tonally, inspired by the horizon line where sky meets earth. The palette is autumnal, showcasing rich tones from Scandinavian landscapes as seasons change.

Even if the trend can seem a bit wild and overgrown, you can still let yourself be inspired by solutions that minimise clutter and create harmony in your house. Like in these images, hide your kitchenette behind wardrobe doors to keep any unwashed dishes out of sight.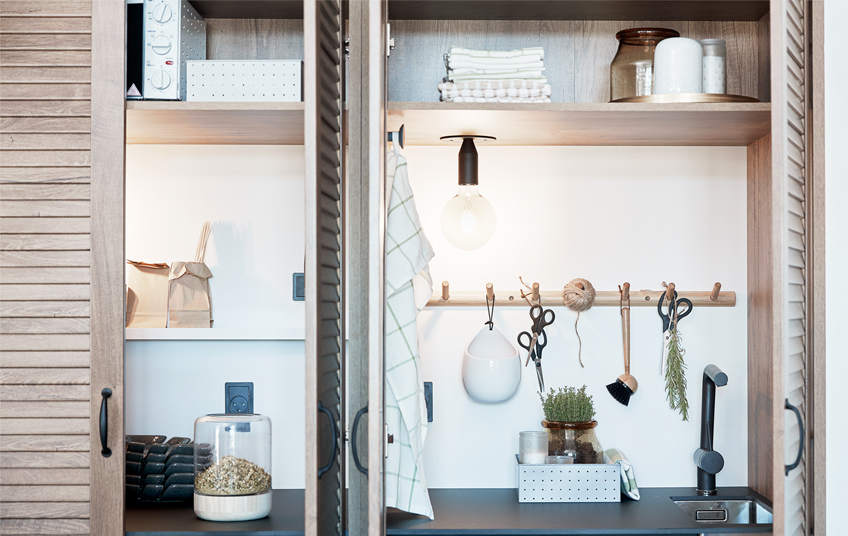 Using nature in modern ways, the HUMAN NATURE trend combines brown, green and blue colours with industrial materials like metal, glass and wood as well as artificial plants. Classic shapes and forms take centre stage with architectural elements.

HUMAN NATURE is one of three new indoor trends in JYSK this season. Our skilled Range and Design team has carefully defined them and handpicked products that match each trend. Let yourself be inspired by the two other trends too: THE THINKER and CREATIVE MIND.