In recent times, the garden or outdoor areas of our homes have become increasingly important. Between gazebos by the pond and patios fully equipped with elaborate dining and lounge setups, bringing the indoors outside has become a priority for many.
As with lighting in the rest of our homes, outdoor lighting is a central element that is both practical and decorative. Garden lighting allows us to illuminate our gardens, patios, and other outdoor areas in the evening and night-time, whose impact is especially noticeable if you live in an area where it gets dark quickly or where winter means almost perpetual darkness. At the same time, garden lighting is not only practical – warm light emitted by lanterns and candles is unmatched in creating a wonderfully cosy atmosphere.

It is difficult to find something that can contribute to amazing outdoor evenings as much as the right lighting can. With warm and calm light flowing from string lights and candles in lanterns, your lighting setup can make your outdoor home truly amazing.
Garden lighting for you – but what about for others?
While garden lighting is a great addition to your home, it is rarely the case that it is visible only to you. In general, light pollution in populated areas is an increasingly common issue that is difficult to combat. Perhaps you have lit up your back garden patio with bright lights, and the lights end up bothering your neighbour because their bedroom is adjacent to your patio. This is a classic example of well-intentioned lighting causing light pollution and potential disturbance for others. Such a situation is of course not ideal and ensuring that your lighting does not impact others is something you should prioritise.
Garden lights can impact wildlife
Garden lighting can affect not just humans, but also various other animals and creatures. For many, it is easy to recall having experienced walking past a lamp in summer after the sun has set, seeing many different insects swarming by the lamp because they have mistaken its light for moonlight. For nocturnal animals, such as many insect species, excessive garden lighting and light pollution can disrupt their natural behaviour.
With that said, there is no need to completely eliminate the outdoor lighting of your home. Being considerate about where, how, and when your lights are on can have a positive effect on surrounding wildlife in addition to your own electric bills.
8 ideas for garden lighting that is considerate of people and wildlife
Confine your lighting setup to areas that you want illuminated.

Point the direction of your lighting downwards when possible.

Minimise the use of very bright LED lights; consider using more subtle lighting such as smaller solar lamps and lanterns instead.

Reduce the duration that your garden lighting is on.

Reduce the luminosity of your lighting setup when possible.

Connect your lights to timers so they follow an adjustable schedule.

Consider using motion-sensing lights in your garden lighting setup.

Screen or block off your lights from angles that can affect others; use fencing, bushes, or trees to create natural screens.
The simplest of these tips is to minimise the use of bright LED lights where it makes sense for you and instead fill your outdoor spaces with subtle accent lighting. An additional benefit is that small solar garden lights and garden lanterns are perfect for creating a cosy outdoor atmosphere.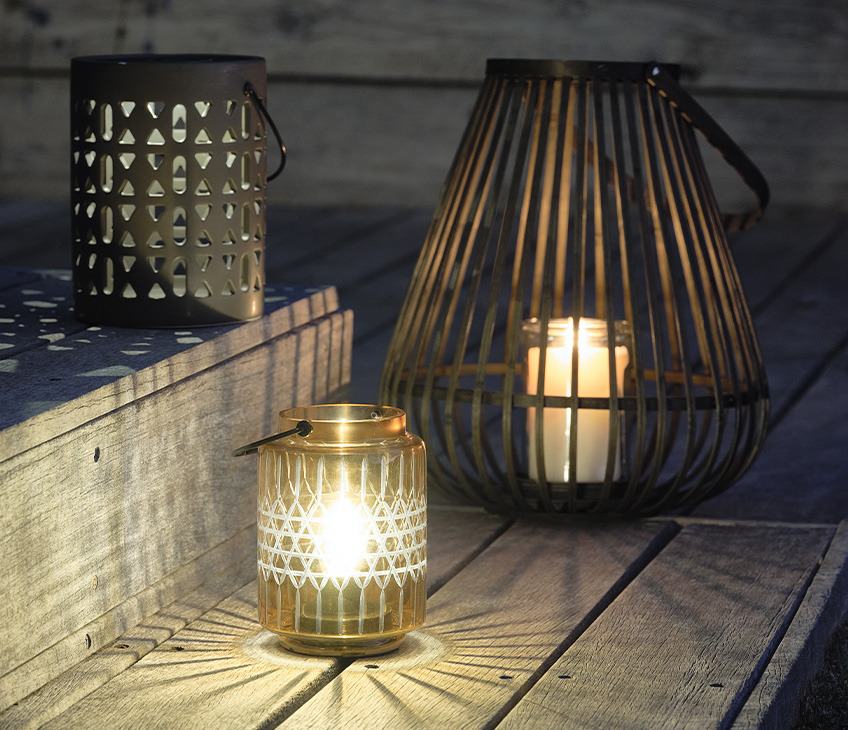 Illuminate your garden for a cosy atmosphere
By opting for smaller lights, you can ensure that your lighting setup radiates warmth without affecting others as much as bright lighting would. You will also gain more control over the position and direction of your garden lights, and your illuminated areas will therefore also be more defined and much cosier. Additionally, with multiple smaller sources of light, you can use a variety of lights and lamps to create a beautiful and unique expression to enhance your garden, patio, or other types of outdoor area.  
Solar garden lights for the outdoors
Solar lights and lamps are convenient and easy to use. With no need for wiring and no chords to plug into an outlet, they are a generally maintenance-free option. They are also ideal for creating small, cosily lit pockets in your garden or outdoor area when night falls. Using solar lights is a popular option for illuminating ornamental arrangements in gardens such as small ponds and flowerbeds.
Garden lanterns and battery lamps
Garden lanterns and battery lamps are perfect for lighting up the spaces in your outdoor area where you will be spending many of your evenings. With garden lanterns you can light tealights for a more rustic and natural light; a real flame is always a great way to create the perfect atmosphere. Battery lamps are great options for convenient and carefree portable lighting.