One of the great charms in a nice hotel is the calm, cool interior design that helps you relax and enjoy the moment. There is no mess or clutter in the room (unless you have already unpacked), and the sole purpose of the décor is to make you feel like you have stepped into a room of luxury. 

In our busy everyday lives, we all need that little bit of luxury now and again. With only a few means, you can create the hotel vibe in your own bedroom - a contemporary bedroom design that makes you dream away and imagine that you are staying in a luxury resort. Here are our best tips for creating an exclusive bedroom with a pure hotel atmosphere right there in your own home.
 
Hotel look bedroom
There is a reason why many hotel rooms stick to tone-in-tone colours. This establishes a calm and peaceful expression, appreciated by many guests. Earth tones create a soothing, spa-like vibe that can help benefit your sleep quality. On the other hand, avoid bright colours that can increase the amount of energy in the room.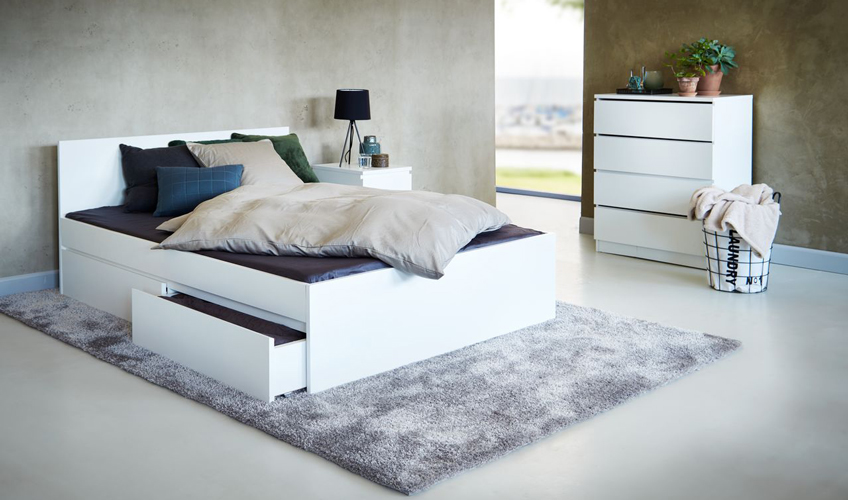 Before you start re-decorating your bedroom, develop a plan for this private refuge. 

Hang long curtains around your bed
Long curtains will frame the room and help create a more intimate and comfortable atmosphere. They limit the bed from the rest of the room and make it more private, even if they are a bit see-through.

If your bedroom isn't all that spacious you can still use curtains in your design – just add a large mirror on one of the walls to make the room seem larger and more spacious. You can also use curtains to hide a cosy nook where you can cuddle up with a book – or possibly hide the laundry ... In any case long curtains create an intimate atmosphere in your bedroom.

Matching accessories and back pillows
Put a bed throw over the bottom half of the bed to protect the duvet and provide a cosy cover-up for when you are reading a book in your favourite chair or lounging on your bed. Make sure that the colour matches the rest of the bedroom design for more of a hotel feel.
Finally, combine large back pillows with smaller cushions to create a true hotel look. The pillows add style and sophistication to the design and on top of that, they provide good comfort and back support for when you are reading a book or watching TV in bed.