Once you have tried having a bedside table, you can't go back. When you have learned the comfort of having somewhere to put your glasses, evening literature and a drink of water it becomes an essential part of your sleeping environment.
There are many different models and styles to choose from so we have collected some tips that can help you make the right choice of bedside table.
How big and how tall?
To begin with, consider how much space you have on each side of your bed, and what are your intentions for the bedside table. Do you want a lamp on the table? Or just your smartphone or alarm clock? Most are bedside tables are between 40 and 50 cm wide and deep, so find one that fits both in your bedroom and your intentions.
If you don't have a lot of space in your bedroom, consider a floating bedside table that you mount on the wall. These typically take up less space than bedside tables that stand on the floor.
The bedside table should be at level with the top of your mattress or a little higher. That way it is easy for you to grab something from the table when you are lying in bed.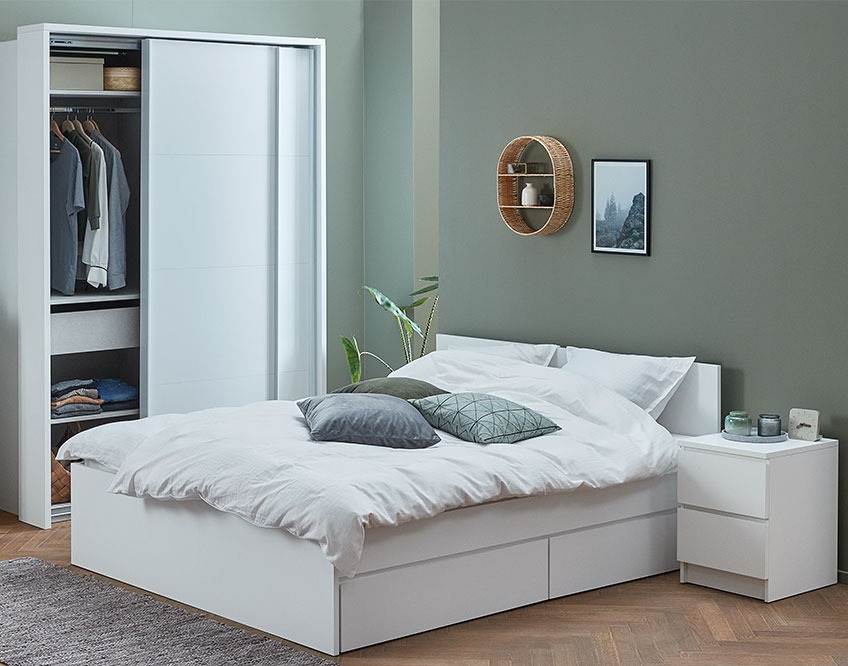 Do you need bedroom storage?  
Bedside tables can be just that – tables – or they can offer bedroom storage space with drawers, cabinets or open shelves. A bedside table with a drawer or a cabinet can help you keep the bedroom tidy and if there is an open shelf, you can keep both your magazines and a little piece of décor there. 
A combination of a small drawer and an open shelving area underneath or above it works great.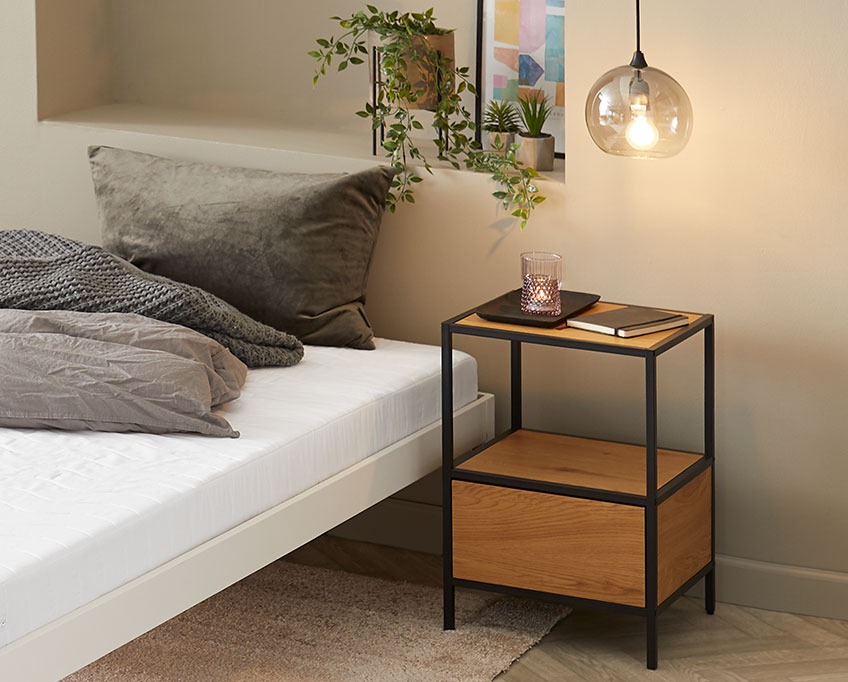 What is your style?
You can go for a classic solution and get a bedside table that matches your bed frame or the chest of drawers. If you want a nice balanced look, you need two matching bedside tables. Keeping your bedroom symmetrical makes it more visually appealing.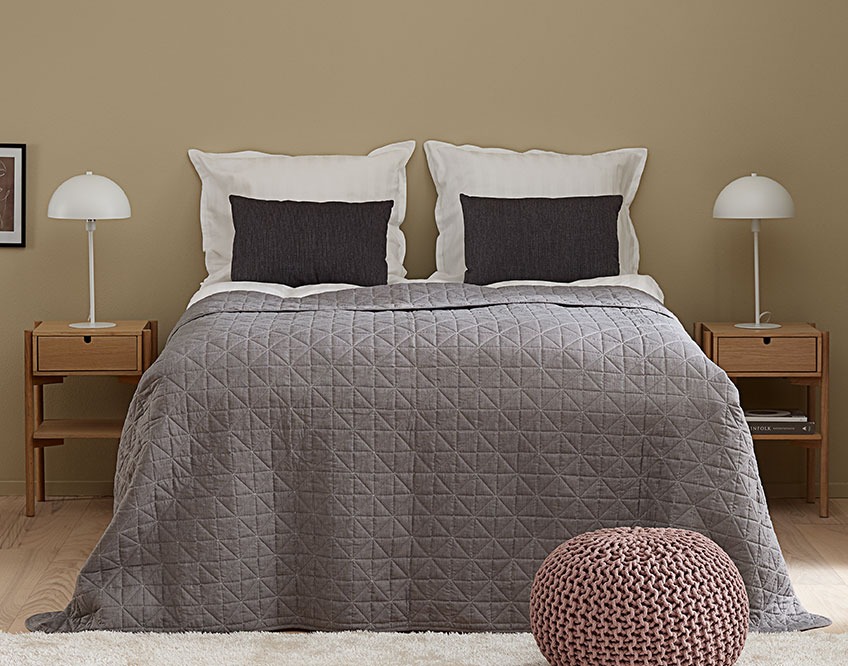 However, you can also chose two bedside tables that are of different styles. You might like the dynamic look, or a shelf might just be better suited in one side of the bed while a bedside table is perfect for the other. There is no problem in having two nightstands of different sizes or shapes. Or in having only one – just make sure that it is big enough for both your and your partner's nighttime essentials.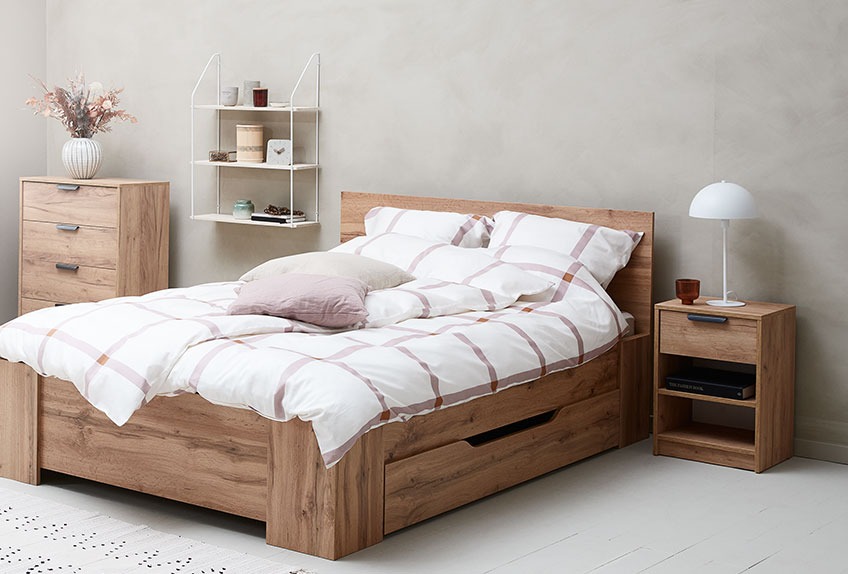 What is the right material for a bedside table?
There are different things to consider when it comes to material. If you like to keep a glass of water on the table, chose one that has a surface out of metal or some other material that does not stain as easily as wood. If you go for the dynamic look with different styles, matching materials can also be the element that ensures a continuous look in the bedroom.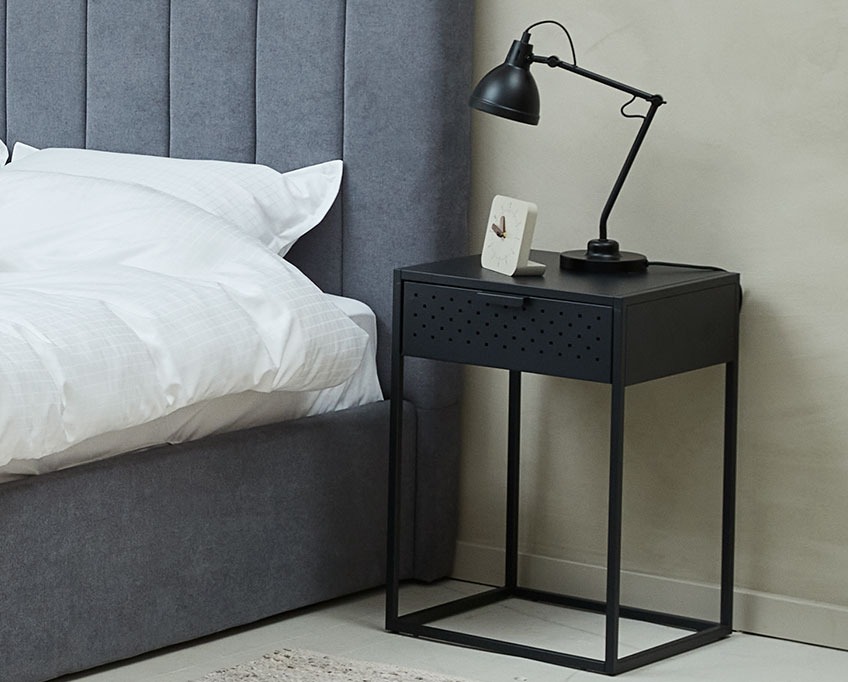 Tips for bedside lighting and décor
You want to be able to reach your bedside lighting easily, so a table lamp is perfect for your bedside table. Make sure that you can turn it on and off from the comfort of your bed and that the light doesn't blind you. If your bedside table is a small one, consider a wall-mounted lamp. Vases and decorative items can add a nice atmosphere to a room, but be careful if you place them on the bedside table – you can knock them in your sleep. A small plant pot, possibly with an artificial plant, is preferrable along with some small knick-knack that can create a nice and calm bedtime atmosphere.