If you live in an apartment it is a true privilege to have a balcony available. A balcony is the perfect place to relax on all year round. Read on for balcony styling and decorating tips to furnish your balcony to suit every season and every type of weather.
Use the available space
When decorating your balcony, you should focus on making full use of the limited space that is available. However, you can easily turn it into a cosy place, too. With just a little know-how and a few well spent pounds, you can create your own little personal oasis for you to enjoy the sun and relax.
If your balcony has enough space for a place to eat, you can benefit from prioritising this. For an affordable price, you can buy a bistro set with a small table and two chairs that can be folded and save space on your balcony when you don't use them. Depending on the style you want on your balcony, you can choose from a variety of colours and materials.
Green oasis
Another popular trend is to add a touch of greenery and nature to your balcony. Planters easily bring that touch of nature onto your balcony, and can be added hanging from the wall to save space, on your fence or even on the floor. Also consider hanging plants at different levels and choose a selection of different plants and sizes.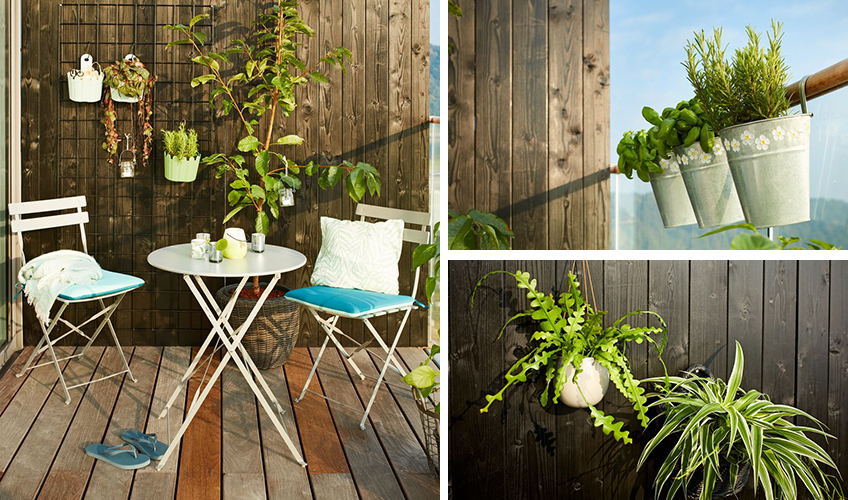 Plenty of shade
If you're lucky enough to have sun on your balcony then you may benefit from a parasol. A parasol is both functional and stylish as it provides you with important shade, but it can also add a touch of colour to your balcony space, especially if you pick a bright colour.
A touch of light
During the late summer evenings, or even if you're relaxing on your balcony during the winter months, you may want to add a touch of light to your space with beautiful solar lights. Solar lights provide pleasant mood lighting when darkness falls. Combine with a few candles and a warm throw for a very cosy feel.

How have you decorated your balcony? Comment below with any balcony styling tips and ideas.