Get ready for a season of making memories by moving the comfort of your living room out to the garden with a Scandinavian design lounge set. Do you need a new lounge set that can be used in the garden or on the terrace? With a lounge set, you can get even more out of our outdoor space and the late summer evenings. However, it can be difficult to find the perfect lounge set that suits you.
There are countless combinations of tables, chairs, and sofas. In addition, you also need to think about quality and maintenance. Check out our guide on which lounge set to choose and what to pay attention to. 
What can you use garden lounge sets for? 
A lounge set can be used on both the terrace and in the gardens. It gives a very special, relaxing atmosphere to your outdoor space. It is not only a place where you can eat out but also a place where you can relax and enjoy the silence or time with friends and family. A lounge set can be a gathering point and meeting place in your garden.

Think about how you want to use your outdoor space. Do you primarily want to use it under the trees in the garden where you can enjoy a glass of wine with your legs up? Or do you want to use it for when you get more guests or as a sun lounger on the terrace?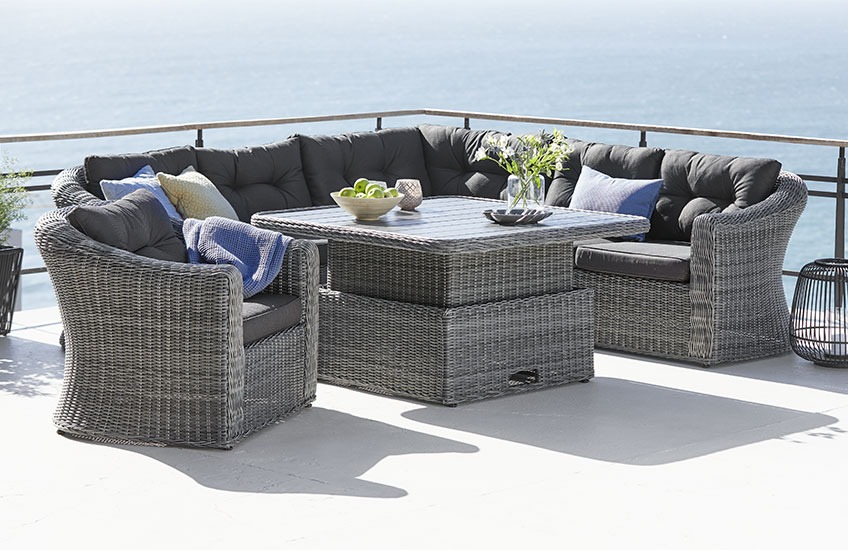 Garden lounge sets - what to look for? 
When looking for new garden furniture the number of choices can be overwhelming. We recommend that you look at the relationship between price, functionality and needs on your part. If you compare these factors, you will find the best lounge set. In JYSK we offer lounge sets to all budgets and needs. To make it easy for you we have selected the 3 most important factors to consider when buying a lounge set. 
1. Spaces and Sizes
The first thing you need to consider is the size of your outdoor space. Do you have a balcony or a huge terrace? No matter what you can find a lounge set that suits your needs. 
For the small outdoor space, it can be problematic with a corner sofa but a set with 2 lounge chairs and a table could be a good option:
If your outdoor space is bigger than a small terrace or a balcony but not too big then a good solution could be to combine a garden set with a small lounge set, or maybe go for our midsize lounge sets: 
If lack of space is not an issue then you have the luxury to choose more freely. However, the problem can then be to "fill out" all the space and get a cohesive look. Check out our range of large lounge sets:
2. Materials and maintenance
Garden lounge sets with a low level of maintenance are ideal, especially if you are the type who associates summer with long relaxing days and does not want to spend time maintaining your garden lounge set.
Most lounge sets are made of artificial wood, rattan, and aluminium, which are almost maintenance-free and weather-resistant. They are easy to clean with soap and water. Rattan and aluminium are also lightweight and therefore easy to move.
Garden lounge sets in rattan
Rattan lounge sets are available in different colours - including black, grey, and natural, and in various forms of wicker. Rattan gives a very special cosy look to your terrace. Both the colours and the composition of modules influence the overall visual expression. Which set do you prefer?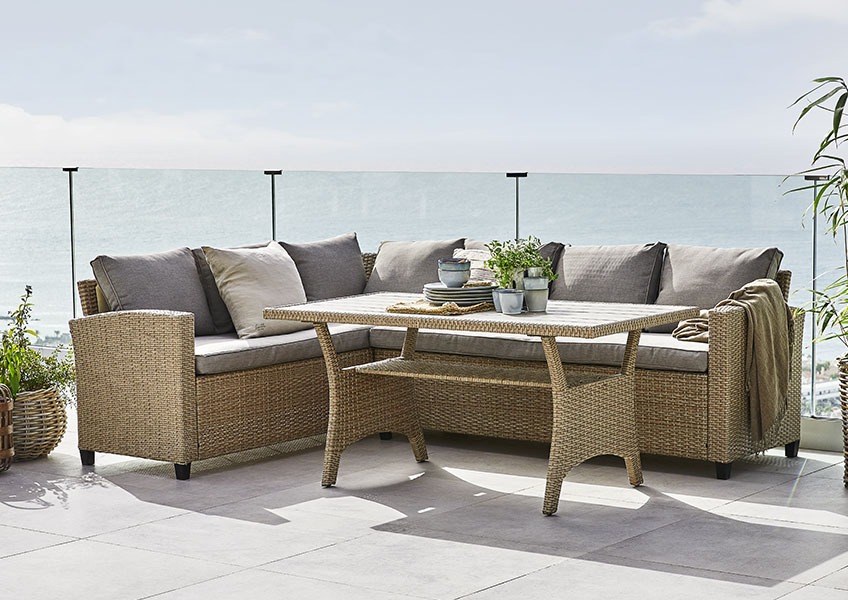 Garden lounge sets in aluminium
Classic, comfy and very practical: Meet the VONGE garden lounge set
If you are looking for a garden lounge set for your outdoor space, VONGE is an excellent choice, and our customers agree: They give this collection a rating of 4.8 out of 5 stars on JYSK.ie.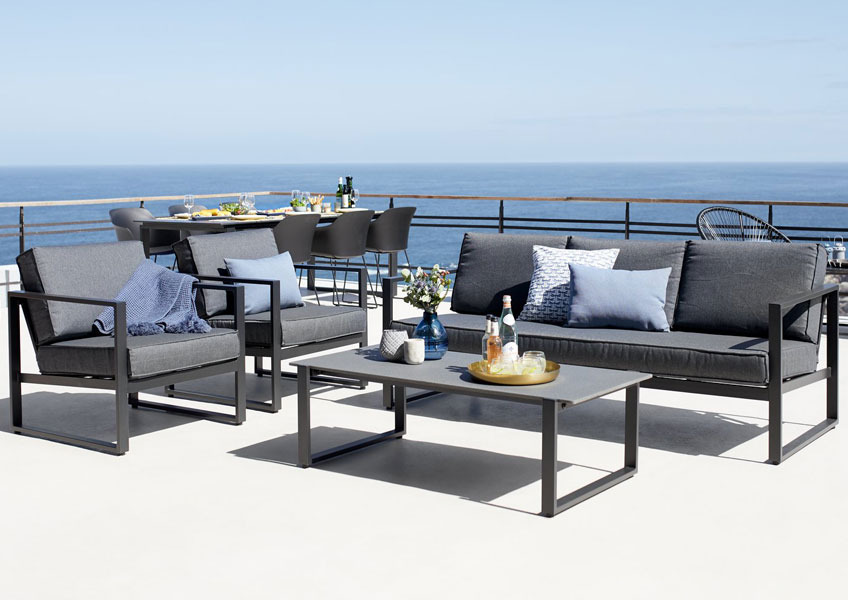 3. Comfort and design
Because comfort is important, but style is not far behind!
We truly believe that your garden furniture should be an extension of your home. We have comfortable sofas and seats inside, so why not have this luxury outdoors.
Style and comfort are individual. If you are in doubt about what style of lounge set to choose then look at your indoor furniture choices. It gives a stylish and cohesive look when indoor and outdoor match.