Storage can often be an issue if you have a small home. But fear not, as there are plenty of ways to save space whilst creating practical storage solutions in your home. Read on for 5 stylish and practical storage ideas: 
Baskets and boxes for small items
Lift your storage off the floor
Sliding doors provide more storage space
Multi-functional furniture storage options
Room divider with smart storage

1. Use baskets and boxes for those smaller items
Nothing is more efficient for keeping things out of the way than baskets and boxes. They enable you to store everything under the sun in a practical and decorative way. Rolling, under-bed storage boxes provide efficient, smart storage and make full use of any spare space you might be not using under your bed. 
Gather your bibs and bobs in smaller boxes, which come in an abundance of colours and materials. The advantage of using baskets and boxes is that they can be used as a practical and stylish storage solution in almost any room. They are easy and flexible to move around, therefore you can easily give your home a quick makeover.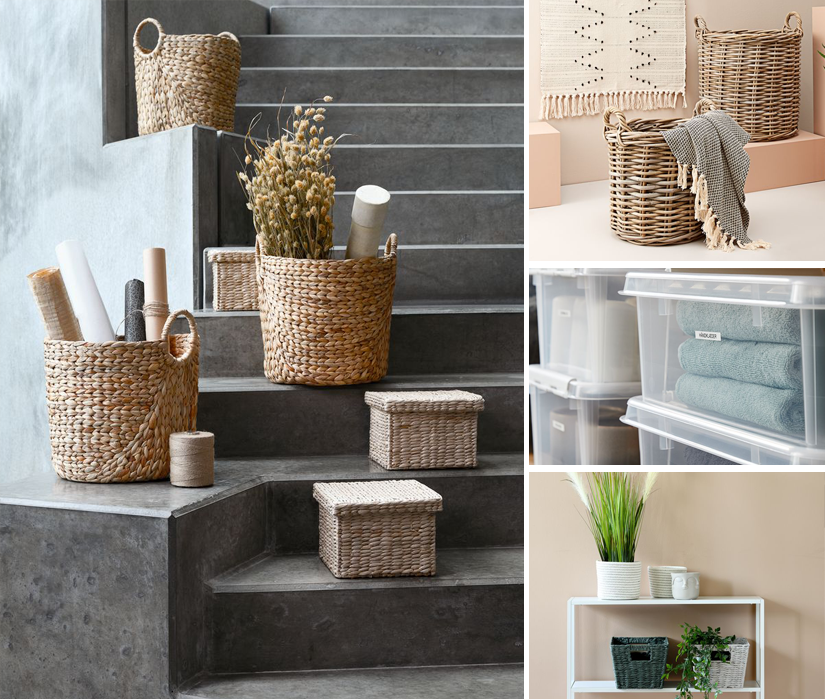 2. Move storage from the floor
If you are looking for smart storage ideas, make use of the ceiling, doors and walls. One unconventional storage option is to hang two hooks up in the ceiling, and then attach a strap or cord, which can hold a curtain rod. On this you can hang towels and clothes or S- hooks, which can securely hold all manner of things: for example, kitchen utensils.
People always overlook the back of a door as a storage solution. If you attach coat hooks or a coat rack to a door, you can take advantage of the back of the door for hanging bags, coats, jackets etc. That way you can use the space in your cupboard, where these items might have hung, for something else.   
3. Use the space under the eaves with sliding doors
Small homes with sloping walls can easily waste space, as sloping walls often go all the way to the floor. Instead of wasting the space under the eaves, you can use it for storage by fitting folding doors the length of the eaves, reaching to the middle of the wall. If your eaves are old, make sure they are both insulated and ventilated before you store things under them.
Sliding doors are generally very practical in small homes, because they save a lot of space and provide cupboard space in places where it would not be possible with outward opening doors. Consider sliding doors for wardrobes as well to save space in your bedroom.


4. Storage ideas with multi-functional furniture
Kill two birds with one stone by choosing multi-functional furniture, which is perfect for creating more practical storage solutions. Seating with built-in storage (for example, a storage bench) or a coffee table with smart storage space are both extremely efficient storage solutions.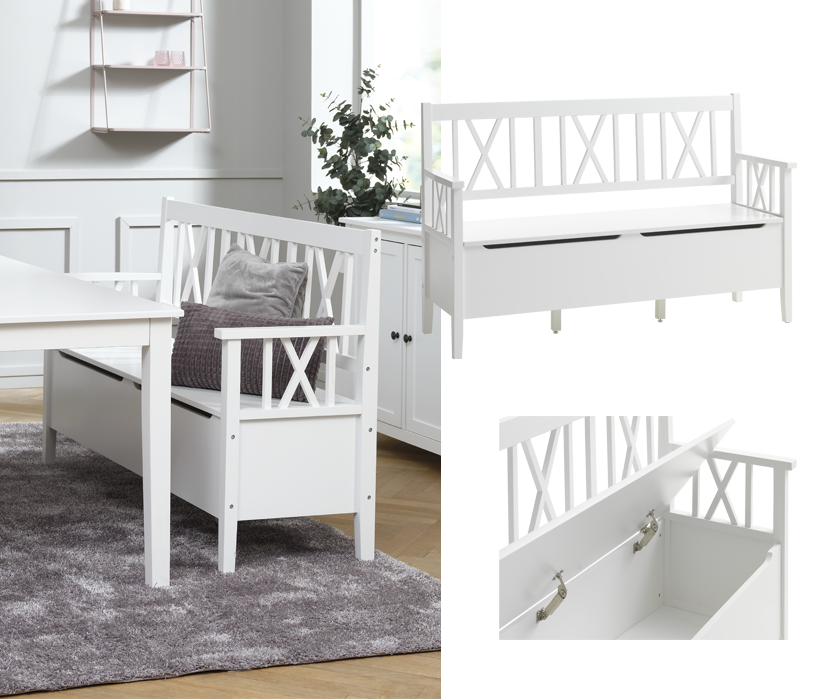 Investing in a tall shelving unit provides practical, smart storage. The unit also makes a living room cosy, because you can display personal items on the shelves, mixing them with books etc.  
5. A clothes rack as a room divider
A room divider is a smart storage solution in small homes, where the living room and bedroom are in the same space or in a large teenager's bedroom, where you want to divide the space. Bookcases make good room dividers, but your room divider does not have to be quite so traditional.
Use a clothes rack as a room divider, at the same time displaying your fanciest clothes. A clothes rack is also a very good option in a room with sloping walls. It provides good space for shoes behind the rack and gives the feel of a walk-in wardrobe. 
Do you have any practical storage ideas for a small room? Feel free to comment in the box below.