JYSK's Customer Service helps you with your homeshopping
If you don't have time to visit one of our stores, or feel more comfortable staying at home, no worries – it is also easy to shop the right product online with the help of our Customer Service Supporters. They are ready to guide you and assist with all questions related to our products.
As part of a great customer service, they focus on finding the right product for you and your needs. Our Customer Service Supporters receive the same training as our Store Staff. Both Customer Service Supporters and Store Staff attend virtual and physical product trainings. In addition, the Customer Service Supporters have special trainings tailor made for them only.
They have an extensive knowledge about our online only assortment, so you can feel safe when shopping at JYSK.ie.
See our online only assortment
If you are in touch with our Customer Service Supporters neither they nor you are able to touch or feel the products – so this is the moment where they get to show their expertise. They use their knowledge and notes from their trainings as well as their detailed product database to be able to find most suitable products for you.
Homeshopping with our experts at hand
In order to be able to provide the best possible service, our Customer Service Supporters start their employment with a week in a JYSK store. In the following years, they regularly visit our stores and work there for a day or two, so they stay up to date with current trends, assortment, and customer needs. The Customer Service Supporters also help JYSK stores assemble new products and thereby gain knowledge that benefits our customers in case they have issues building their new JYSK product.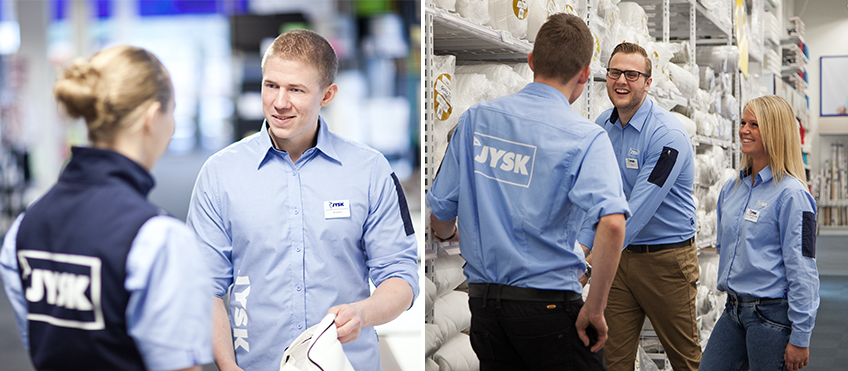 Besides finding the right products for you and your needs, our Customer Service Supporters can also give you maintenance advice and assembly tips and tricks that save you time and help your JYSK-products last even longer.
For an easy shopping experience, contact our Customer Service Supporters on our chat. You can find the chat box in the right bottom corner on JYSK.ie.