There are as many different gardens as there are homes. Just have a look at the garden next door. Even if it has more or less the same size as your own garden, your neighbour has probably arranged it very differently from you – with different garden furniture, planters, flowers etc. Your neighbour could be the lazy type who keeps a low maintenance garden – or maybe the family type, who has a kids' garden with swings and trampolines. But how about yourself? See if you can recognise your own garden in one (or more) of these 4 different garden types.
The outdoor area for active gardeners
Do you have planters and flower beds that need your love and care? Do you find yourself on your knees, weeding whenever you get the chance? Do you have a bistro set only for short rests in between cutting the grass or cutting back the roses? Then you are definitely the active garden owner type. You are busy in your garden whenever you get the chance and most likely spend all winter creating garden design plans.
Our advice: Don't forget to find the time to enjoy your hard work.
The garden for families
Cutting the grass in your garden is no picnic! When you make your way into your garden, the swing is set on your left, the sandbox is on your right and in front of you: the trampoline. You stumble across a croquet mallet on your way to the garden set where you and your family enjoy your meals whenever the weather allows it. Your garden is actually the kids' garden. It is a means to keep your children happy and busy, so maybe you can find some time to yourself (indoor - until they track you down).
Our advice: Don't miss the chance to show your kids the satisfaction of growing your own food.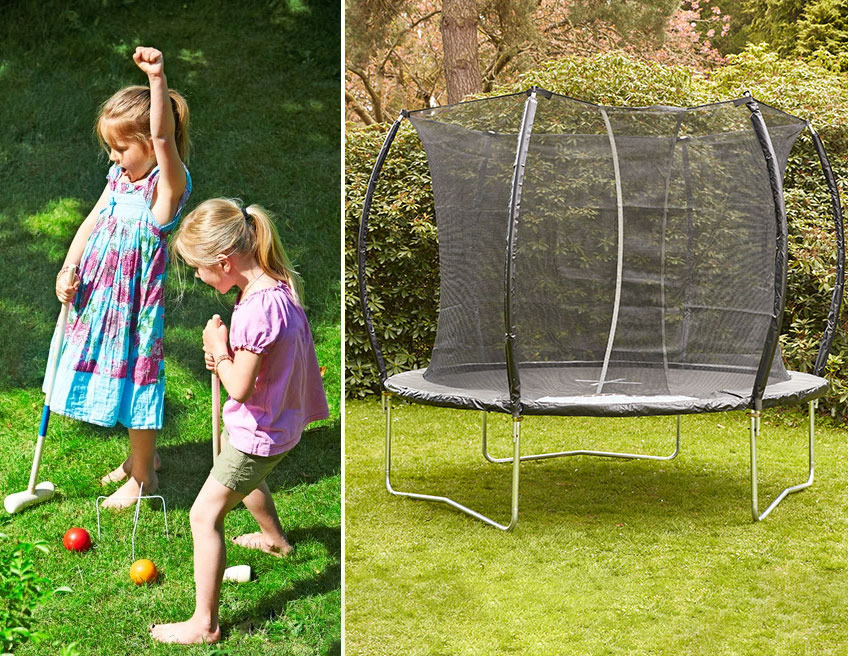 The garden for social personalities
You have a garden set for dining and a lounge set for coffee dates. Your patio looks almost like your living room with light strings, vases, planters, lanterns, cushions and throws. You keep fragrant flowers and herbs in pots to create a pleasant and homely atmosphere.
Our advice: Keep up the good work! Share your beautiful garden with as many people as possible.
The garden for couch potatoes
Did you already pave the lawn or is it still a secret dream? Your garden is a low maintenance garden and you just love relaxing there with your favourite music, an intriguing book and a cold drink. But working in the garden? Not so much. That is why you have no vegetable garden and you prefer a fence to a hedge. Your sunlounger is your favourite piece of furniture and you pair it perfectly with a parasol.
Our advice: Gardening is actually pretty healthy – you get exercise and home grown veggies are good for you and for the environment. Start small with one or two planters and let gardening grow on you.

Did you recognise yourself in any of these types? Or did we forget any? Drop a comment and let us know!