Teak is the ideal natural material for garden furniture. It is durable, low maintenance, feels pleasant against your hand and last but not least, it has an absolutely lovely look.
Teak is as close as you get to weather proof garden furniture. It has natural waterproofing properties that also make it resistant to mold and pests. It will last for years and years with a minimum of efforts from your side, and in time acquire a beautiful silver gray colour.
Treat yourself and your patio with garden furniture in this exquisite material this summer. We recommend our new garden furniture collection VESTERHAVET that counts a garden table in two different sizes, a bistro table, a folding chair, an ordinary garden chair and a garden bench.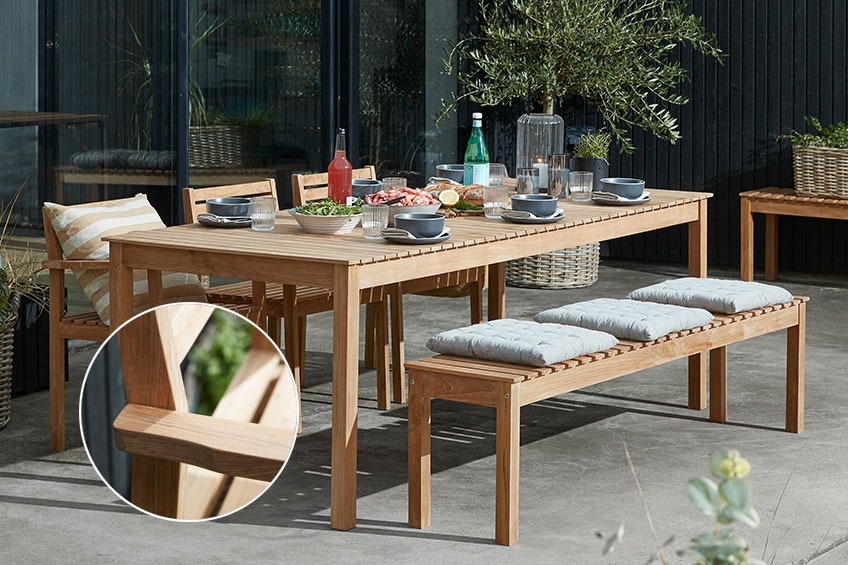 All items in the VESTERHAVET collection have a classic garden furniture look, equally suitable in a romantic garden, as on an urban rooftop.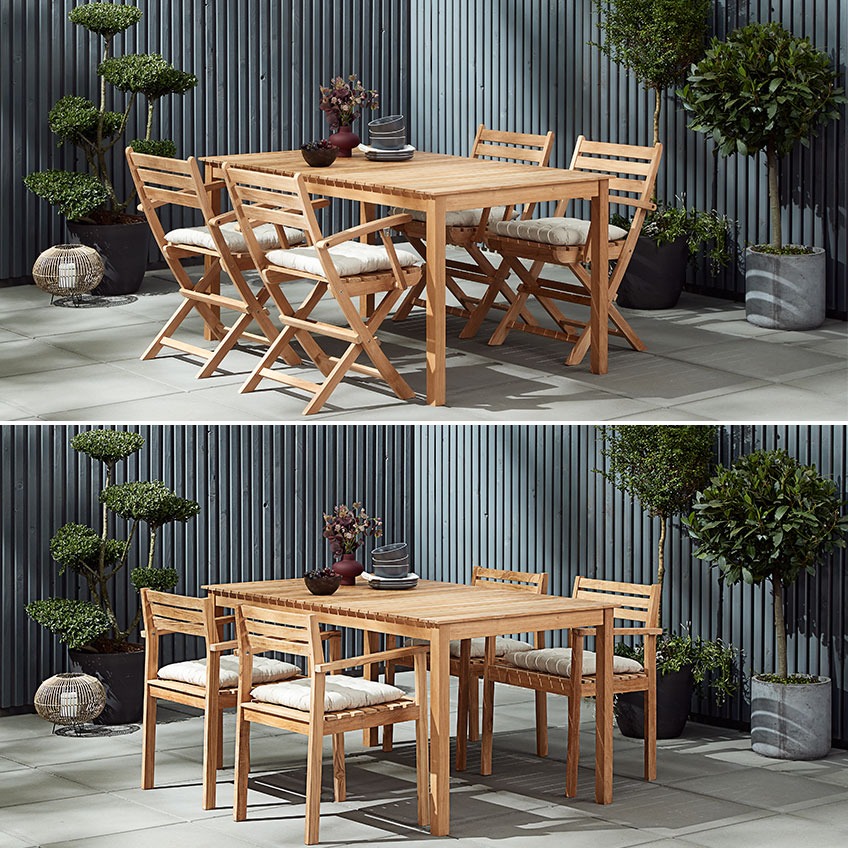 VESTERHAVET is also available as a neat little bistro set, perfect for the balcony, for a small patio or a cosy sheltered nook.
Can teak garden furniture be left outdoors all year round?
Teak garden furniture can be left outdoors all year round. The natural properties of teak enable it to withstand rain, UV light and harsh weather conditions in general. To care for your teak garden furniture, remove dirt, algae etc. once a year. If you choose to cover your teak furniture during winter, make sure to use a cover that allows the wood to breathe. When you leave your teak garden furniture outside, they acquire a silver gray color within 9-12 months.
FSC certified wood
All wooden garden furniture at JYSK carry the FSC label (FSC® N001715). This means that the wood comes from a forest where no more wood is felled, than the forest itself can reproduce. There are strict requirements for the use of pesticides and chemicals and the workers get a decent wage and decent working conditions.
Read more about our FSC-certified garden furniture.
VESTERHAVET is available at JYSK from April 1st.