LIMFJORDEN is a collection of furniture with sleek lines and a minimalist design that will suit any home. Its timeless look seamlessly integrates into your living room, bedroom, or office offering both functionality and style.
The collection consists of chests of drawers in various sizes and colours, bedside tables and a white bed.
All LIMFJORDEN products carry our label "Everyday low price" which means that you can be sure to get the best deal no matter when you choose to buy. In this blog post you can read more about this affordable and stylish collection.
Smart bedroom storage solutions
The LIMFJORDEN bed frame has a low headboard and two drawers that you can use for e.g. bed linen, throws, or an extra duvet.
In the long run, you'll appreciate having this storage option for your bedroom as it helps create a clutter-free environment that promotes restful sleep.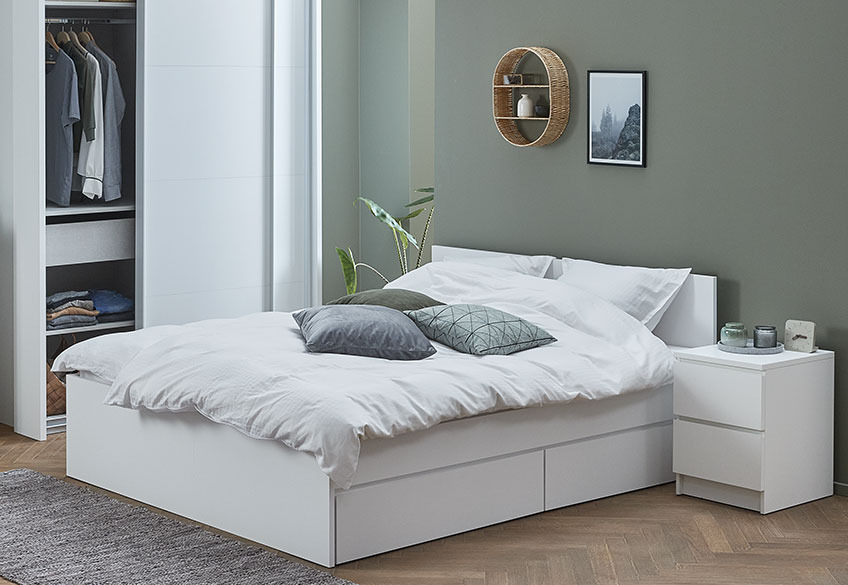 The LIMFJORDEN bedside table also has two drawers. It is sturdy and has plenty of storage so you can keep your glasses, bedtime reading, sleeping mask and night cream easily accessible.
Large chests of drawers with plenty of space
Whether you need more storage for your bedroom or any other room in your home, LIMFJORDEN chest of drawers is an excellent choice. It is available with four or six drawers which offers you a very spacious storage solution. Both versions come in black, white, and natural and are perfect for organizing your clothes and other belongings. The minimalist design enables it to seamlessly blend into the existing bedroom décor.