When you move in together, it can be quite a challenge to create a harmonious unity out of your different belongings. You and your partner probably have different styles and preferences when it comes to interior design. The furniture and knick knacks that you bring into your relationship and new home, probably won't match what your partner has. Have a look at our advice for newlyweds and other couples living together.
1. Make keep/throw lists
Start out by making lists of what you would like to keep and throw away, and compare them. This way you are deciding together on the style and equipment in your new space. Be critical with your own things, but don't throw out anything that you don't want to.

If you both pick out a few of your favourite belongings to keep in your new home, you won't end up with a stuffed apartment only showcasing one person's taste. Be sensitive to your partner's emotional attachment to furniture and knick knacks. It might not be to your taste, but it might have been a gift from a special family member – or remind your partner of that wonderful childhood holiday... even the smallest thing can be of significant importance.
2. Start over together
If neither of you feel particularly attached to your furniture, you can start decorating your home from scratch. Another option is replacing only a few selected items with things that you buy together. At JYSK you can find affordable furniture in series that match each other. Have a look at the SEJS series that includes both sideboards, coffee tables, coat stands and dining chairs – and almost anything in between.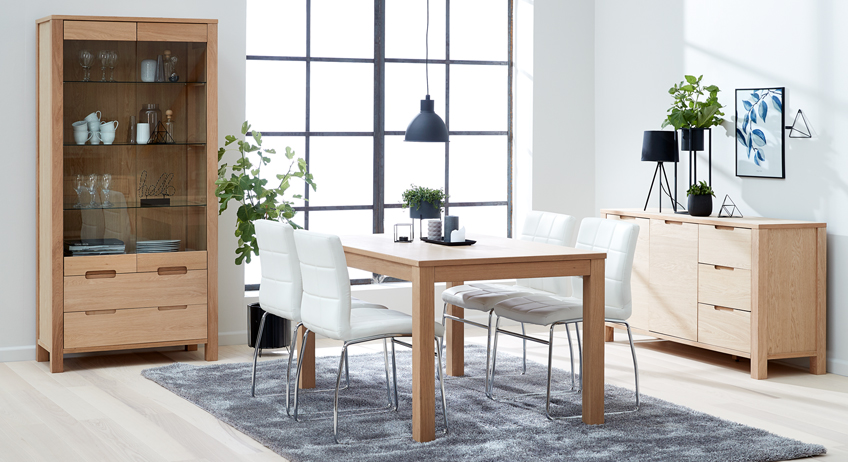 The SEJS products are made in light oak and oak veneer. It has a classic, Scandinavian look that can easily fit into other décor styles.

It is great fun to shop together to pick out something new that you both love. You don't have to furnish the entire room with matching furniture. Select two pieces - maybe a table and a tv stand – and let them create a sense of harmony and consistency in your home. Our KALBY series in solid oak and oak veneer (and in some cases MDF) is stylish and will fit especially into a contemporary setting.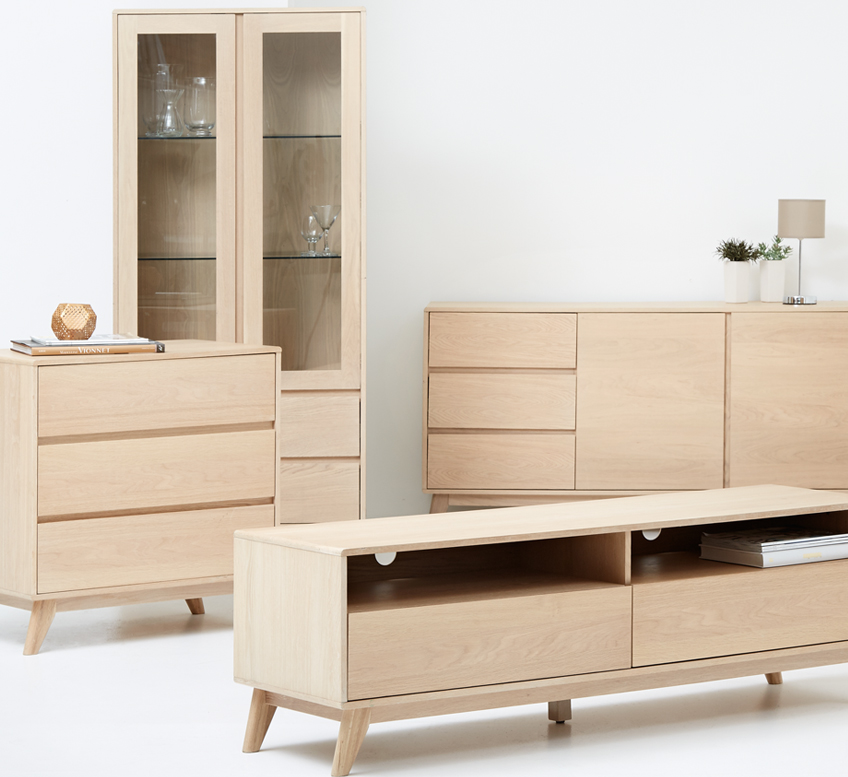 3. Use colour to bring the room together
Creating one home out of two gets easier if you have a consistent colour palette. Find your favourite colours, stick to your palette and make two different styles work together.
4. Textiles can turn your house into a home
Rugs, throws, cushions add an element of femininity to a home. An armchair alone may look naked and a bit uninviting, but if you mix it with a soft cushion and a warm throw, the overall expression will be completely different, and you have the best of both worlds.