Spring and summer are fast approaching, so it will soon be that time of year when we move outdoors. When the smell of barbeques wafts over the hedges and into our gardens, it's time to get out the garden furniture. Maybe your garden furniture was standing outside all winter, or maybe it just needs a bit of freshening up?
Some garden furniture is manufactured in weather-resistant materials: for example, plastic garden furniture. But wind, weather, normal wear and tear and particularly the sun will have an impact on the vast majority of garden furniture. Here are some simple tips on how to use paint to add a new lease of life to your outdoor furniture.
Wooden garden furniture
All woodwork is affected by wind and weather. The sun in particular can have a harsh impact on wood. If you have painted wooden garden furniture do not despair when the paint starts to peel off as this does not necessarily mean that your garden furniture needs throwing away. In the course of time, painted wood always needs freshening up – especially painted woodwork, which is for outdoor use.


Thorough preparation
Preparation is vital, in fact, preparation is often crucial to the final result and requires patience, time and elbow grease. You must completely remove any flaked paint and sand down the furniture. You must then spackle any holes and cracks and sand again before priming the furniture. When the furniture is dry, it is often a good idea to give it one extra sanding, so the wood feels a little rough. When you have brushed off the dust, you can start on the actual painting.
Paint
There are several different paint manufacturers, and every manufacturer usually offers both wood-protector and primers that work together.
Be aware that garden furniture in pressure-impregnated painted wood and furniture in untreated painted wood require different preparation. If you are going to paint pressure-impregnated wood, you do not need to prime it before painting. But untreated painted wood must be primed first.
When painting the end pieces don't be stingy with the paint as the wood in these spots is particularly exposed.
Metal garden furniture
If you have metal garden furniture, the metal may start to rust over time. Luckily, a bit of rust does not necessarily signify the end of your garden furniture as there is absolutely no problem painting metal outdoor furniture.
Paint
Most paint manufacturers offer a selection of paint for metal, which often provides rust protection. The paint will make your outdoor garden furniture more weather-resistant.
Before you actually start painting you must be sure to remove any loose rust.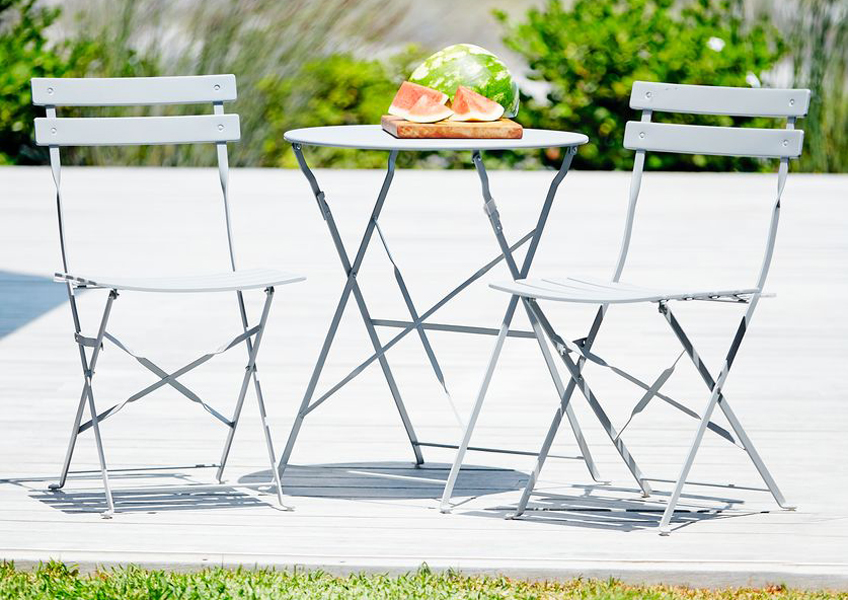 Considerations before you begin
Before you embark upon painting your garden furniture, it may be a good idea to take a good look at your furniture. This will quickly give you a clear picture of the furniture's condition. Even though paint can work wonders for worn garden furniture, it cannot refurbish furniture, which is beyond rescue.