What is Midsummer?
Before you starting planning your Midsummer's party, you may want to know what is Midsummer all about? Midsummer, which is also known as St John's Day in the UK, is the time around the summer solstice, or the official time as to when summer begins. Each year the exact date for Midsummer can change, but this year Midsummer's Day is on Thursday the 21st of June.
Midsummer's Day marks the longest day of year, and by that we mean, the day with the most amount of hours of daylight. If that isn't a reason to celebrate, then we don't know what is. 
Celebrating Midsummer
Traditionally, Midsummer bonfires are lit during the Midsummer period, so that we can continue the many hours of daylight into the night with even more light from the bonfire and also fireworks! This tradition started in Cornwall but has spread all over the country as a day of celebration.
Moving forward to the present day, Midsummer can be seen as a day of celebrating, and a reason to have a fantastic Midsummer's party. A garden and outdoor party surrounded by your friends and family with great food and drink, and an overall great time!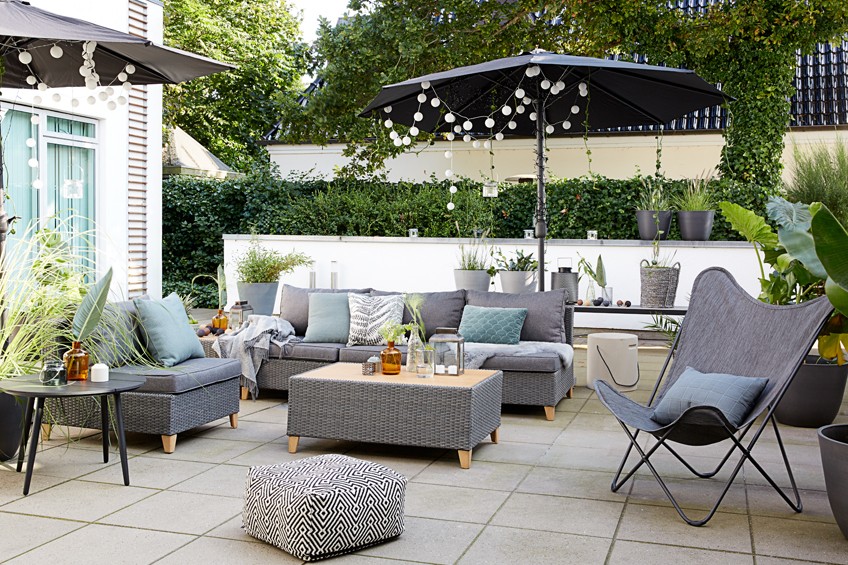 Creating a Midsummer Party
Maybe you want to create a Midsummer party with your friends and family, to celebrate the summer and longest day of the year. But where to begin?
Table and Daytime Decorations
You might already be lucky enough to own a garden lounge set or garden dining set, therefore all you need to do in this case is decorate your table and party location:
Think about your summer menu and what kind of crockery, cutlery etc. you will need to work with your food
Create a few jugs of homemade lemonade or your favourite cocktail
Brighten up your table instantly with bright table mats and tablecloths. An easy and affordable way to change the look of your outdoor dining space, and then easier to clean afterwards
Use bright paper lanterns during the day to add an instant touch of colour to party area
Think about table decoration - use a centre piece such as a bird cage with bright flowers. The centre piece can then change during the night to brighten up the setting
Decorate your table even further with a stunning candelabra

Moving the Midsummer party into the Night
Even though Midsummer is about celebrating the longest day of the year with the most hours of sunlight, why let the party stop there? Take your party into the night and create an enchanted atmosphere outside for your guests. Think a Midsummer's night eve, to achieve this look use lots of candles, lanterns, solar lights and fairy lights which will create a very cosy atmosphere for your party. Team the lights with different table decorations to transport guests into another Midsummer theme. 

What about the weather?
We all know that the British weather can be unpredictable, therefore prepare for your Midsummer party with gazebos and parasols, which are perfect to use in the rain as well as the sun, for when your guests are seeking a bit of shade. In case the evenings get a little chilly, have plenty of throws and cushions for your guests so then can snuggle up around your candles, lanterns and lights.