When you choose the right duvet, it helps to ensure a good and comfortable sleeping environment. See our video guide on how to choose the right duvet.
Size
It is recommended that your duvet is at least 20-30 cm longer than your height. At JYSK you'll find duvets in 200cm and 220cm in length. 
Insulating power
At JYSK we distinguish between three different duvet levels of warmth: Cool, Warm and Extra Warm. When deciding which level of warmth is best for you, consider your body temperature while sleeping and your preferred bedroom temperature.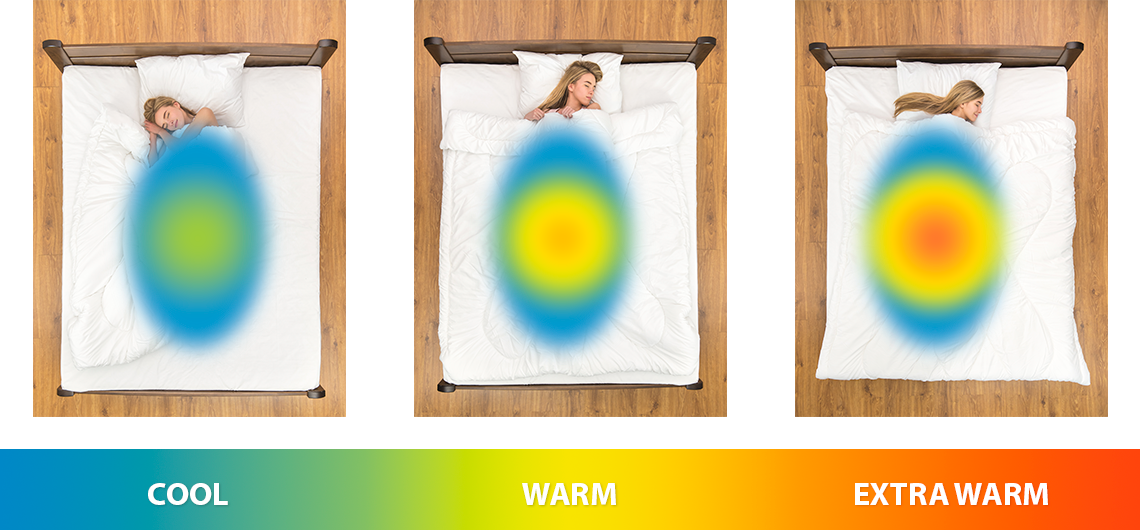 The filling
Duvets are available with several different types of filling. The filling can be divided into two categories:
Natural filling
Fibre filling
The type of filling you should choose is a question of taste.
Natural filling
Natural filling usually consists of down and feathers, but may also be other natural materials such as silk, cotton and wool. The advantage of using natural filling is that it is very breathable and falls smooth and easily around the body. By nature, this filling is equipped with the best possible insulation.
Filling power
Fill power is a measure of the loft or "fluffiness" of a down product that is loosely related to the insulating value of the down. It is the most important measure of quality of feathers and down. The higher the fill power the more air an ounce of the down can trap, and thus the more insulating ability an ounce of the down will have. The more feathers are mixed with down, the greater the fill power is achieved and the heavier the fill. Weight alone does not dictate how warm a duvet is, this is a combination of weight and fill power.
Silk
A silk duvet is typically a thin duvet, but with the same insulating power. They are temperature regulating, ensuring that you stay dry and temperate throughout the night. Silk is also a breathable, antibacterial material, which gives you a hygienic and comfortable sleep environment.
Fibre filling
Synthetic filling consists of polyester fibres made to resemble the qualities of natural filling – but at a lower price. Fibre filling also has an ability to effectively transport dampness away from the body. The filling in these duvets is of a greater weight to provide the necessary level of warmth and they are therefore heavier than duvets with natural filling.
Casing
You should also consider the type of casing you prefer. The casing of the duvets sold at JYSK is made of either cotton or polyester – or a blend of the two materials. You should consider which type of casing you prefer, such as whether you prefer a thick or thin casing and if you think the duvet feels soft.
Hypoallergenic duvets
Many people mistakenly believe that it is down and feathers that they are allergic to. However, it is very rare and it can be other allergies, such as a dust mite allergy, that many mistake for down and feather allergies.
Dust mite allergy
It is difficult to completely avoid dust mites in your home. However, you can limit the number and their ability to reproduce by cleaning your bedroom frequently and by washing your duvet, pillow and top mattress 5-6 times a year. This discourages the dust mites living conditions, but even the best duvets and pillows cannot tolerate being washed too frequently over time. You can read more about how best to maintain and care for your duvets and pillows here.
Are you allergic to dust mites? If so, you should consider a hypoallergenic duvet. These typically have a treatment to prevent dust mites from entering into the casing or to reproduce themselves. Therefore you can simply wash your duvet the recommended two times a year, prolonging the duvets life significantly. At JYSK you'll find the following allergy brands:
Duvets and pillows carrying the NOMITE label have a casing that is particularly closely woven. This means that dust mites cannot penetrate the casing and inhabit the duvet or pillow.
Products carrying the label 'Confidence in textiles' satisfy the stringent testing criteria of the International OEKO-TEX® Association and are free of harmful substances.
Products carrying this label have been analysed by Asthma Allergy Nordic to ensure that they do not contain substances that are known to cause allergy.
Summer and winter duvets 
Whether you should use the same duvet all year round, or switch between a summer and winter duvet depends on your indoor climate. If you are able to maintain a constant temperature in your bedroom all year round, it is not necessary to change your duvet. If the temperature changes in-line with the temperature outside, it might be a good idea to switch to a cool duvet in the summer and a warm or extra warm one in the winter. This can help you achieve a more comfortable sleep.