A home office has become a permanent fixture in most homes. Some people can allocate an entire room for use as a home office, while others create space in a hallway, a bedroom or the living room. The options are endless when it comes to designing a home office. We have compiled 5 must-haves for designing an attractive, yet practical home office.
1. Decent seating in your home office
When it comes to choosing an office chair for your home office, you should bear in mind just how much time you will be sitting in it. If it's a matter of hours, then you should really think about the comfort of the chair. Choose a comfortable and stylish office chair with ergonomic support for your back. You can adjust the height, seat, back and armrest so they best suit your needs and comfort.
If your office is very visible in your home, then you may want to consider using a decorative chair which will fit the rest of your decor. There are many attractive designs on the market which can suit both style and comfort. Remember to use a chair mat under your office chair, if you wish to protect your floor or any carpet from the chair's casters.

2. Your home office desk
Decorate your home office with a beautiful desk. The desk is the essence of your home office as it sets the scene for the design of your entire office. Your desk should ideally be both practical and attractive in terms of size and material.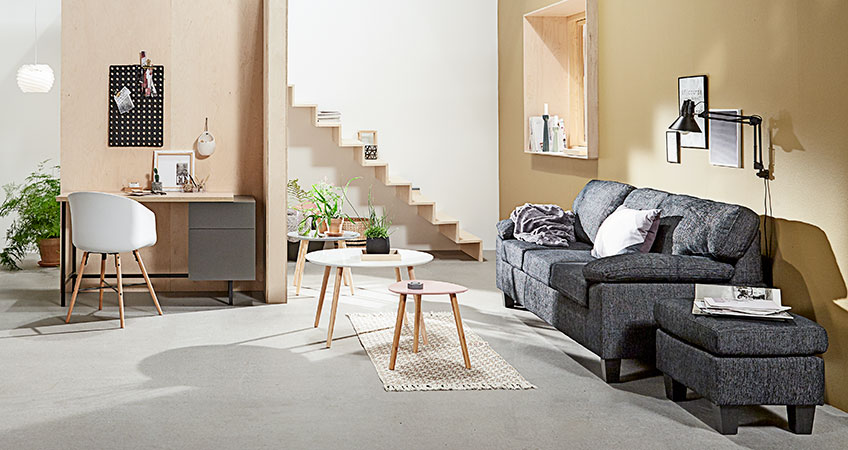 Small desks are great for light office work, while an office intended for working at home frequently requires a larger work surface. Built-in drawers in the desk are practical, making it easy to organise office supplies. A minimalist desk with no large drawers creates a feeling of lightness in the décor and provides good legroom. 
3. Storing office supplies
An item of storage furniture for files, periodicals, books etc. is indispensable in a home office. You can choose an open shelving system, to hold files but also decorative items to add a personal touch to the office's design. Or choose a closed chest of drawers to hide away clutter and work.    
Little things on a desk can soon end up taking up a lot of space if they are not organised. Office supplies are essential, but they can also add a lot of clutter to your design. Fortunately, there are many smart storage solutions on the market, such as magazine racks, drawers, baskets and boxes to store paper clips, a hole-punch and any other office essentials.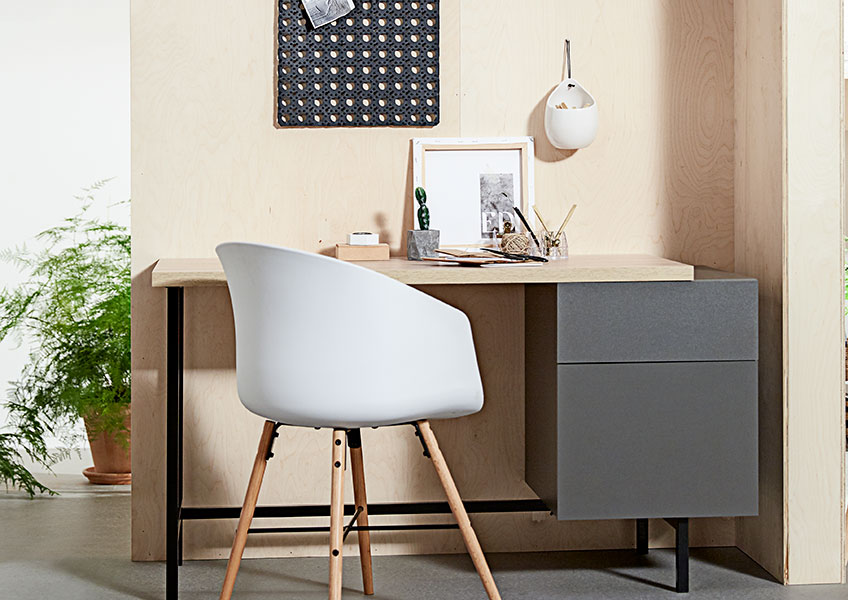 4. A decorative waste-paper basket
An office without a waste-paper basket is not an office. Traditionally, a waste-paper basket in an office was all about practicality, but today the waste-paper basket is also a visually aesthetic element in the design of your home office – and therefore a must-have.
A waste paper bin is not meant for dirty rubbish, but for waste cardboard and paper, therefore you can really think about what looks visually appealing, such as a wicker or even metal basket. 
5. Make sure you have decent office lighting
The functionality of a home office is very much dependent on its lighting. Lighting should be good, so you can concentrate on your work. A home office needs a good ceiling light, but it is often not enough. A desk lamp, which can illuminate the things you are working with, is both decorative and practical.