Jumping on a garden trampoline is a big hit with children from 8 to 80. It's the perfect outdoor activity when the sun is shining on a spring and summer's afternoon. But trampolining is not without its dangers. Read on and learn about care and trampoline safety.
Here are a few tips and practical advice on how to achieve optimal trampoline safety – both when your garden trampoline is in use and when it is standing unattended in your garden:
Position your garden trampoline on an even surface – though not on concrete, tiles or tarmac
A trampoline should be positioned at least 2.5 - 3 metres away from any trees, railings or other objects, and make sure there is at least 7.5 metres of overhead clearance. But the overhead clearance differs from trampoline to trampoline, so always read the instruction manual before use
If a trampoline safety net does not come with the trampoline you may consider investing in one as it will minimise the danger of people jumping over the edge and injuring themselves. But make sure the trampoline safety net is the right size
As tempting as it is, there should only be one person at one time on the trampoline
Take the weather into account as it can have a negative impact on trampoline safety – a wet jump mat is slippery and can increase the risk of accidents
Always check for defects before use. Make sure the pads cover the frame and the springs, be sure to tighten the fittings, and make sure that the tapes, safety net, nuts and screws are correctly installed
It is recommended that children under the age of 3 shouldn't use a trampoline and that children under the age of 6 should be supervised (which is easy to do when you have a comfortable garden lounge set to relax on...) It may be worth removing the ladder to prevent children climbing up onto the trampoline by themselves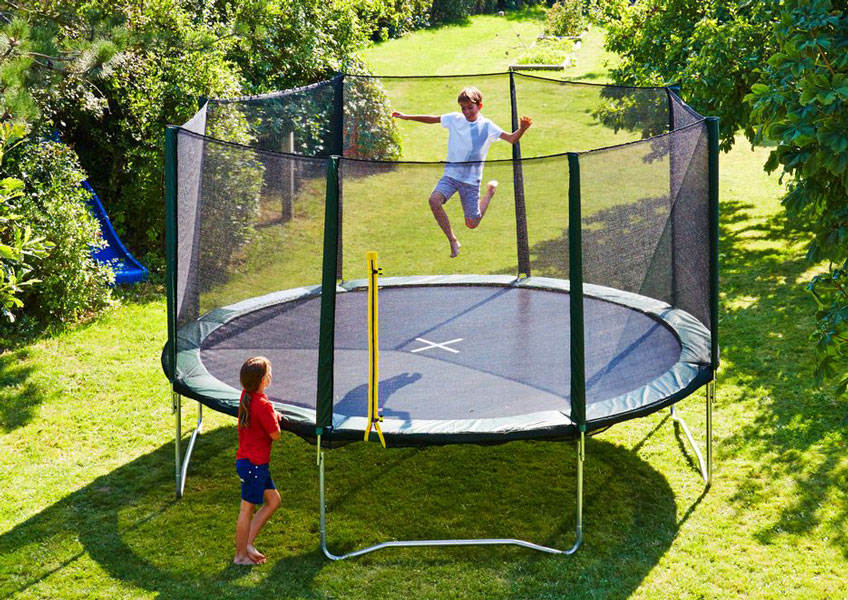 Maintenance of a garden trampoline can improve safety
Jumping on a trampoline is a fun outdoor activity in the garden. You can prolong those hours of fun and avoid trampoline mishaps with simple trampoline maintenance.
It is crucial to check regularly whether parts of the trampoline are worn or defective, and to replace them, if they are. Regular cleaning of the jump mat will also help extend the service life of your garden trampoline. You can use a damp cloth to remove dirt, before wiping with a dry cloth to prevent the trampoline getting damp and slippery.
Another way of preventing trampoline accidents is to storm-proof your trampoline. A storm-proofing kit will stabilise your trampoline and improve trampoline safety - the kit will also make sure that your garden trampoline does not blow away, causing physical or material damage. When you storm proof, you should use at least three lashings to secure the frame of your garden trampoline. It is not enough just to secure the legs of the trampoline as this could cause the legs to tilt, thereby resulting in an accident.
Final tip - have fun on your trampoline this spring and summer :)