Ideas on how to decorate a room with slanted or sloping walls can be difficult. But with the right design tips you can style the wall to transform the room. Read on and learn how to effectively decorate a slanted ceiling or wall.
Creative ideas to decorate slanted walls
When designing the interior of a room with sloping walls you need to think along new decorative lines. By using your sloping walls correctly, you can create an impression that the room no longer actually has sloping walls. One creative and effective way of capitalising on sloping walls might be to make them part of a storage solution.
Make use of the space under sloping walls in a living room
In many homes with sloping walls in a living room, a corner sofa can be a great way of utilising the space under a sloping wall. That way, you can create a cosy little sofa corner. It is also a really good way to make use of that little corner in a living room, which with its limited space can be a challenge to decorate.
Decorate your slanted wall with wall shelves
Many people find it challenging to make use of the end wall adjacent to a sloping wall. In this context, one creative solution for decorating sloping walls could be to choose creative box-shaped wall shelves in various sizes and attach them to the end wall. Compose the wall shelves by choosing various sizes of boxes and filling the entire wall with them. It is an attractive, creative and practical way of exploiting your sloping wall.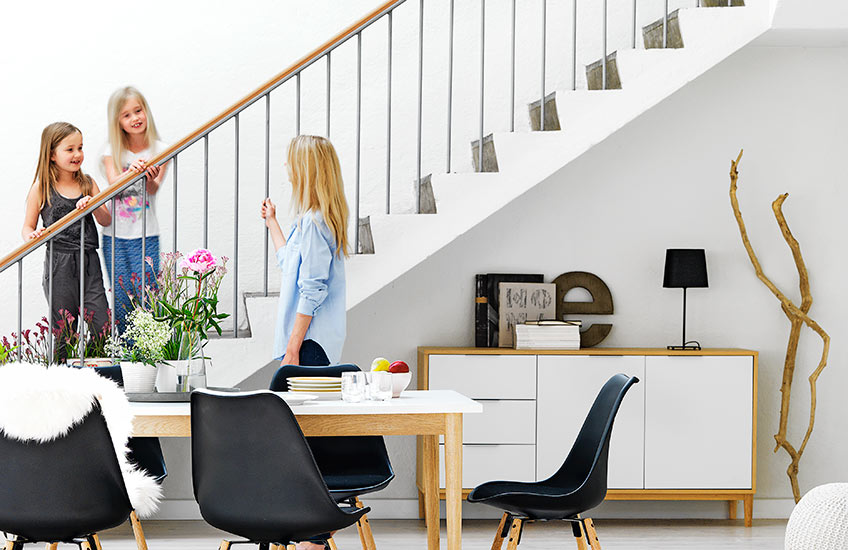 Small cosy corners
While sloping walls may be a challenge, these charming walls are also perfect for creating a charming ambience in your room. Your sloping walls can be ideal when you need to design a cosy little area: for example, in your living room or a children's bedroom.
In a living room, you might choose to place a little table alongside a little chair or stool. These are simple, yet cosy interior elements. To round off the cosy ambience in a corner you could use a delicate light garland or a small table lamp –  tranquil lighting provides a perfect finishing touch for a cosy corner.
Storage with sliding doors or curtains
If you have sloping walls in your bedroom, one good solution might be to fit built-in cabinets under your sloping walls. This means you will be making optimal use of the sloping walls in your bedroom. You can choose a front for your cabinets such as sliding doors or long curtains to make your cabinets an attractive and integral part of the room.
Built-in cabinets in a bedroom are the perfect solution for many people. You are making use of every single ounce of space on your bedroom sloping wall, and you can use the built-in cabinets to either store clothes or just about anything that you want to hide away.