If you are heading out to spend a day picnicking in the park, in the forest, or on the beach, bringing along a heavy metal barbeque can be quite the inconvenience, if even possible. When limited in such a manner, having the option of bringing a portable, disposable barbeque – also known as a barbecue, BBQ, or instant grill – with you is a great and reliable option for any outing.
A disposable BBQ made from bamboo and cardboard
The CASUS disposable barbeque is the ideal solution for enjoying summertime outdoors as it is portable, convenient, and made for bringing along for cooking while out. It is made from food grade bamboo and cardboard, and it contains lava stone and briquettes made from bamboo charcoal. The CASUS disposable barbeque is a great option for an efficient, feel-good cooking experience, granting you, your friends, and your family the option of preparing your food freshly on-site while away from home.
The CASUS disposable barbeque bears the label FSC® Recycled, which signifies that the BBQ is verified as being made from recycled forest-based materials. With CASUS, JYSK offers an alternative option to traditional disposable barbeques which aids in reducing the demand for virgin forest-based resources (FSC® N001715).
Keep in mind that as with any charcoal-fired grill in nature, it is as always very important that you make sure to properly extinguish any remaining cinders, to clean up after yourself, and to properly dispose of the grill. With the CASUS barbeque, this is easily done – as long as the coals are fully extinguished, you are safe to dispose of it in a regular waste bin or even in a campfire.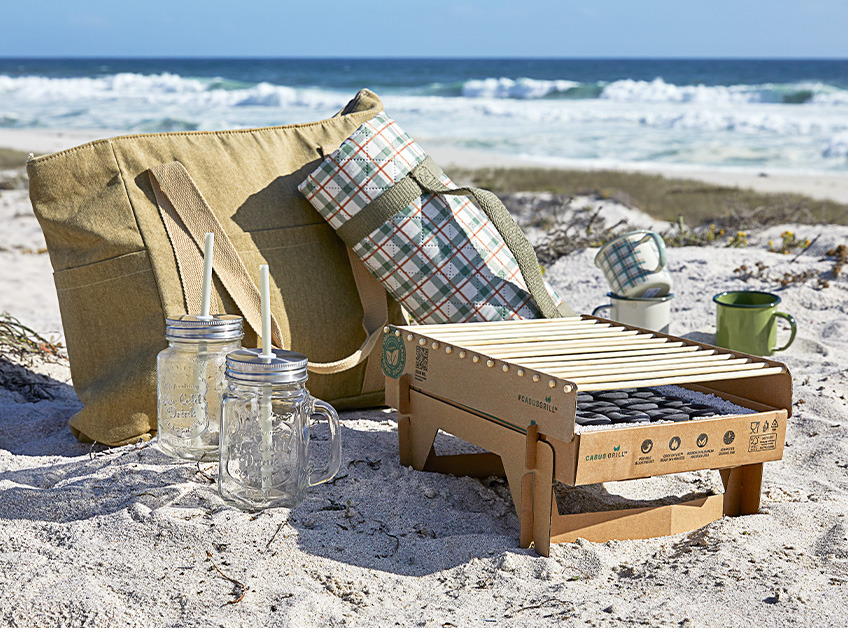 Benefits of a disposable barbeque
The main benefit of a disposable barbeque is the fact that you can get freshly prepared hot meals while away from home and more familiar cooking settings. Cooking on site means you can enjoy your meal straight from the grill. Preparing your food at home and bringing it along is a great solution, especially if you are bringing finger foods such as sandwiches that do well with early preparation. However, if cooking hotdogs, steaks, or corn on the cob, bringing these already prepared is not quite the same experience as enjoying them straight from the barbeque.
Another great benefit of a disposable barbeque – or any barbeque – is that your food will be charbroiled. This results in that aromatic charring of meats and vegetables, which really enhances the flavours of the meal.
Essential items for cooking and dining outdoors
When on the go, it is especially important to be well-stocked with equipment if you are cooking and dining outside. From cooling bags to reusable straws, packing all that you need will help you ensure a great outing with friends and family.