When it comes to an outdoor space, it can often be the accessories and the little details that can turn a plain garden into a magnificent one! Get inspiration and accessorising ideas with our 5 favourite garden accessories.
Stay warm
Those early days and late nights on the patio can become a bit chilly, but you don't have to suffer the cold with chattering teeth, warming your hands on your tea mug. Instead, get a couple of soft (faux) lamb skins such as the TAKS range. Perfect to lay across a chair to keep cosy, and also perfect as a rug.

Bring indoor life outside
Decorating with throws, rugs and other textiles in your outdoor space, is a trend that won't be going away anytime soon as the boundaries between the living room and the garden are becoming blurry. Furniture is no longer intended for only indoor or outdoor use, but manufactured for both your indoor and outdoor space. This gives you more decoration options and opens up for a more homely feel in your garden. Adding some cushions to your outdoor seating area makes your patio live up to the trend in no time.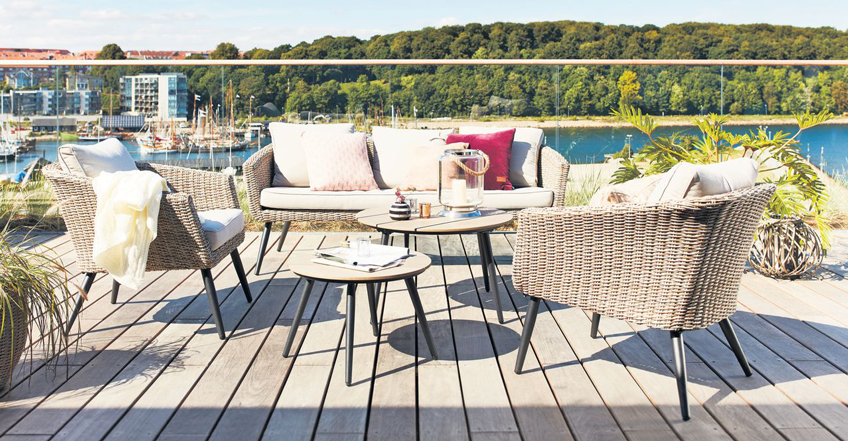 A lazy summer day must have
You better start out the day with calling dibs on this little swing, or the kids will keep it occupied. It's both insanely comfy and a great addition to your garden design. Relax in the summer months swaying back and forth.

Protection against sun and humidity
Even on the less than sunny days, a parasol is a useful addition to your patio. At JYSK, they are available in more colours and will not only serve as a protection against the sun, they are really stylish as well.

Secret ingredient: Atmosphere
Last but not least – those summer nights wouldn't be the same without the warm atmosphere that candles bring. And to protect the candles and make the most of those flickering lights: lanterns. Have a look at some of the beautiful ones that you can find at JYSK.