Mirrors are no longer just a practical, functional item. They represent a central interior design element which can make a room seem more dynamic. Be inspired when using mirrors in your interior styling to make your home seem larger, brighter and more spacious.
Use decorative wall mirrors to make your living room feel larger and brighter
If you fancy making your living room seem bigger and more spacious, then think about hanging a large wall mirror on one of your living room walls. The mirror will reflect the living room, thereby making it seem larger. Using large wall mirrors is a very effective way to add space to your room, in a simple and affordable way. Try the mirror at different angles, both vertically and horizontally, to see which fits and compliments your space better.  Here are more ideas on how to integrate mirrors into the decoration of your walls, if you like the idea of something slightly less traditional.
"Magnify" your small rooms visually with the use of mirrors
If you have a number of small rooms and spaces in your home (a hallway, a children's bedroom, a bathroom or a guest room etc.), using decorative mirrors as part of the interior design is a great idea. A mirror can visually magnify a room, because it can "deceive" the eye into believing that the mirror is a door leading to another room or a window in the room.
Using mirrors for the wall in an interior is also ideal if you're decorating rooms with sloping walls. Furthermore, consider using a mirror in your hallway to make the best use of the space.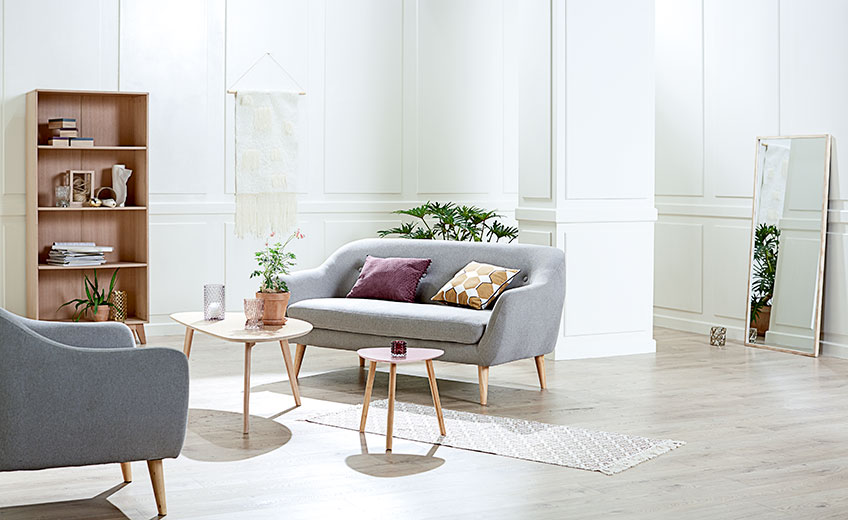 Exploit the reflection of the light in a wall mirror
Natural light contains a whole range of positive effects, underlining the importance of integrating it into your interiors. Natural light can enhance the overall impression of a room, because it provides you with a better appreciation of shapes and colours. Therefore, adequate sunlight is vital – especially during the winter. Using decorative mirrors in your home can boost the natural inflow of light, and hopefully boost your energy levels as well. 
Use mirrors as "moveable windows" in an interior
To a certain extent, you could also describe mirrors as "moveable windows". By letting your mirrors reflect sunlight, you will enhance the natural light throughout the room. This is advantageous for both ambience and well-being. Bright rooms come across as larger than dark rooms. Meanwhile, reflected sunlight can replace electronic lighting in a room.