A hammock is a nice and cosy outdoor alternative to your typical outdoor seating such as garden chairs, garden benches, and lounge sofas. With added comfort from cushions and blankets, sit down and enjoy a cold glass of lemonade and your favourite book or podcast. It will not take long before your hammock or outdoor hanging chair has become your new best friend for the outdoor season. A gentle swing in a hammock and you can dream yourself away to a tropical island with white sand beaches and the gentle sound of ocean waves.
Enjoying the outdoors with a hammock chair
The GJERN hanging chair is a hammock with a stand that is a great match for both smaller and larger outdoor areas. The GJERN hammock comes in in two colours – black and natural – and depending on your preferences, and the look of the existing furniture and decorations in your outdoor space, you can go for the bright, natural vibe with the natural-coloured hanging chair, or the minimalistic, timeless classic in black. With the GJERN hanging chair, you can lean back and relax while listening to your favourite music, your favourite podcast, or while reading your favourite book. To increase comfort even further, and an extra cushion and bring out a soft throw, and you will be enjoying your outdoor space like never before – and once you have had your first experience with GJERN, you will find it hard to get up and leave it again.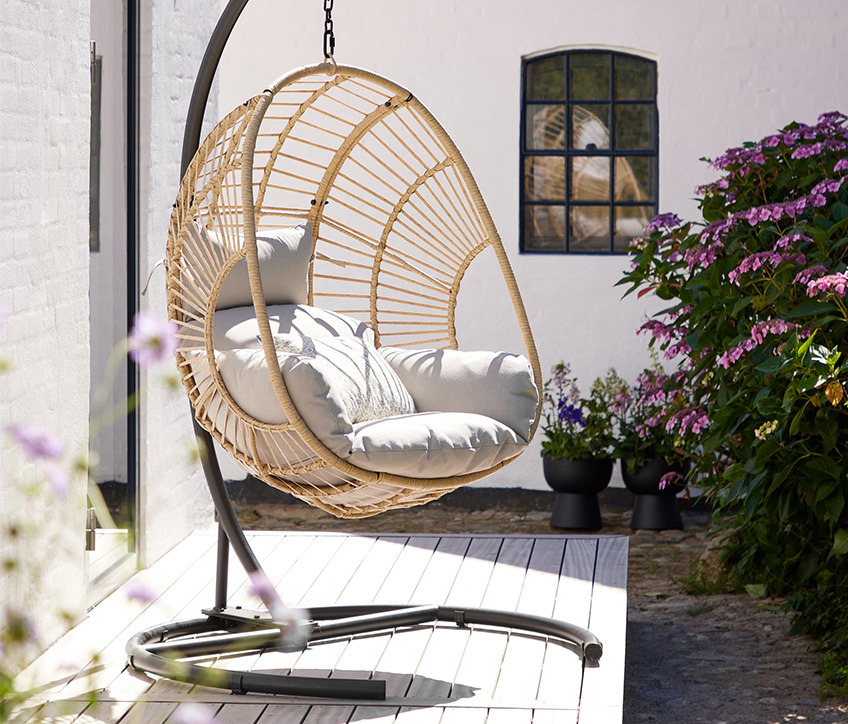 A classic hammock of pure joy
If you have a garden with large, sturdy trees that are close to each other, then the BERGFINK hammock is a great option for you. Simply suspend the hammock between two trees and make sure that each end is tied properly so the hammock can hold weight. It is as simple as that – you will get a classic hammock, a type that has stood the test of time, and it will be a favourite among friends and family, especially for younger children.