Your home office interior design is important for your efficiency and creativity. Therefore it is key to make sure that you have the design spot on to help you work even better. Take a look at our tips below to turn your office into a stylish but practical working space.
Have you chosen the right room?
Before redesigning your home office, consider whether you want to keep your home office in the same room, or perhaps in the living room.
Give your office a personal touch
A home office with a personal touch can make the room seem so much more inviting, therefore helping you work better in the space. Decorate your home office with your favourite colours, attractive rugs and maybe even a lovely lounge chair to provide the very best place for reading.

You could also hang pictures or other unconventional wall decoration on the walls. For the best results, link your home office interior design to the design of the rest of your home.
Choose a desk in a new colour
The desk is most likely the most dominant item in your office, therefore it is important to choose a desk, which really reflects your taste, and creates a common theme for the design of your working space.
A light-coloured desk will make the room seem much lighter, whereas a dark desk gives the office a harder look, which can make the light colours appear more edgy, which often dominate the design of a home office.
Think about what kind of office chair you will need
An office chair plays a major role in the overall look of the room. So incorporate a handsome office chair into the design. It's also important to take into account your needs in terms of comfort and function.
Depending on your preferences, you can either go for an office chair with a high back that provides support for your entire back and neck, or a chair with a low back. A low-backed chair still maintains the balance in your body, and is easier to include in your design. You also need to decide whether you want an office chair with or without arms.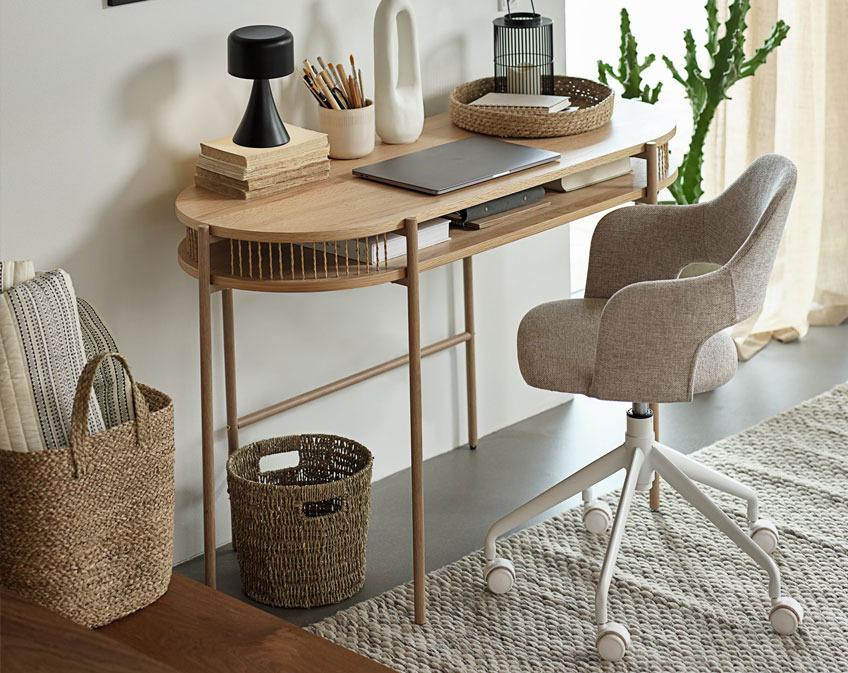 Make sure you have plenty of storage space
An office space can easily become cluttered and a little bit untidy, therefore it's key to have ample storage space. An obvious solution is to invest in a desk with drawers or floating shelves to create space for extra writing gear or baskets for storing documents. That means you will always know where your things are.
Give yourself a nice view from your desk
There is nothing that stifles creativity and productivity more than sitting and staring at a bare wall. When designing your home office, you should try and place your desk in front of a window. This provides more natural light into your working area, and you avoid having sun shining directly onto your computer screen.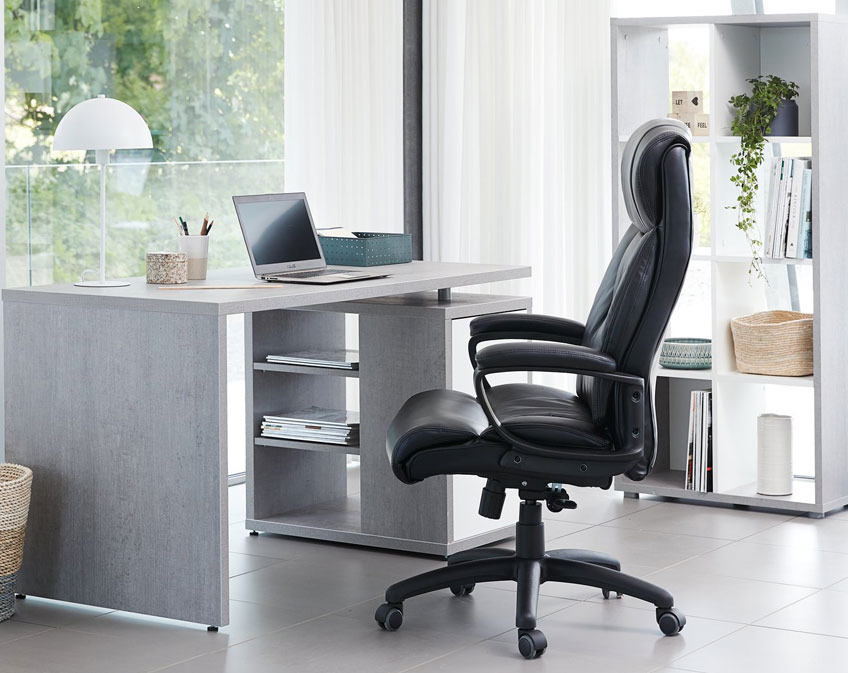 Don't forget about lighting
Another major factor in your home is what kind of light sources you will have. Without sufficient light you can strain your eyes. By designing your home office with several sources of light, you also have the option of adjusting the lighting as and when required.
Therefore, make sure you have several sources of light in your office. Consider a desk lamp, which will provide you with concentrated light whenever you need it.