Bohemian style is all about comfort and creating a relaxed atmosphere in the home. Give your home a style makeover by applying Bohemian interior trends. Heavy fabrics and romantic colours to create a peaceful and calming look in your home. Read on for inspiration.
What is bohemian?
Bohemian style is all about dark, heavy furniture and curtains combined with interiors in warm shades of russet, bronze and crystals. Vintage finds and heirlooms work brilliantly within bohemian style - the quirkier and richer the colours, the better. But modern bohemian style has been upgraded with a touch of Scandinavian style, making bohemian furniture and interiors lavish and much coveted.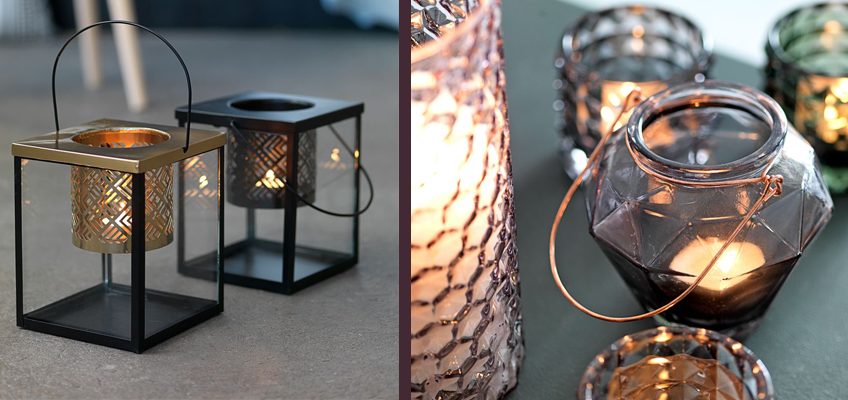 Bohemian style with a Scandinavian touch
The familiar bohemian style has become an integral part of interior design in many Scandinavian homes. Today's bohemian style is more modern, cleverly mixing soft, colourful, velvety fabrics with rustic wooden or steel furniture. They make a perfect match for pale Scandinavian colours.
Give your home a touch of nostalgia
Bohemianism is a style that features a combination of unique Moroccan prints, and often put together with crystal and marble materials. It's a design scheme that focuses on detail and aesthetics. Consider trying out natural or aesthetic light with the crystals to reflect other colours in the home. Or consider using an abundance of candles and candle holders to contribute to a bohemian ambience. You can easily mix candles in a variety of different shapes and colours, either grouped in pretty still lifes or distributed throughout your home.

An abundance of fabrics creates a real boho ambience
An abundance of beautiful fabrics makes it relatively easy to introduce elements of bohemian style into your home. By replacing rugs and cushions with the right colour scheme, you can quickly create your very own bohemian home. Rugs and cushions in velvet, silk and other sumptuous materials constitute a vital component of bohemian style.
You can also give your window treatments a bohemian look, if you go for heavy fabric curtains and hang them on a rustic curtain rod. If you cannot live without your Venetian blinds or roller blinds, you can easily have them behind curtains and enjoy the best of both worlds.
Boho is a tribute to broad-mindedness and creativity
What does "bohemian" actually mean? Bohemianism is more than just an interior design trend. It is a lifestyle and a philosophy that embraces passion and a relaxed style. With bohemian decor you can create a new setting for your life. In the bohemian home there is room for everyone. It's all about tolerance and an eye for quirky details, whilst creating a personal aura in your home.