Do you dream about a new style in your dining room without spending a fortune? An easy way to change the look without replacing every piece of furniture in the room is to buy new dining chairs. These are great dining room design ideas on a budget. Read on and see how four different chairs can create very different looks even though the dining table remains the same.
Modern and black dining chairs

With the TUREBY dining chairs the dining room gets a modern and masculine look. The black faux leather seat and back gives a good contrast to the light walls in the room. The seat cushions make the chair comfortable so you can enjoy a relaxing meal whilst remaining modern and chic. Black leather chairs are perfect for this look.
Classic dining table and chairs

With the FREDERICIA dining chairs, the dining room gets a very traditional and classic look. The dark antique finish provides an old-fashioned look whilst maintaining to an modern trend. The FREDERICIA dining chairs are surprisingly comfortable and go well with the matching FREDERICIA dining table but the chairs also go well with a contrasting light wooden table. White and wooden dining furniture is perfect for this look.
Light and bright dining furniture
With the LANGDAL dining chairs the dining room has a light and bright look. The white colour and slim design lift the dining chairs and create lightness in the room. The LANGDAL dining chairs are made from lacquered solid wood and go well with a range of JYSK dining room tables. White dining chairs and a wooden dining table achieve this look easily.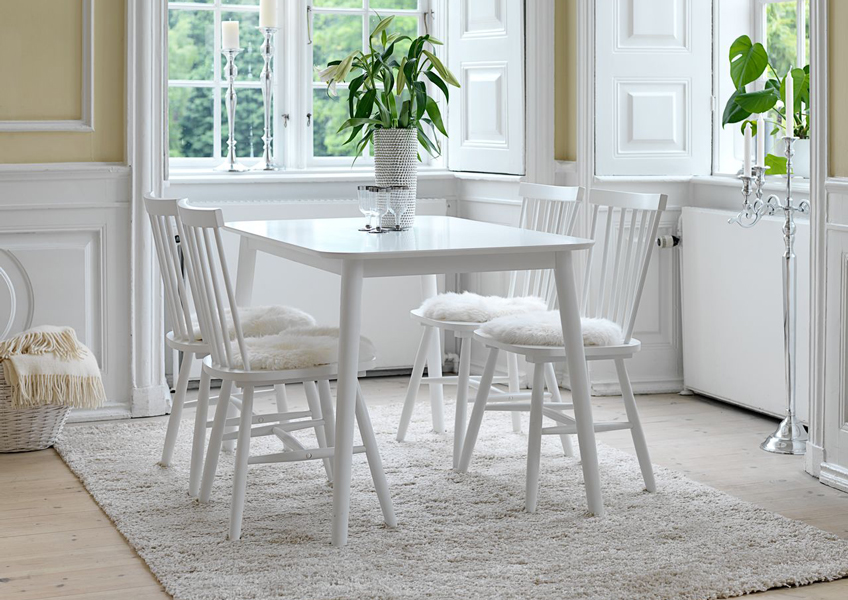 Soft and cosy dining sets

With the BORUP dining chairs the dining room gets a softer and cosier look. The elegant, high-backed design unites a chunky, padded and upholstered frame with classic solid ash legs. The BORUP is available in a rich brown suede-effect fabric or gorgeous textured natural oatmeal fabric to suit both ends of the neutrals scale. Choose fabric or grey dining chairs teamed with a glass dining table to achieve this look.