Is it time for you to declutter your life? By getting rid of the things you don't use, you will most likely experience becoming more energetic and efficient. But maybe it can be difficult for you to part with some of your things? Or maybe you live in a small home and storage space is limited. In either case – fear not – it is all about making use of every inch of your home. This way you can keep some of your dearest belongings or store clothes for the next season and still have a nice, tidy home that won't drain your energy. 
A room meant for restoring your energy level is the bedroom. It is important that this room is calm and inviting - clutter and a mess is not. We will help you clean up the clutter and organize your hoarding by giving you some storage ideas for your bedroom. 
For more inspiration on how to decorate your bedroom, see our blogpost here.
Use the space under your bed
An often forgotten space in the bedroom is under the bed. There are different ways to utilize this space. One way is to use under bed storage boxes. 
Fill bed rollers or boxes with your stuff. It is a good idea to consider what you store under your bed.  Store belongings that you want to use often or keep safe since the space is easy to access e.g. bed linen, out of season clothes, shoes, or luggage.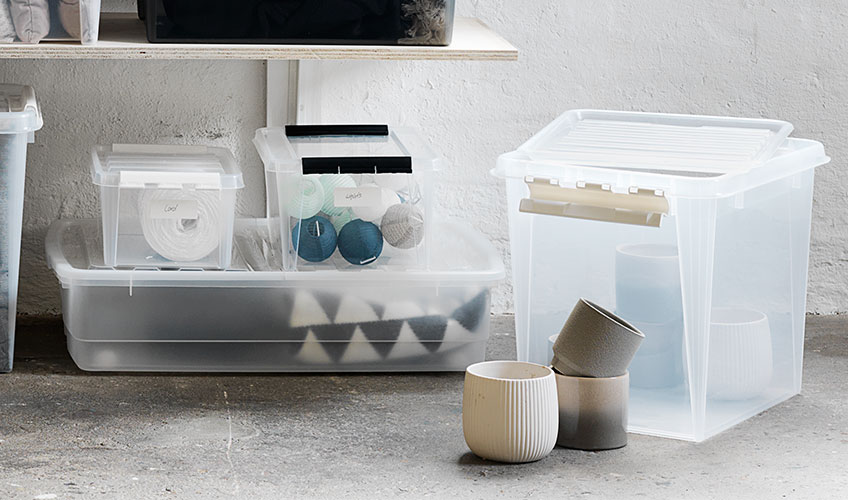 Plastic under bed storage boxes are easy to clean and low cost. If you want a more sophisticated look, then choose wicker baskets and place them so they are visible from under the bed.
Choose a bed design with storage
Another way to create storage in your bedroom is by having a bed with under bed drawers. This stylish solution makes storage a part of your décor. Choose a bedframe with storage such as our 4,5 star rated FAVRBO or LIMFJORDEN, which both have built in under bed drawers. 

See our selection of bedframes here.
Looking for extra storage in the children's room or teenager room? Then have a look at BILLUND, which is a single bed with built in storage. A bedframe with storage is ideal in a children's room since the drawers make it easy for children to access it themselves. Fill the drawers with toys and books, which your children easily can access themselves – and hopefully clean up themselves.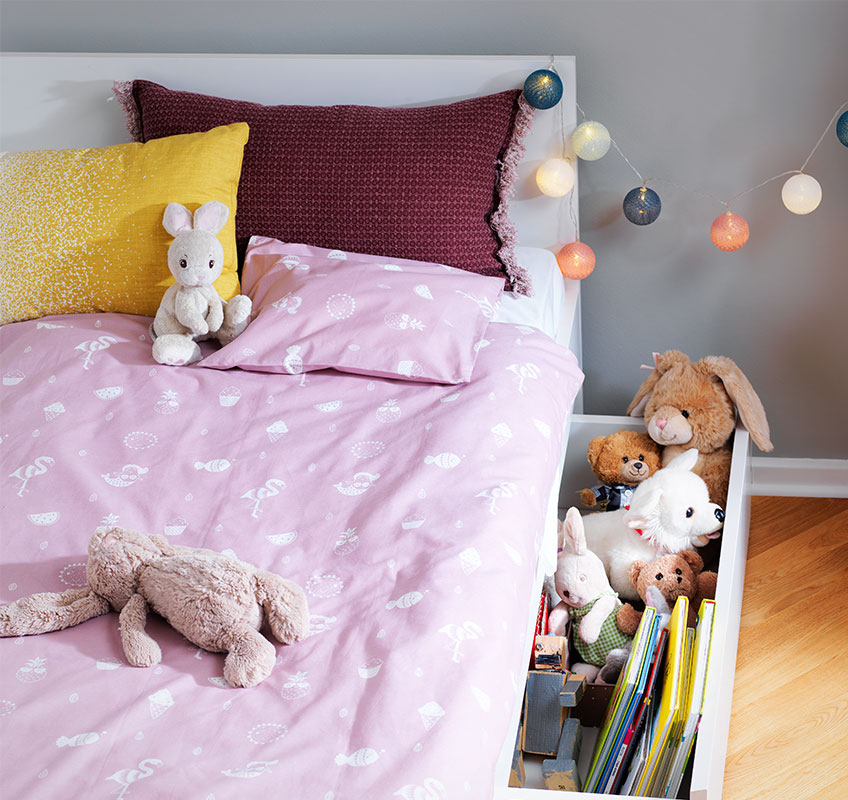 A good tip if you need to store your out of season clothes is to use a vacuum bag. This way the clothes take up a minimal amount of space and you can store even more under your bed!
Use a practical storage bag for duvets and pillows and store them under your bed as well. The mesh improves airflow in the bag. It is a good idea to wash your duvets and pillows before storing them away. Read here about care and maintenance of pillows and duvets.
Do you have some good tips for bedroom storage? If yes, then please share them with us!