The heart of every home is the space where we spend most of our time together – and the dining area is an important part of this. From quick breakfasts and comforting dinners in our busy everyday lives to shared meals and get-togethers with friends and family, the dining space is the foundation upon which many of our most precious shared moments in life take place. This also means that getting your dining setup right – just for the needs and preferences of you and your family – is all the more important.
Mix a splash of colour with the versatile dining chair and you have one of your best bets to enhance and renew your dining setup. As an important part of the comfort and overall aesthetic of your dining space, the dining chair is a key player in shaping the atmosphere and ambiance of your home.
Highlight your personality with colourful chairs
These colourful dining chairs, with their minimalistic shape resulting in them often being referred to as "shell chairs," bring a touch of minimalistic elegance and playful colour to your home. Their soft expression and ergonomic design make your dining space a pleasant area to spend time in, while their subtle yet eye-catching variety of colours add a burst of personality to your decor. Whether you are drawn to the serene calmness of pastel shades or the gentle warmth of earthy tones, these chairs offer a spectrum of choices to manifest your style and make your dining space truly yours.
BISTRUP dining chair in dusty peach
Soft peach, powdered rose, dusty peach – there are many affectionate terms that all refer to the same heart-warming shades of mellow pink. No matter which term you would use for the colour, the BISTRUP dining chair in dusty peach is sure to bring a sprinkle of joy and cheeky pizzazz to your dining space.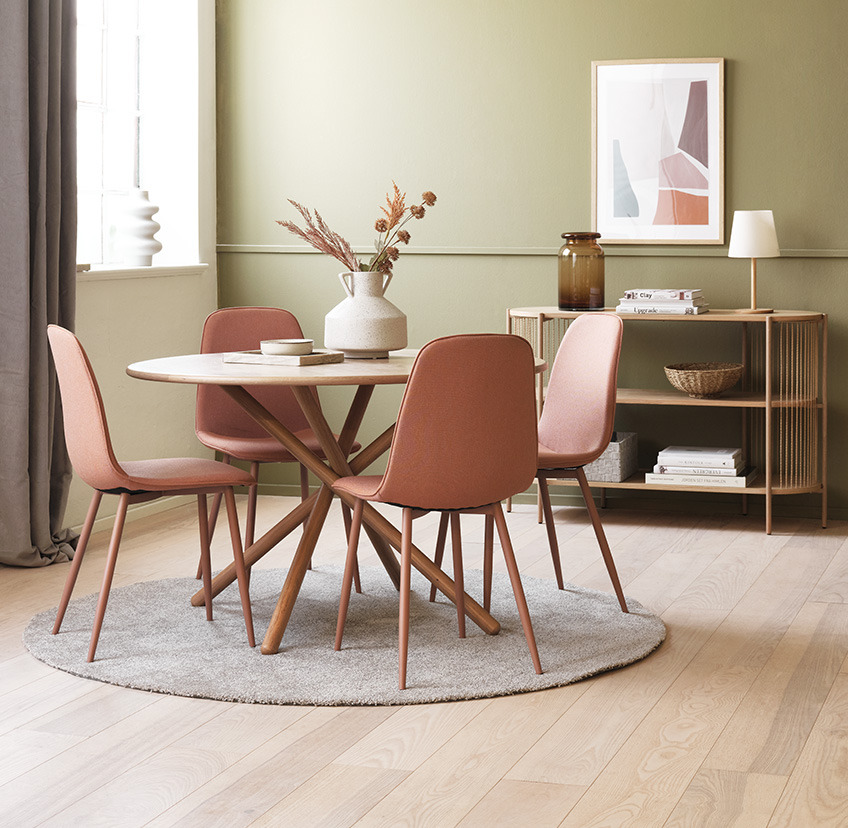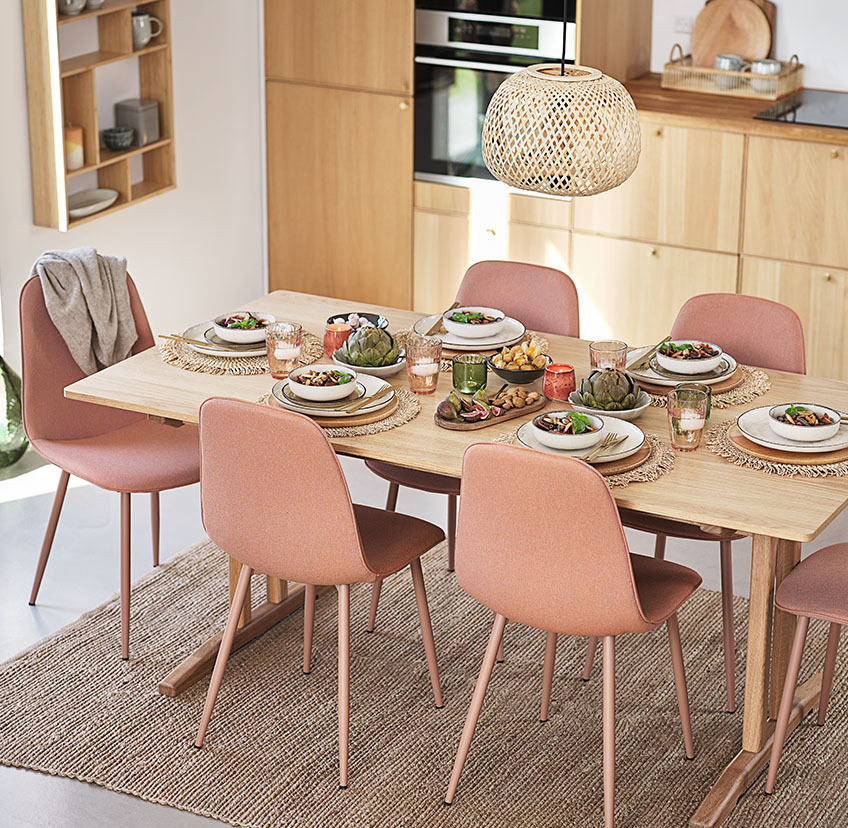 Deep blue shell chairs with soft, organic shapes
The BISTRUP dining chair in dark blue and the EJSTRUP dining chair in blue perfectly showcase how darker shades of blue fit well into many homes. Both shell chairs bring beautiful, vibrant shades of blue that go very well with calm, bright interiors. The chairs, however, are also great additions for vibrant homes where the use of vivid and striking colours is the rule rather than the exception.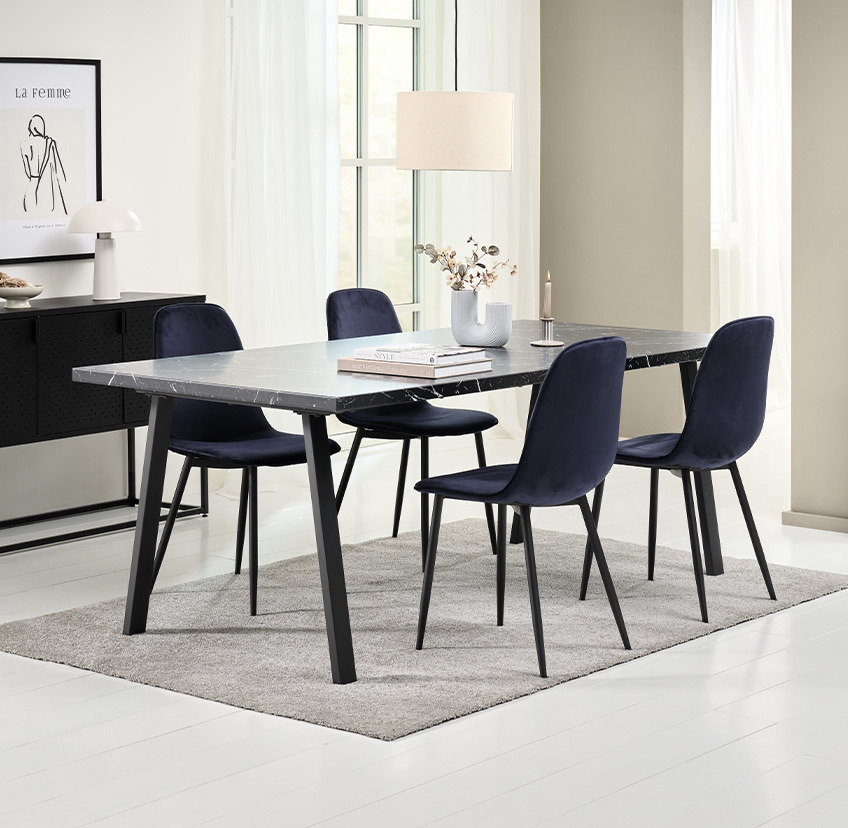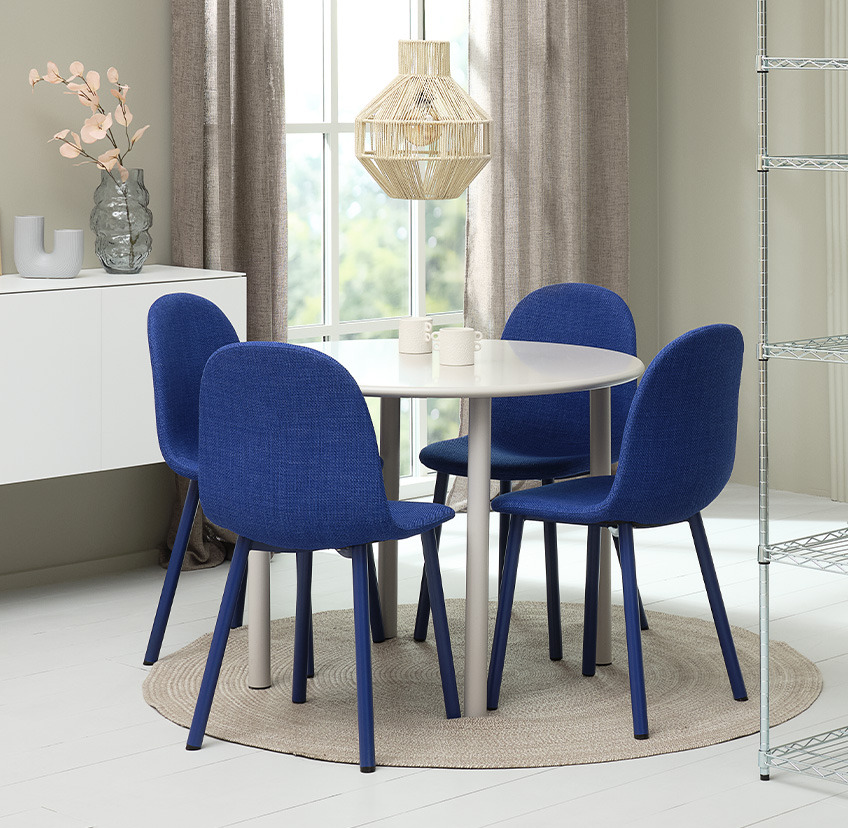 Stay grounded with earthen olive green
When it comes to colourful chairs, there are those that prefer bright and lively shades, and there are those that prefer ones that are calmer and more subdued. Olive green has long been perceived as a mature and sophisticated shade of dark green. Such shades are perfect for adding a touch of colour to your home without compromising your interior style, if you for example prefer a home that is mainly white, black, or shades of grey.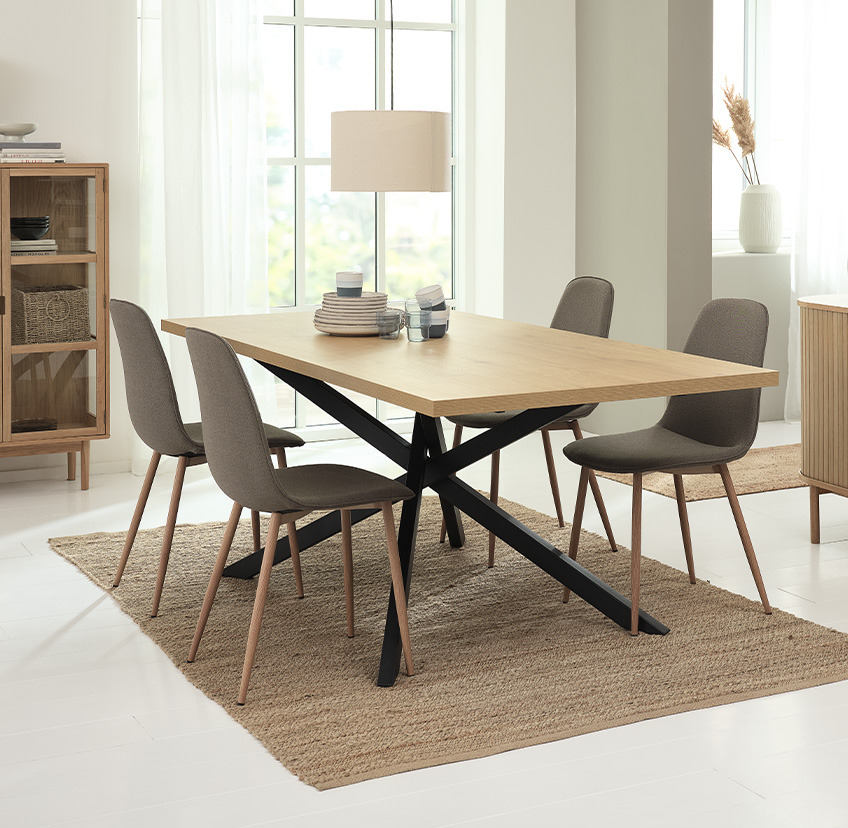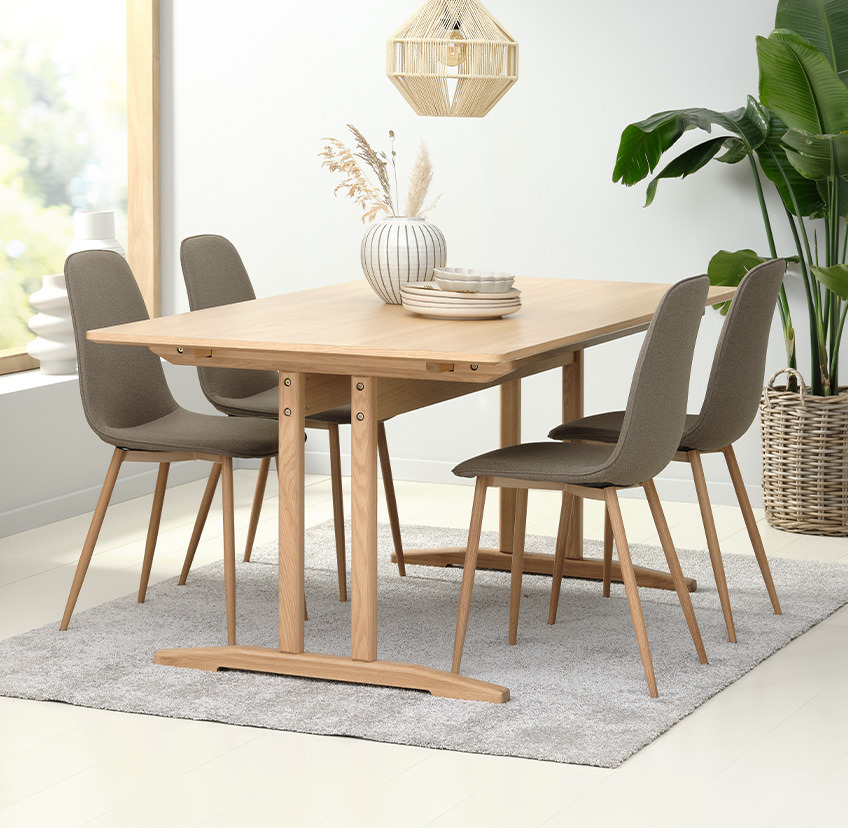 Bright and lively shades of beige and sand
Shades of beige seem to be eternally popular – and for good reason. Dining chairs in bright beiges or sand are a mainstay of many homes as they complement a wide range of interior styles without being overly dramatic or stealing the show. If you are looking for a dining chair that is a perfect match for your home, the BISTRUP and EJSTRUP dining chairs in beige and sand might be the right choice for you.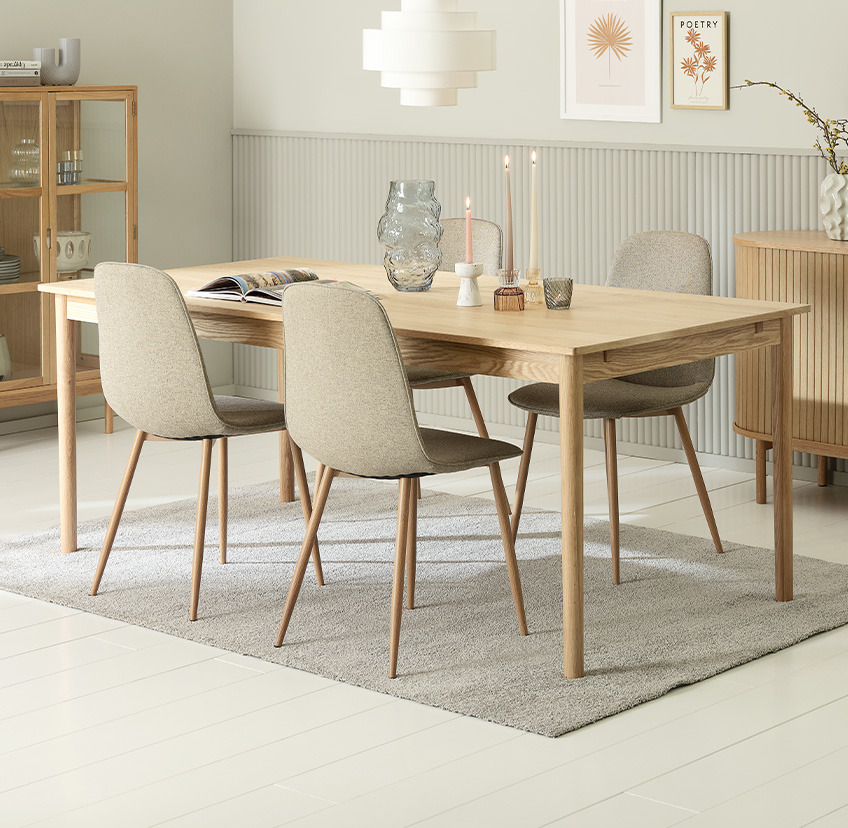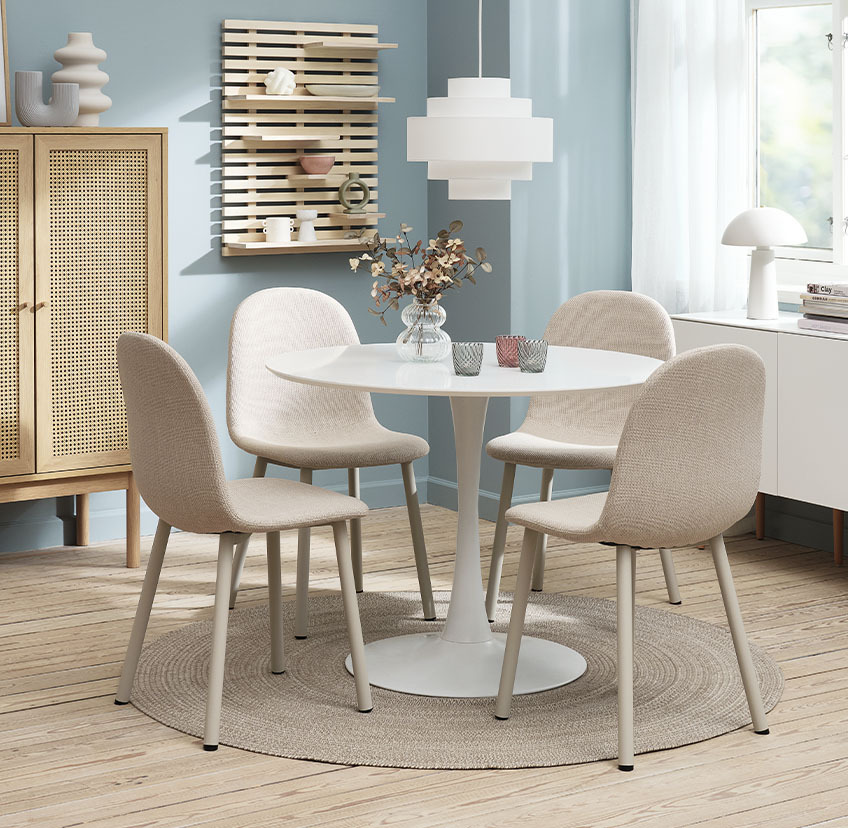 When it comes to colourful dining chairs, BISTRUP and EJSTRUP with are great choices for – through a splash of colour – brightening up your dining setup while also bringing life and joy to your home. For more colourful chairs, take a look at the JONSTRUP dining chair that also comes in multiple different colours.