Walking into a chaotic, cluttered, outdated kid's room can absolutely stress you out. As they grow so quickly from baby to toddler, schoolchild to preteen, and then teenager, the mere thought of redecorating can seem overwhelming. But there is hope at the end of the hallway. Creating a wonderful kid's room can be pure child's play. Use the following 3 tips for a fantastically functional bedroom that's flexible enough for all ages and stages.
What are cool kid's bedroom ideas?
When you're going to decorate a kid's room from the start, give some thought to what your child needs. Find the basic furniture, like a bed, a chest of drawers, and a place to keep toys. Just keep it simple: Make room for the things that are need-to-haves as opposed to nice-to-haves.

Typically, a child's bedroom is one of the smaller rooms in the house, but you need some room where the kids can play (and keep them out from under your feet!). One idea is to go for an elevated bed, which is quite practical because the kids can play underneath it. Build a mysterious fort or a fancy castle - or just fill it up with pillows and blankets and create a comfy cave.

When the kids grow older and stop playing in their pillow fort, they can use the space for something else. Some beds even have the space a desk and a chair where they can do their homework. That way an elevated bed is extremely versatile, this kind of flexible, functional furniture item is also fairly affordable. 
Colourful or classic white?
If you have a rather busy schedule and you don't want to go out on endless shopping trips, go for classic colours from the start - for example white. Kids like fun, playful colours, but instead of picking a yellow bed or a red table, accessorise. That way, you can add something playful and colourful to the room and set a creative, joyful atmosphere. It's easy to replace a splashy cushion or a play rug when the kids grow older and get tired of the things that they loved just 2 or 3 years ago. It's less easy to replace the bed...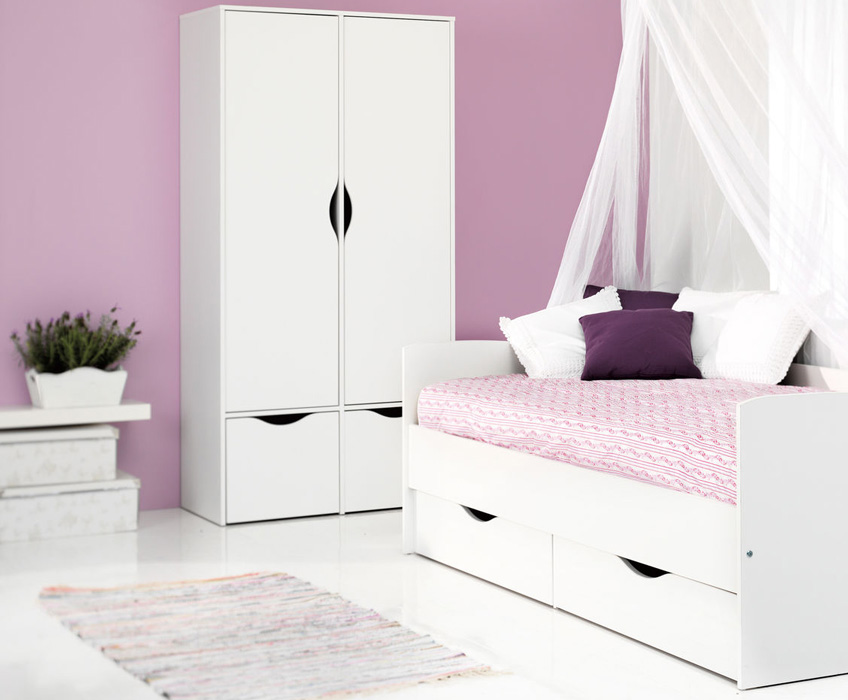 Make it personal
Do you get nervous when you think about white furniture and kids? No worries. Crayon comes off most furniture, but why not just personalise the furniture the minute you get it? Encourage the kids to think of it as their own, and accept it when they put stickers all over it. Otherwise, it's going to drain you of energy and pollute the atmosphere in your home. Just cover the crayon marks up with a poster, or if the kids grow out of Paw Patrol, put a Batman sticker on top of it.

With a little thought you can create a long-lasting kid's room that adapts to their needs and that they will love as much as you enjoy the low-maintenance, low-cost solutions, and a job well done.