Kitting out your whole bedroom can seem like a daunting task. But with JYSK's bedroom interior design ideas, you can see what furniture works and what type of style will best suit you. Read on for inspiration and bedroom styling tips.

Traditional with matching furniture
If you're after a more traditional look, then the SILKEBORG range may be ideal for you. Stylish, warm and sturdy, the SILKEBORG range is our traditional home furnishing collection - complete with items from bed frames, bedside tables, bookcases to wardrobes. Manufactured with oiled solid oak and real oak veneer, it offers a beautiful finished touch to your bedroom. Team with a dark rug for a contrast of colours and materials, and a light coloured duvet cover set to complete the look.
 

White bedroom decor
White furniture or white bedroom accessories are becoming more and more popular as they represent a minimalist design trend whilst sticking to a traditional style. If you don't want your bedroom to look too white (or perhaps clinical) then consider using white accessories such as a white rug or a white coat stand for effect.
 

Scandinavian bedroom
Think a mix of light woods and white furniture to achieve the Scandinavian look. Team with geometric prints and a shabby chic rug for an authentic Scandinavian feel. Feel free to match all your furniture items or just one or two pieces.
 

Modern/Industrial style
Think dark woods with little decorative detail, but then team with metal accessories. The VEDDE furniture set is perfect for this style of bedroom design. Choose from wardrobes, bed frames, bedside tables and TV stands/benches. Team with metal and industrial accessories such as clocks, decorative boxes and add splashes of colour with plants.
Choosing the best type of mattress
Once you have picked your bedroom design and style, it is then important to look at your sleeping style. Consider thinking about the right mattress for you and what type of bedding suits your sleep best. 

The two most popular mattress choices are spring mattresses and memory foam mattresses. Traditional spring mattresses provide reliable support that will give great service for years to come, any many now come with a memory foam layer in order to ensure an even comfier night's sleep. Foam mattresses carry layers of pressure-relieving memory foam, together with resilience foam and visco gel memory foam to create a uniquely comfortable combination. 

The type of mattress can really effect your sleep, but it is entirely down to personal choice and well-being.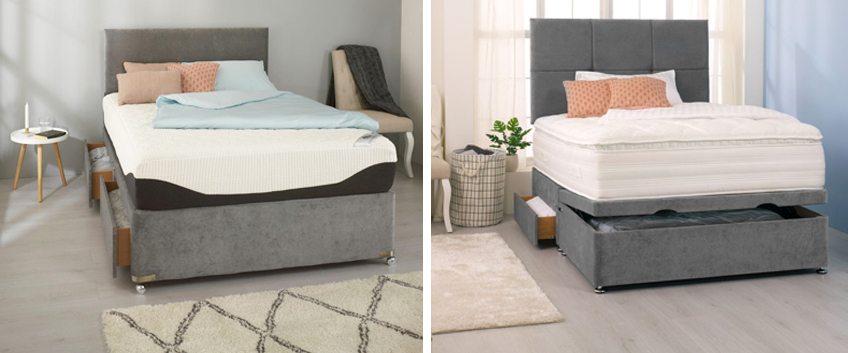 What mattress fits in your bedroom style and which bedroom style is your favourite?