Spring mattress vs memory foam mattress - which is best?

Spring mattress vs memory foam mattress - which is best?
What are the differences between spring mattresses and memory foam mattresses and which one is best for you? There isn't an easy answer to this question as each person's individual sleeping style and body type can make each mattress less or more suitable for their needs. But to make it simpler, we have identified the main elements and benefits of both spring and memory foam mattresses to help you make your choice.
Which type of bed fits each mattress?
Spring mattress
A spring mattress can lie on slats in a bed frame but also works on a divan base or in an adjustable bed. Most spring mattresses can be flipped and turned, but the newer, more advanced models actually don't need turning at all.
Foam mattress
If you want a quick sleeping solution, then a foldable foam mattress is great for the floor or a camping bed. A type of mattress that is not very permanent but perfect for guests and overnight visitors. However, if you're after a more luxurious and nightly sleeping space then memory foam mattress can fit most solutions.

A memory foam mattress works great on a slatted base in a bed frame, a divan bed, and works well for an adjustable bed more than a spring mattress would. However, it is key to remember that a memory foam mattress needs 48 hours to inflate in order to first get its shape.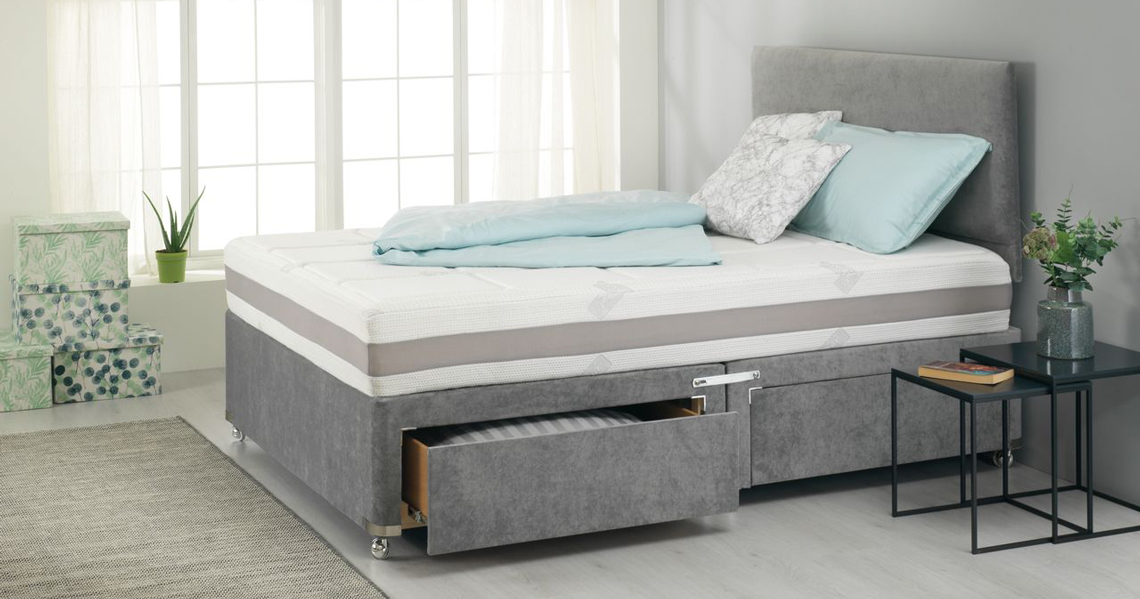 Which mattress is best for my sleeping style?
Foam mattress
Memory foam mattresses are perfect if you have a lot of aches and pains as the shape of the foam contours to your body, thus relieving pain in muscles and joints. The contouring memory foam also helps alleviate circulatory problems, which can be an issue for many people during their sleep. A further benefit of a memory foam mattress is that it works well if you have allergies.
Spring mattress
Spring mattresses provide a lot of reliable support for your body, especially with more advanced spring mattresses that include a memory foam top. The springs are designed to spread weight evenly so that you will be supported well throughout the night. Generally, the more advanced the spring, the more support you will receive from your mattress. Take a look at the different types of springs below.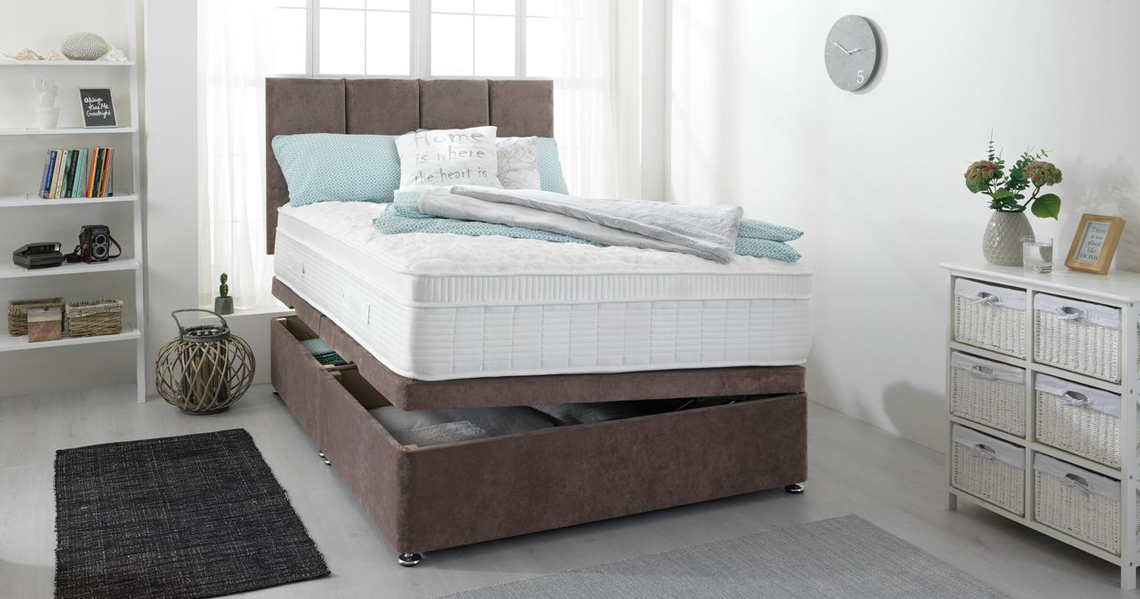 What are the mattresses made from?
Spring mattress
There are generally three different types of springs that can make up a spring mattress: bonnell, LFK and pocket.
Bonnell – bonnell springs are hourglass-shaped and made of a thick metal wire. These springs give you a mattress with a firm surface and long lifespan at an affordable price
LFK – LFK springs are cylinder shaped and are made with a thinner wire and are smaller than that of bonnell springs. More springs are used in a mattress with LFK springs, therefore giving you more support points that follow your body's movements as you sleep
Pocket – pocket springs are even smaller than LFK springs. Each spring is encased in a tiny cloth pocket that protects the spring from wear and tear, reduces noise and makes the design more stable. With the many support points, the mattress adjusts to the shape and movement of your body to high precision
Foam mattress
A foam mattress consists of a foam core inside a fabric covering. The mattress' main component is its foam core. At JYSK we offer foam mattresses in a range of different materials:
PU foam – polyurethane foam. A very popular foam type available in various levels of firmness and density
HR foam – high resilience foam, a type of a polyurethane foam, but with greater weight and elasticity. HR foam mattresses have a high load capacity, therefore providing you with more body support. This type of mattress also has a long life span
Memory foam – memory foam was originally developed to protect NASA astronauts from pressure effects. It is a high quality product that adapts to the body's natural contours and prevents both circulation problems and muscle and joint pain. It includes latex and is highly breathable, so diverts heat away from the body, therefore an ideal solution if you become warm at night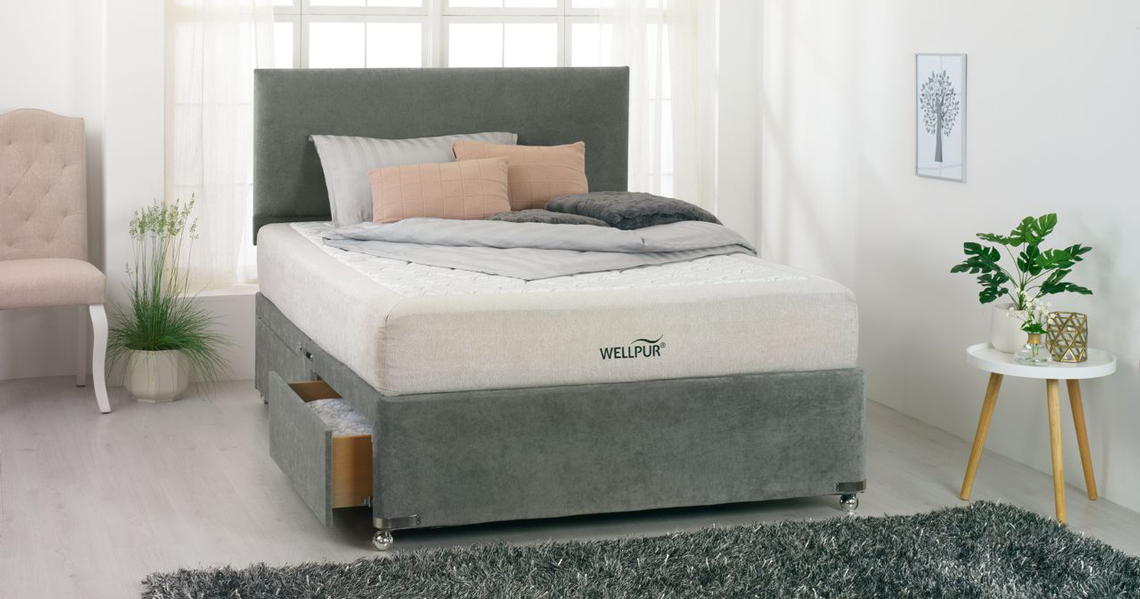 Will my mattress regulate my temperature?
It is important to achieve the right temperature at night, in order to allow a calm and cool sleep. Many people have problems with night sweats and find it difficult to retain a cool temperature. This is why it may be important to consider the temperature retention of your mattress.
Foam mattress
JYSK's GOLD memory foam mattresses come with a unique combination of cooling gel and memory foam. Memory foam is very good at diverting moisture away from the skin and are also resistant to excess moisture. Many of our GOLD memory foam mattresses have a padded high resilience foam, covered with temperature controlled fabric to keep you even cooler.
Spring mattress
However, the newest GOLD spring mattress, the S110, includes a padded high resilience foam, covered with temperature controlled fabric, therefore allowing you to stay cool at night.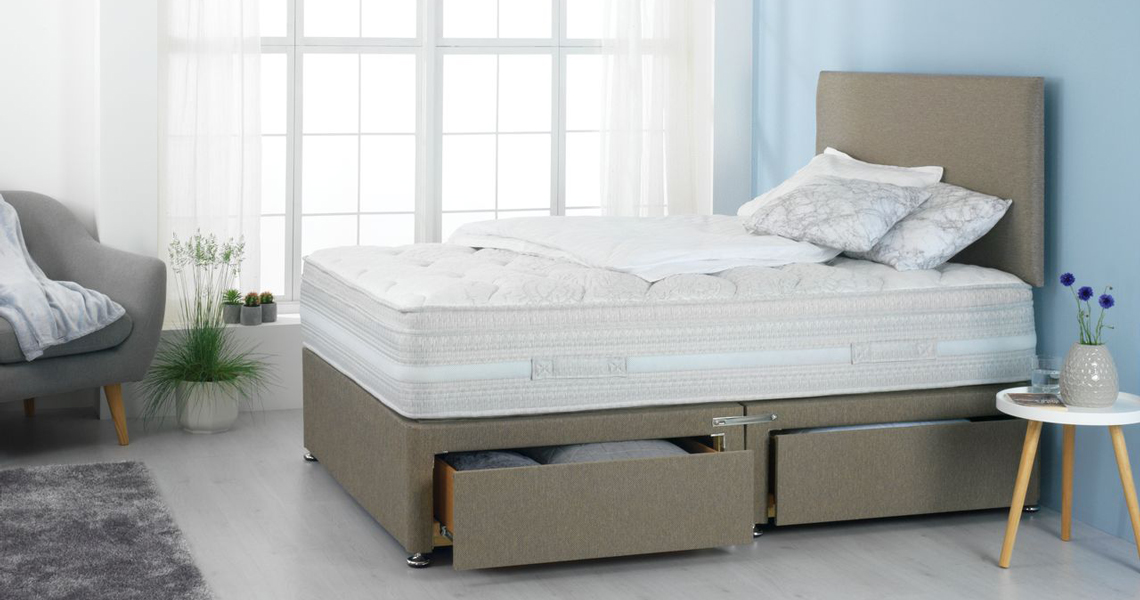 What about the guarantee and lifespan of my mattress?
Sometimes it may be difficult to invest in a new mattress, as it is an item that you will use every night. This is why, at JYSK, we offer guarantees with our mattresses and also a 100 days sleeping trial.
Spring mattress
With our range of spring mattresses, you will receive a 15 year guarantee on any PLUS models, and 25 years on any GOLD models.
Foam mattress
Our range of foam mattresses come with a 25 year guarantee on any GOLD models. Take a look at the terms and conditions for even more information.
Try out your mattress for 100 days
One of the most important aspects of choosing your mattress is to try out the mattress and test whether you can lie well on it. So it may be a good idea to choose a retailer, who has many different mattresses to choose from, so you can try out several types of mattresses before you make your decision. At JYSK you'll have the chance to try much different kind of mattresses and you will also be able to get some good advice before you choose your new mattress. It often takes a few weeks for your body to get used to a new mattress.