By nature wooden and hardwood garden furniture needs to be treated and maintained, if you want to really make use of it over many summers. Learn how to maintain your furniture correctly to avoid any risks of it cracking and drying.
Oil treatment before use
It is always a good idea to treat your wooden garden furniture with oil immediately after unpacking and assembly. Although the wood has already been treated with oil, we recommend you do it again since it can be some time since the first treatment.
Thorough cleaning
Always ensure thorough cleaning of garden furniture, for example gently use a pressure washer before applying oil. Always follow the instructions on the packet.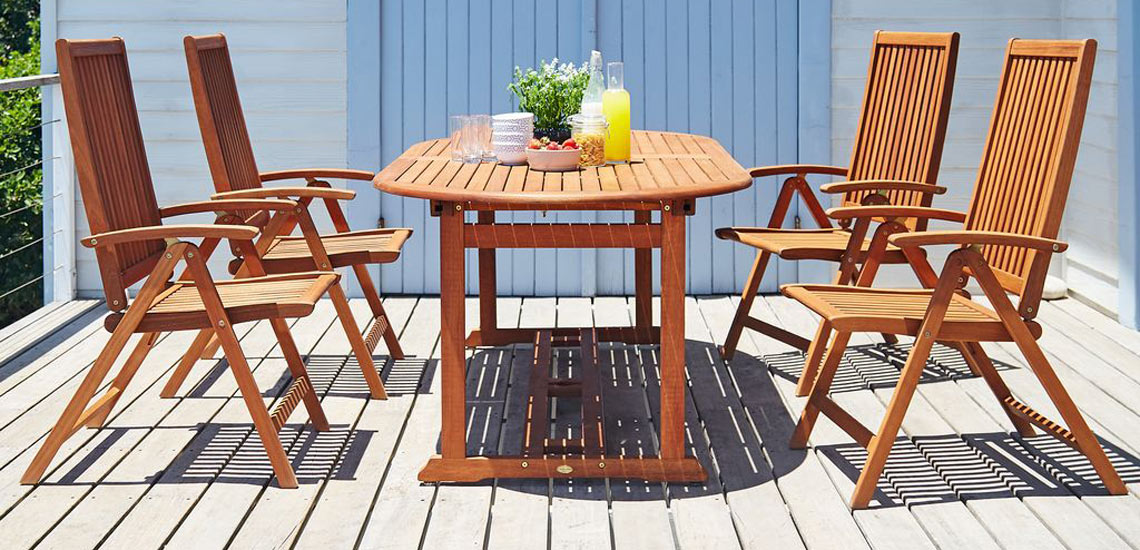 Ongoing oil treatment
Hardwood furniture must be completely dry before oil treatment, and make sure to use oil that is suitable for hardwood. It is recommended that you apply oil two or three times during the season and just before you put your furniture away for the winter period.
Furniture in teak requires no oil treatment because teak is already a very oily wood. Over time, teak furniture creates a natural white tint which can be removed with teak oil. If you decide to oil treat your furniture it will require ongoing oil treatment, just like hardwood furniture.
Mould and fungus attack
Even if you regularly treat and take care of your garden furniture with oil, mould and fungus attacks can still occur. This is most often visible when part of the furniture becomes dark, or in some cases almost black. You can usually solve the problem with the following tips:
- Wash your furniture thoroughly with wood cleaner. Follow the instructions on the packet and if the furniture is still dirty then just repeat the procedure
- If your furniture is still dark after you've washed it with wood cleaner then try to wash the areas affected with a strong liquid chlorine solution, then rinse thoroughly with water
- If the chlorine treatment does not work either, there is only sandpaper and elbow grease left! Polish the affected areas until you reach down to fresh wood. You can also try to use a pressure washer. Whichever way you use, we always recommend that you finish with the type of oil meant for the wood in question

Mildew
Mildew is a harmless type of fungus that appears as dry white dust - usually on the thickest parts of the furniture. Mildew often occurs in connection with transport to Europe, as large fluctuations in temperature and high humidity provides ideal conditions for mildew. Wipe off the mildew with a cloth or brush. Aftercare is usually not required, but wood oil is a good idea.
Retightening
Wood is a natural product and wooden garden furniture reacts to different types of weather. Cracks and imbalances may appear caused by tension in the wood. Therefore, it is important that you retighten your furniture periodically.
Winter storage
Your furniture will last longer if you store it properly over the winter. For example, you should not put your wooden furniture in a dry, warm room as this can dry the furniture out. Instead, you should store your wooden furniture in a garage or shed where there is plenty of ventilation and protection from the rain and snow. We don't recommend that you cover your furniture with plastic or similar materials, as this can cause rot and fungus in the wood.