You have probably had the experience of flinging yourself onto your bed only to bang your head against the wall. A bed with a headboard is a great way to prevent it from happening. This is not the only advantage of having a headboard. Read on to discover the advantages of having a bed with a headboard.
Prevent wear and tear on your wall with a headboard
It is with good reason that you frequently wash your bedding. Sweating during the night is entirely natural. But a sweaty pillow and greasy hair can leave stains on the wall. If you have a tendency to lie with your head close to the wall, you are even more likely to smudge the wall. Protecting your wall with a headboard leaves the wall nice and clean.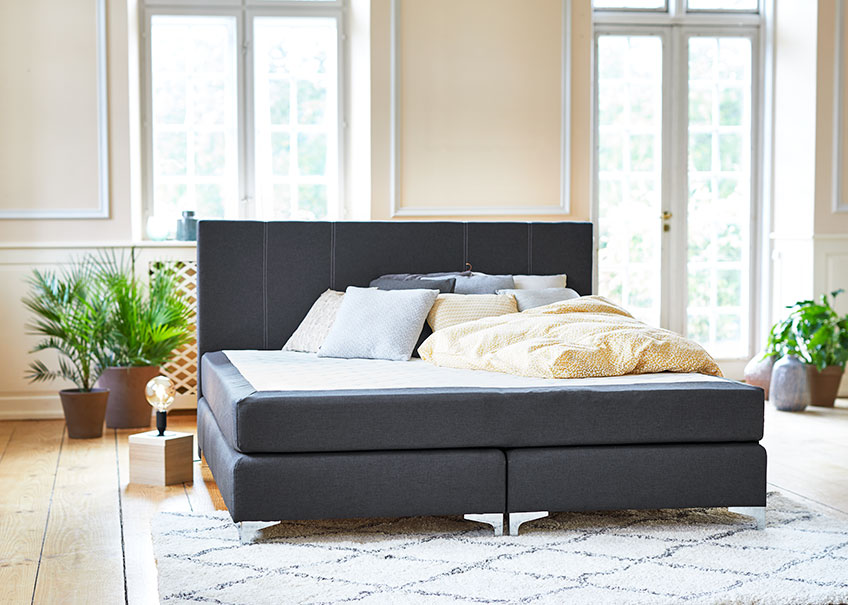 Get comfy when sitting up in bed
If you like sitting up in bed reading or perhaps using your tablet or laptop, a headboard provides extra support. Instead of sitting up against a hard wall, a headboard will provide comfort, making it more pleasant to sit up in bed. A headboard is also ideal if you enjoy having your breakfast in bed. 
Tip: It may be a good idea to complement the headboard with a decent pillow. By choosing a pillow with comfortable support, you will prevent the risk of getting iPad shoulders.

Your pillow will stay where it's supposed to
Have you ever had that puzzling experience where your pillow ends up in the gap between the wall and your bed? A bed with a headboard will put an end to that chapter and you will always have you pillow near you. 

Keep the cold at bay with a headboard
The temperature in a bedroom plays a major role when it comes to securing a good night's sleep. Especially during the summer, it can be difficult sleep due to the increased temperatures. Therefore, it is a good idea to keep your bedroom cooled. On the other hand, though, it can also get too cold. If you sleep up against a cold wall that is poorly insulated, a headboard will provide insulation and prevent you from freezing.

Contributes to a cosy ambience around your bed
Headboards come in an abundance of different designs and materials. Whether you prefer an upholstered headboard or a wooden one, you can easily find the perfect headboard to lend a personal touch to your bedroom.
A headboard can have a significant impact on the look of a bedroom, making it an easy way to freshen up your bedroom interior. Your bed will become an eye-catching piece of furniture and help defining your bedroom décor.  

A headboard is easy to clean
Since you have to launder the bedclothes or clean the mattress anyway, it is easy to clean your headboard at the same time. If you have an upholstered headboard, a weekly vacuuming should do the trick in terms of removing dust and germs. It is also a good idea to spot clean with water and wipe with a damp cloth.
Always remember to follow the cleaning instructions provided by the manufacturer of the headboard.