If you want to make your home reflect your personal style you'll want to avoid following every piece of advice the latest interior magazines are giving. Instead, you should think of your interior design as you would with your style of clothes. Your style should reflect you and not necessarily the current trends. Do you have a quirky flare or a love for industrial design? Perhaps you're most content in a quaint country cottage setting? Whatever you're preference make sure it shines through into your home interior design.
Focus on "contrasts"
The essence of personal interior design lies in the contrasts. Most of us are familiar with the trend of making sure that colours, materials and styles all match. But when it comes to a personal and unique home design, not everything has to match perfectly. There should be room for serenity and intimacy, and there are many ways of creating contrasts:
Colourful / White
New / Old
Wood / Steel
Edgy / Organic

Contrasts can generate a dynamic look, whether you're inclined to an exotic or raw style, you can create contrast by using all sorts of elements. For example, take a fabric dining chair and combine it with a more rounded, wooden and glass table. 
USE PERSONAL ITEMS AS DECORATIVE PIECES
Personal home style focuses on details, and there should be room for quirky details as this is what gives your interior design a unique touch. Use things you've collected on your travels or had made to remember a significant date or event or any other bits and bobs that mean something to you. Display them on bookcases or wall shelves to give depth and textures to your interior design. Just make sure your home doesn't turn into a museum of things you have collected your whole life!
USE COLOURS FOR THEIR MEANING
Make your home a place that reflects your personality by incorporating your favourite colours into your design. Each colour has significant meanings and can invoke an emotional response whilst being in its presence. Take a look at the below meanings for these colours to consider before choosing how to approach your interior design. 
Red - powerful, bold, increases self-confidence and passion
Yellow - happiness, cheerful and increases focus
Orange - allows expression of self-confidence and decreases hostility
Green - represents fresh starts, growth and healing as well as nature and life's riches
Blue - calming, brings peace and harmony
Inject new life into your living room with sofa cushions in your chosen colour, preferably accompanied by a throw or some other decorative accessory that has a touch of the same colour. By using a recurring colour in interior decoration, it creates unison and pulls together the look of a room.
Colourful cushions are a hit!
Colourful cushions enable you to lend your living room a warm, welcoming atmosphere therefore making it pleasant place to spend time in. Mix up your colour scheme and take a look at cushions with patterns and designs and choose from a myriad of prints, patterns, colours and fabrics. As a rule, patterns and colours are the hardest choice to make when buying new cushions so remember to be aware of the style you want to create in your rooms: romantic, minimalistic, futuristic, masculine or some totally different style altogether. Finally, it is a good idea to make sure that the colours recur in the rest of your interior design.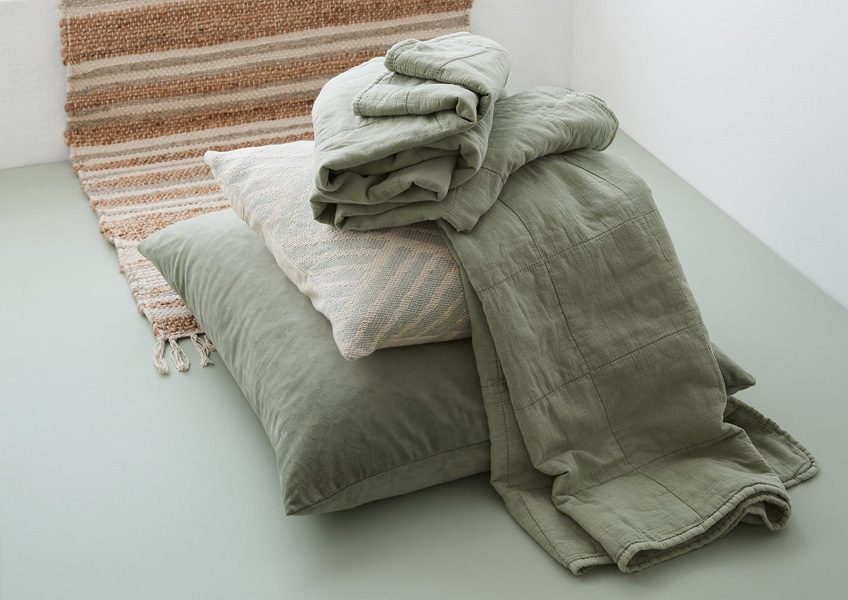 HAVE A MAJOR CLEAR OUT
The majority of us will admit to having purchased one or two items that we later regret. That is not necessarily a negative thing, because sometimes a makeover is needed. This is a perfect time to get rid of mistaken purchases.
A good way to start clearing up is to take a pad of Post-Its and attach labels to the items, which you perhaps regret buying, or which you do not feel fit in with your personal design. Then take a look at the things where you have attached labels, and put the items you can live without up for sale or donate them to a local charity shop so others can get some joy from your items. Perhaps some of your mistaken purchases will result in both money and space for new items, which can support a more personalised interior design.