Did you know that we sleep approximately 1/3 of our lives? Our sleep is therefore an essential part of our overall wellbeing.
It may sound strange, but the colours in your bedroom can affect your ability to sleep. The right colour choices and palette can help set the tone for you to fall asleep easier. But what are the best bedroom colours? Read on to find out more.
Start by considering your needs
Your needs, sleep habits, the room itself and the way you use the bedroom are of crucial importance when deciding which bedroom colours will work best for you. In principle, you can use any colours in the bedroom, but if you want to enable a better night's sleep, then some colours are more appropriate than others.
Use colours to set the room's mood
We often associate feelings or meanings with specific colours which means that the bedroom colours can affect the mood of the room. If you want your bedroom to have a light and airy mood, then light shades and pastels are a good choice. Do you want a bedroom that evokes happy feelings? Yellow tones are just the thing. To set a calm and relaxing tone, go with blues and greens.
Is it warmth and intimacy you aim for? Then make sure to add a splash of red and brown tones to your colour mix, as browns and reds promote a warm ambience. Finally, rich, dark colours are sovereign when it comes to creating a cosy setting.
Different colours stimulate our senses
Using more than one colour in your bedroom is great for the mind, as different senses stimulate the brain. Colour choices that create an interplay of light and dark shades in your room will create an atmosphere conducive to sleep. Dark colours trick your mind into thinking it is night time, therefore they will help you get to a sleep a bit better. By selecting different colours for your bedding, accessories and furniture, you can easily vary your bedroom colours. 
Your bedroom furniture can play an important role in crafting your room's colour scheme. For example, a wardrobe provides a large colour surface. Here again, choosing contrasting colours of light and dark can create a mentally stimulating visual experience. For example, a bright rug, curtain or a lightly coloured wardrobe placed against a dark wall casts a striking image.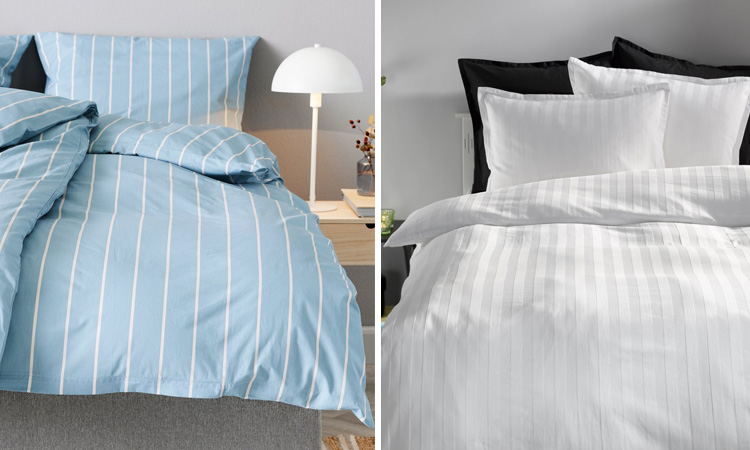 Consider the room when making your choice of colour
The size of the room and the amount of natural light that enters your bedroom is a very important factor when determining what colours will work best. If your bedroom has large windows that admit a lot of light, then you need not be afraid to use dark colours. But if you have a small or dimly lit bedroom, then lighter colours may be the way forward.
Is your room just for sleeping?
Do you also use your bedroom as an office, hobby room, dressing room or something else? If so, it's worth taking these other uses into consideration when choosing your colour scheme. Dark colours are an obvious choice if you use your room just for sleeping, however if your bedroom is also your work space then a dark colour scheme may not be the right choice. Dark tones can drain energy, so opt for bright and airy colours.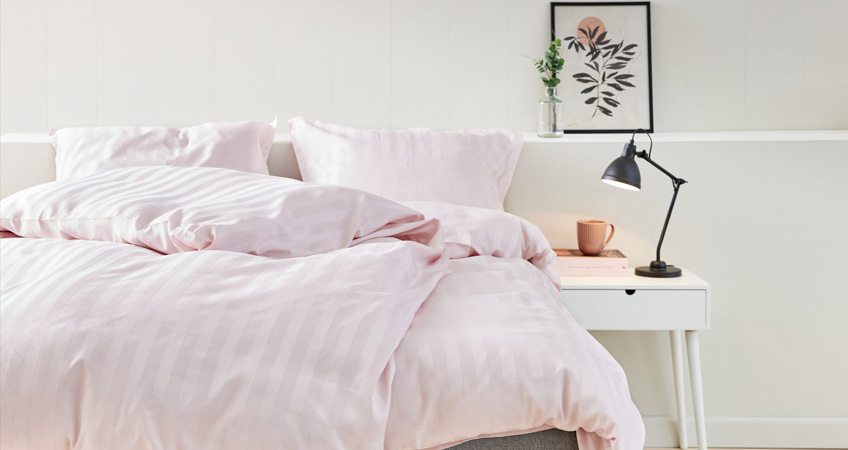 The best bedroom colours
In order to create the best conditions for sleep, you should choose colours that calm the mind. Blue and green are calming colours that soothe the mind and are easy on the eyes. Purple is also very suitable, and, together with blue and green will have a relaxing effect. Perhaps you are not ready to paint your walls purple just yet. You can still incorporate this tranquil colour into your room via carpets, pictures, bedding or curtains.
SLEEP PERFECTION WITH A JYSK DUVET COVER SET
Treat yourself to a high-quality duvet cover set and you will be guaranteed the best night sleep – you won't be sorry! If you want to change your décor without spending a fortune on the wallpaper, soft furnishings and accessories, consider the impact you can make by selecting stylish or matching duvet covers. At JYSK, we have a constantly updated range of quality bedding and bedding sets at affordable prices. You'll find easy-care polyester-cotton options as well as sophisticated cotton sateen and snug cotton flannel duvet covers in a variety of colours and design options, allowing you to create the bedroom of your dreams in a matter of minutes.
Which colours grace your bedroom?
We would like to hear what your experiences have been with using different bedroom colours. Please share which colours have worked well and which haven't worked as well in your bedroom.