A duvet's filling power, also known as tog, is a measure describing duvets insulating power and how warm it will keep you. The higher the filling power, the better the insulation.

There is a difference in how well the different types of down isolate. Eider down has the best isolation ability, then muscovy down and goose down. Duck down has the lowest heat insulation power compared to the other types of down.
Which tog rating should you choose?
When buying a new duvet, it is important to know how warm the duvet will be. Especially during the cold winter months. This is why you need to pay attention to the fill power/tog rating of the duvet.
The fill power goes from 100 to 1100, 1100 being the warmest and most insulating. 
Many people mistakenly believe that a thick and heavy duvet equals a warm duvet. That is not necessarily the case. It depends on the down. Duck down is more heavy with a lower insulation ability compared to muscovy down and goose down. Muscovy and goose down are lighter types of down with a higher insulation ability. This means that more duck down are used in a duvet to keep the same warmth as muscovy down and goose down. The duck down duvet will therefore be much heavier and thicker than a goose down duvet.
Our most popular duvet tog ratings that our customers choose our a rating of 15, 10.5 and 7.5. Our highest tog rating value is 15 and lowest value is 15. Find out which tog rating would best suit you below.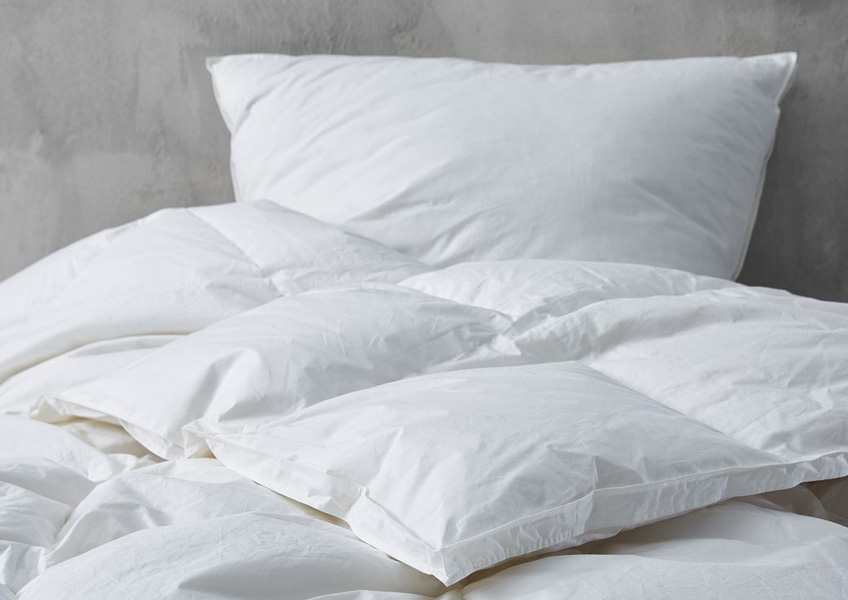 You can choose from 3 types of duvets:
Summer duvet: During summer, even a Irish summer, you may want to opt for a duvet with a low insulation and tog. Choosing a duvet around 8 tog or less may suffice and will still keep you warm during a typical Irish summer's evening.

Winter duvet: When the cold weather starts to kick in, you may want to nice and warm and cosy under a heavier tog duvet. Opt for a duvet with an 11 tog or higher.

All year duvet: An all year duvet is ideal if you want to sleep with the same duvet through the whole year. If you have a steady temperature in your bedroom then an all year duvet will be a good choice.

Read more about how to maintain and care for your duvet.
Do you sweat or freeze during the night? Choosing a duvet with the right tog can help you with this problem!
Do you sweat a lot or are you more the type freezing your toes off when lying under the duvet at night? Choosing a duvet with the right tog can help you with this problem. If you are feeling very warm during the night, the duvet filling power is most likely too high. On the other hand, if you're freezing then your duvet filling power is too low. A warm duvet with a higher filling power is preferable to keep you warm at night.

Sharing your double bed with another person means that you should choose a duvet with a lower filling power. The person lying next to you will keep you warm with his or her natural body heat just by lying next to you. The temperature in your bedroom also plays an important role when choosing a new duvet. An optimal temperature in the bedroom will for many people be around 18–22 degrees. A good rule of thumb is to choose a duvet with a filling power around 10–12 in a bedroom with 20–22 degrees. This way, you ensure a good and stabile night's sleep.  


What size duvet should I choose?
SIZE GUIDE
Single - 135 x 200 cm
Double - 200 cm x 220 cm
King - 240 x 220 cm
Super King - 260 x 220 cm